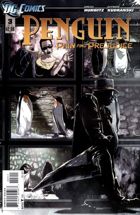 PENGUIN: PAIN AND PREJUDICE #3
Tytuł historii: Blind Love
Miesiąc wydania (okładka): Luty 2012 (USA)
W sprzedaży od: 07.12.2011 (USA)
Scenariusz: Gregg Hurwitz
Rysunki: Szymon Kudrański
Okładka: Szymon Kudrański
Kolor: John Kalisz
Liternictwo: Rob Leigh
Ilość stron: 32
Twoja ocena:

GD Star Rating
loading...
Po śmierci matki Oswald planuje jej urządzić najbardziej ekstrawagancki pogrzeb. Na niczym nie zamierza oszczędzać.
Podczas wizyty w zoo Pingwin zauważa niewidomą Cassandrą, z której cały czas śmieją się dzieci. Zauroczony swoją nową przyjaciółką Oswald od razu zaprasza ją na lunch. Podczas rozmowy nie pozwala jej dotknąć swojej twarzy i okłamuje ją, że jest bardzo przystojny i dlatego chce by tym razem jego związek był opary na czymś innym.
Po tym jak jeden z pracowników pogotowia zabierając ciało jego matki żuł gumę, Pingwin postanowił mu się odwdzięczyć. W samochodzie mężczyzny znaleziono 2 kg kokainy i detektywi już czekają by go przesłuchać, a jego żona 30 sekund temu została potrącona przez samochód i zginęła. Ale to nie koniec złych wieści, seria niefortunnych zdarzeń dopadła też jego krewnych i syna.
Spotkanie z Oswaldem nie zawsze muszą zwiastować złe rzeczy, dla kobiety, która autentycznie kochała jego matkę chce zapewnić wszystko, co najlepsze. Nowy dom, limuzynę z kierowcą, prywatny odrzutowiec gotowy zabrać ją na wakacje, gdzie tylko by chciała, i także sowite wynagrodzenie. Kobieta jednak odmawia stwierdzając, że za miłość się nie płaci.
Po powrocie do Cassandry Oswald wyjaśnia jej, dlaczego stopy pingwinów nie zamarzają. Złoczyńca nie zdaje sobie jednak sprawy, że przez okno obserwuje ich Batman.
Podczas pogrzebu matki Oswald przypomina sobie jak w dzieciństwie na pogrzebie ojca matka kazała mu zawsze być przy sobie. Pogrążony w głębokim smutku Pingwin zleca swoim ludziom zdobyć pierścionek z brylantem od najpiękniejszej pary w mieście. Zdobyty pierścionek Oswald wręcza Cassandrze.
Tymczasem Batman na miejscu krwawej jatki, której dokonali ludzie Pingwina przy kradzieży pierścionka z diamentem, znajduje łuskę z odciskiem palców, co doprowadza go na trop jednego ze strzelców.
Poprzednie numery przyzwyczaiły już czytelników do tego, że ta miniseria za sprawą mrocznych rysunków Szymona Kudrańskiego ma niezwykły klimat. Taka warstwa graficzny idealnie pasuje do przedstawionego przez Hurwitza Pingwina.
Mamy bezwzględnego złoczyńcę, który w mgnieniu oko może komuś zniszczyć życie tylko dlatego, że ten żuł gumę, czy zrobił coś innego co uraziło Oswalda. Łatwość, z jaką Pingwin doszczętnie niszczy życie innych pokazuje, że mamy tu do czynienia z łotrem, z którym trzeba się liczyć. Jest jednak i drugie oblicze Oswalda. Troskliwego syna, który do końca dbał o swoją matkę i zadba też o tych, którzy ją kochali.
Wiadomo było, że po śmierci matki Oswald będzie odczuwał pustkę. Szybko zostaje ona zapełniona przez postać niewidomej Cassandry. I właśnie w przypadku tej bohaterki pojawia się drobny zgrzyt. Mimo, że Oswald traktuje ją po królewsko, a zarazem nie zdradza o sobie zbyt wiele i nie pozwala się dotknąć, to kobieta nie tylko zgadza się zamieszkać u niego, ale także przyjmuje jego oświadczyny. Jej zachowanie i łatwowierność sprawia wrażenie całkowicie nierealnego, ale w jedynym ostatnich kadrów widać jednak, że Cassandra po dotknięciu pierścionka bezbłędnie ocenia, że ma on 9 karatowy diament. Czyżby, więc niewidoma kobieta nie była do końca szczera w swoich zamiarach?
Ocena: 4,5 nietoperka

---