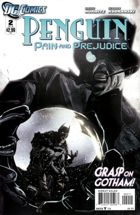 PENGUIN: PAIN AND PREJUDICE #2
Tytuł historii: Beautiful Boy
Miesiąc wydania (okładka): Styczeń 2012 (USA)
W sprzedaży od: 09.11.2011 (USA)
Scenariusz: Gregg Hurwitz
Rysunki: Szymon Kudrański
Okładka: Szymon Kudrański
Kolor: John Kalisz
Liternictwo: Rob Leigh
Ilość stron: 32
Twoja ocena:

GD Star Rating
loading...
Batman w rozmowie z Pingwinem każe mu dowiedzieć się czegoś na temat morderstwa Babs Chantell i kradzieży rubinu Dragon Egg, gdy złoczyńca stwierdza, że nic na ten temat mu nie wiadomo.
Od dzieciństwa Oswald kochał swoją matkę, a pewnego dnia zbudował własnoręcznie dla niej mechaniczną pozytywkę w kształcie pingwina. Chociaż nie do końca działała ona tak jak powinna, to jego matka była bardzo dumna z syna. Ojciec jednak cały czas traktował go oschle. Po podsłuchaniu kłótni rodziców, Oswald kompletnie zniszczył niedziałającą pozytywkę i umieścił figurkę pingwina w szklanej kuli, którą podarował matce.
Również dorosły Oswald dba o swoją matkę i specjalnie dla niej zbudował robota w kształcie pingwina, który może jej dotrzymywać towarzystwa i pomagać w codziennych czynnościach.
Pewnego dnia szczęście odwróciło się od braci Oswalda. Już dłużej nie znęcali się nad nim i nad jego ptakami. Jason zmarł w wyniku zatrucia. William został potrącony przez samochód, a najstarszy z braci, Robert zginął po wpadnięciu w przerębel na lodowisku. Strata synów sprawiła, że ojciec Oswalda nie chciał nawet widywać swojego ostatniego syna. Kiedy ten wrócił cały zabłocony w zimną noc ojciec osobiście wodą z węża ogrodowego oczyszczał go. O ile jednak Oswald się nie przeziębił to choroba dopadła jego ojca i doprowadziła do jego śmierci
Czego pragnie Oswald to, to dostaje. Jego ludzie zdobywają dla niego kolczyki pewnej gwiazdy.
Przy batsygnale Gordon informuje Batmana o kradzieży kolczyków dokonanej w taki sam sposób jak kradzieży rubinu. Policjant wspomina też o przyjacielu swojej starej przyjaciółki, którego życie zostało dosłownie zdziesiątkowane kawałek po kawałku i który próbował popełnić samobójstwo. Wiele wskazuje na to, że w tej sprawie również maczał palce Pingwin.
Robot Oswalda, którego zostawił przy swojej matce, wszczął alarm. Matka złoczyńcy nie żyje i leżąc obok jej złoczyńca wspomina jak krok po kroku zabijał swoich braci. Kiedy dokonywał tego zrozumiał, że siła wcale nie zależy od mięśni, czy wyglądu, ale od starannego i dokładnego planowania. Determinacji i wytrwałości w dążeniu do celu. Wtedy młody Oswald zrozumiał, w czym naprawdę nie ma sobie równych.
Ciąg dalszy historii rozpoczyna się dokładnie w tym samym momencie, w którym zakończył się pierwszy 1. numer. Cała miniseria wydaje się być przemyślana w najdrobniejszych szczegółach i równie pieczołowicie zilustrowana klimatycznymi, mrocznymi rysunkami Szymona Kudrańskiego. Penguin: Pain and Prejudice #2 odsłania kolejne kulisy życia Pingwina, jednak tym razem nie widzimy już nie mogącego sobie poradzić z łobuzami dzieciaka. Oswald, chociaż nie ma fizycznej przewagi, to odkrywa w sobie niezwykłą determinację i umiejętność planowania. Dzięki tej wytrwałej pracy udaje mu się pozbyć braci. Powoli rodzi się złoczyńca, który co prawda jest cały czas zastraszany przez takich łobuzów jak Batman, ale potrafi prowadzić długą grę, której końcowy rezultat jest korzystny dla niego. Czy rozgrywka, którą powodzi teraz okaże się równie skuteczne jak jego plany z dzieciństwa? Coraz więcej śladów doprowadza Batmana na działalność Pingwina. Kradzieże kosztowności, a także tajemnicza seria nieszczęśliwych okoliczności, które doprowadziły pewnego mężczyznę do nieudanej próby samobójczej.
Jedyna osoba, która wspierała Oswalda i którą ten z wzajemnością kochał była jego matka i teraz jest bardzo zastanawiające jak potoczą się jego dalsze losy po jej utracie. Tym samym kolejne numery tej mrocznej miniserii, w której bardzo istotna jest psychologia postaci Pingwina, zapowiadają się nadzwyczaj obiecująco.
Ocena: 4,5 nietoperka

---