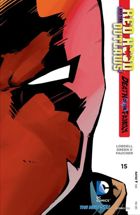 RED HOOD AND THE OUTLAWS #15
Tytuł historii: It Only Hurts When You Laugh
Miesiąc wydania (okładka): Luty 2013 (USA)
W sprzedaży od: 19.12.2012 (USA)
Scenariusz: Scott Lobdell
Rysunki: Timothy Green II
Okładka: Greg Capullo, FCO Plascencia
Kolor: Blond
Tusz: Wayne Faucher
Liternictwo: Taylor Esposito
Ilość stron: 32
Twoja ocena:

GD Star Rating
loading...
Tie-in "Death of the Family"!
Red Hood i Red Robin łączą siły w walce z Jokerem!
Teen Titans vs. The Outlaws!
Gotham City, apartament Isabel. Harvey Bullock wraz z oddziałem policji dostaje się do środka, gdzie zastaje Jasona trzymającego w ramionach nieprzytomną Isabel Ardile. Policjanci nie są przekonani, co do jego wersji dlatego bohater najpierw ich rozbraja i następnie jeszcze raz tłumaczy Harveyowi, że ten powinien zabrać jak szybciej nieprzytomną kobietę do szpitala. Po tym zajściu Todd jest przekonany, że Joker naprawdę zna sekretne tożsamości bohaterów, dlatego chce jak najszybciej udać się do jaskini by tam wyjawić to pozostałym. Bo albo Bruce się myli, albo ich okłamuje. Kiedy jednak wsiada do policyjnej furgonetki z tylnej części zaczyna się wydobywać gaz oraz śmiech.
W międzyczasie na słonecznej plaży Roy i Kori flirtują ze sobą.
Po odzyskaniu przytomności Jason staje oko w oko ze swoim największym koszmarem, Jokerem. Szaleniec na jego oczach rozłupuje łomem jeden z hełmów Red Hooda. Chociaż Jason jest pod wpływem toksyny, która sparaliżowała jego ciało, to wraz z mijającymi minutami podczas, których Joker opowiada swoje dowcipy, jego ciało dzięki nabytej odporności zaczyna normalnie funkcjonować. Todd od razu przechodzi do ataku. Kiedy ma jednak przy użyciu łomu raz na zawsze rozprawić się z szaleńcem ten go unieszkodliwia przy użyciu ładunku eklektycznego.
W szpitalu Harvey z komórki Isabel oddzwania na numer, z którym dziewczyna często się kontaktowała. Zostawia Jasonowi wiadomość, w której wyjaśnia, że wierzy w jego wersję, którą ten przedstawił w apartamencie.
Na wyspie Roy odsłuchuje wiadomość Bullocka dzięki zastosowaniu technologii Crux. Natychmiast domyśla się, że Todd jest w kłopotach i wraz z Kori postanawia jak najszybciej wrócić do Gotham.
Jason po odzyskaniu przytomności odkrywa, że ma nałożony swój hełm. Joker zaś cały czas mami go różnego rodzaju opowieści, co tylko sprawa, że bohater zyskuje jeszcze większą pewność, że złoczyńca wie wszystko. Pozostawione na miejscu rzeczy przywołuję wspomnienia z przeszłości, o które wie tylko Jason. Sugerują ona, że Joker od dawna miesza w jego życiu. Jednak, kiedy bohater dłużej zastanawia się nad wszystkim wpada wprost na zapadnią i spada tuż obok nieprzytomnego Red Robina.
Roy i Kari docierają do Gotham City i rozpoczynają poszukiwania Jasona.
Kontynuacja w TEEN TITANS #15 >>>>
Kolejny numer, który wchodzi w skład Death of the Family i tak naprawdę niczym specjalnym się nie wyróżnia. Pokazywanie Jokera jako szaleńca, który rozdaje wszystkie karty ciągnie się już trochę za długo. Ile razy można oglądać podobne sytuacje. Wiemy, że Joker może zrobić praktycznie wszystko. Od tak sobie porywa bohaterów, ale chyba już nadeszła pora na odrobinę wyjaśnień.
Po ponownym spotkaniu Jokera i Todda można było oczekiwać czegoś więcej, a wygląda na to, że nic takiego nie będzie miało miejsca. Jako, że historia będzie miała swój ciąg dalszy w Teen Titans #15 to być wszystko nabierze większego sensu. Jak na razie jest przeciętnie, co dodatkowo podkreśla warstwa graficzna.
Ocena: 3 nietoperki

---