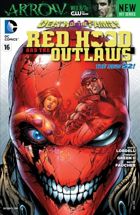 RED HOOD AND THE OUTLAWS #16
Tytuł historii: Family Matters!
Miesiąc wydania (okładka): Marzec 2013 (USA)
W sprzedaży od: 23.01.2013 (USA)
Scenariusz: Scott Lobdell
Rysunki: Timothy Green II
Okładka: Tyler Kirkham & Batt i Alex Sinclair
Kolor: Blond
Tusz: Wayne Faucher
Liternictwo: Travis Lanham
Ilość stron: 32
Twoja ocena:

GD Star Rating
loading...
Tie-in z "Teen Titans #16″
Tim Drake i Jason Todd muszą przetrwać konfrontację z Jokerem i powstrzymać swoje drużyny przed pozabijaniem się nawzajem.
Biorąc pod uwagę jak dobrze wcześniej im się razem pracowało nie powinno to być problemem, nieprawdaż? NIEPRAWDAŻ?
Arsenal i Strafire wspólnie z członkami Teen Titans odpierają ataki zjokeryzowanych przeciwników. Wiedzą, że są to niewinni ludzie, więc starają się ich nie skrzywdzić, a to wcale nie jest takie łatwe. Na szczęście udaje im się zamknąć ich w opuszczonym budynku.
Po odniesionym sukcesie, mimo wzajemnej niechęci, wspólny cel łączy obie drużyny. Dowództwo obejmuje Arsenal, który po zbadaniu próbki krwi jednej z osób zarażonych toksyną Jokera ustala w którym magazynie znajduje się reszta substancji. Młodym bohaterom każe jak najszybciej udać się na miejsce i przygotować antidotum. Sam zaś zamierza wraz z Bunkerem zostań na miejscu i utrzymać w ryzach zjokeryzowanych mieszkańców Gotham.
Podczas walki Roy, który nigdy nie uważał siebie za typ przywódcy, przypomina sobie jak jakiś czas temu pomógł mu Killer Croc.
Po dotarciu o magazynu na czwórkę bohaterów czeka przykra niespodzianka. Okazuje się, że Joker zostawił na miejscu bombę. 2 sekundy to jednak dość czasu dla Kid Flasha by zdobyć potrzebna próbkę oraz uratować trójkę bohaterek. W międzyczasie Arsenal i Bunker mają coraz większe problemy.
W St. Luis dr Hugo Strange podpisuje swoją książkę pt. "What's so strange about being happy?"
Do Roya i Bunkera dołącza reszta bohaterów ze szczepionką, po zaaplikowaniu, której ich niebezpieczni przeciwnicy znowu są normalnymi, niegroźnymi ludźmi. Bohaterowie mogą, więc zająć się tym po co przybyli czyli odnalezieniem Jasona i Tima.
Gdzieindziej Deathstroke ostro ćwiczy by, kiedy nadejdzie odpowiednia chwila policzyć się z Red Hoodem, Arsenalem i Starfire.
W garażu u Joe Joker zaś wprowadza kilka poprawek do maski Red Hooda.
Kontynuacja w TEEN TITANS #16 >>>>
Zacznijmy od plusów. Okładka tego numeru robi kapitalne wrażenie. Przerażająca maska Red Hooda, w której widać odbicia jego przyjaciół, od razu zachęca by sięgnąć po ten numer. Niestety na tym największe zalety Red Hood and the Outlaws #16 się kończą. Za warstwę graficzna nie odpowiadają bowiem twórcy wspomnianej okładki. Co gorsza jeśli ktoś przeczytawszy oficjalny opis numeru spodziewa się, że jakąś rolę odegrają tu Jason i Tim, to jest w wielkim błędzie. Porwani przez Jokera bohaterowie pojawiają się tylko na jednym kadrze. Trochę więcej miejsca poświecono Jokerowi, bo ma on aż całą stronę. Co więc dzieje się w numerze? Outlaws i Teen Titans łączą siły by uratować zarażonych toksyną Jokera mieszkańców miasta. Całość nic nie wnosi do Death of the Family. Współpraca obu grup bohaterów pozwala jednak pokazać przywódcze oblicze Roya, który radzi sobie całkiem nieźle. Stałych czytelników serii powinny zainteresować także sugestie czego można się spodziewać w kolejnej historii czyli udziału Hugo Strange'a i Deathstroke'a, reszta osób śmiało może sobie odpuścić ten numer.
Ocena: 3 nietoperki

---