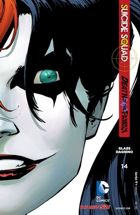 SUICIDE SQUAD #14
Tytuł historii: Running With the Devil
Miesiąc wydania (okładka): Styczeń 2013 (USA)
W sprzedaży od: 14.11.2012 (USA)
Scenariusz: Adam Glass
Rysunki: Fernando Dagnino
Okładka: Ken Lashley i Matt Yackey
Kolor:Liternictwo: Jared K. Fletcher
Ilość stron: 32
Twoja ocena:

GD Star Rating
loading...
Na pogrzebie Deadshota niespodziewanie zjawia się Joker, który polewa zgromadzonych zatrutą wodą. Wszyscy padają na ziemię oprócz Harley. Pan J. ucina sobie pogawędkę z przerażona Quinn. Szaleniec wie co porabiała jego ukochana i nie jest zachwycony jej relacjami z Floydem. Kiedy ma zamiar otworzyć trumnę z Deadshotem, Harley zaczyna mierzyć do niego z broni, ale Joker wie, że nie strzeli. Składa jej jedną pewną propozycję. W zamian za drobną przysługę zostawi ją i jej nowego chłopaka w spokoju.
Po odzyskaniu przytomności Amanda Waller i pozostali członkowie Suicide Squad analizą zajście do którego doszło na pogrzebie. Odkrywają, że za wszystkim najprawdopodobniej stoi Joker. Waller nie zgadza się jednak wysłać ekipy za Harley ani też zawiadomić m.in. komisarza Gordona o powrocie Jokera, gdyż to równoznaczne byłoby z ujawnieniem istnienia jej specjalnego oddziału. Następnie Amanda zajmuje się innymi swoimi sprawami w Belle Reve m.in. profesorem Charlesa Murraya i jego ręką oraz Black Spiderem.
W fabryce chemikaliów Ace, po zamknięciu Batmana w pełnym toksyn zbiorniku Harley woła Jokera licząc, że to już koniec, ale ten niespodziewanie zarzuca jej pętlę z łańcucha na szyje.
W różnego rodzaju crossoverach najgorszym problemem jest to, że jeśli ktoś nie jest regularnym czytelnikiem serii to wiele rzeczy może być dla niego nie jasnych. Tak jest w przypadku Suicide Squad #14, dlatego nie będę zagłębiał się działania Waller, które co prawda wyjaśniają dlaczego po zniknięciu Halrey i pojawieniu się Jokera nikt nikogo nie ostrzegł.
Running With the Devil głównie skupia się na relacjach Harley z Jokerem. Duet ten przez lata był przedstawiony na różne sposoby, ale ostatnie zmiany w życiu Quinn nie pozostały bez wpływu. Joker wydaje się wszystko wiedzieć i na dodatek bez przeszkód realizuje swoje plany. Czyżby aż tak dokładnie wszystko zaplanował, że nawet złamanie zabezpieczeń rządowych agencji to dla niego pestka, czy być może nie działa sam?
O Suicide Squad #14 można powiedzieć, że jest to w połowie crossover a w połowie regularny numer. Takie połączenie sprawia, że środkowa cześć poświecona Waller kompletnie nie pasuje do początku i zakończenia numeru. Tak jakby wrzucono je na siłę bo nic lepszego twórcy nie wymyślili. Na szczęście pojawienie się Jokera po części wynagradza to, w czym spora zasługa duetu Dagnino Yackey, którym udaje się uchwycić szaleństwo i radość księcia zbrodni. Po za tym najnowszy numer Suicide Squad nie wiele wnosi do Death of the Family, może kolejny udzieli więcej odpowiedzi na temat działań Jokera i jego planów wobec Harley.
Ocena: 3 nietoperki

---