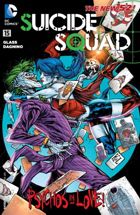 SUICIDE SQUAD #15
Tytuł historii: Running With the Devil, Part 2
Miesiąc wydania (okładka): Luty 2013 (USA)
W sprzedaży od: 12.12.2012 (USA)
Scenariusz: Adam Glass
Rysunki: Fernando Dagnino
Okładka: Ken Lashley i Matt Yackey
Kolor: Matt Yackey
Liternictwo: Jared K. Fletcher
Ilość stron: 32
Twoja ocena:

GD Star Rating
loading...
Harley jest duszona przez Jokera aż do utraty tchu. Po odzyskaniu przytomności przez moment wydaje jej się, że to był tylko sens, ale przerażająca twarz Joker szybko ją ocuca. Jak się okazuje szaleniec ma zamiar zafundować je kąpiel w chemikaliach.
W międzyczasie Amanda Weller i Yo-Yo oglądają bezpośredni przekaz z kamery umieszczonej w oku Harley. Mają zamiar obserwować jak działa najbardziej szalony umysł w akcji.
Harley nie zamierza się jednak poddawać. Udaje jej się uwolnić, ale po chwili przekonuje się, że Joker zaraził jej ukochane hieny wścieklizną. Po odparciu ich ataku Harley uderza Jokera, do którego wreszcie dociera, że kąpiel, którą zafundował wcześniej Harley wcale nie zmieniła go tak ja jego. Jej skóra została wybielona, ale działania chemikaliów pozwoliły jej uwolnić swoje szaleństwo, kiedy tego chciała. Joker obgryza jej kawałek ucha, a ta odwdzięcza mu się namiętnym pocałunkiem podczas którego odgryza mu kawałek języka. Nie powstrzymuje to szaleńca, która zabiera Harley i przekuwa ją do celi, gdzie jest pełno kości wcześniejszych "Harley".
Rannej Harleen udaje się dotrzeć do Belle Reve, gdzie przy bramie wejściowej znajdują ją Captain Boomerang i Weller.
Po spotkaniu z Batmanem, Joker wraca do swojej kryjówki i zaskoczony odkrywa, że Harley uciekła.
Tymczasem okazuje się że Deadshot żyje.
W pierwszych numerach Suicide Squad przedstawiono nowy origin Harley Quinn. Sensu w tym cały czas nie widzę, a ten numer jeszcze bardziej wszystko pogorsza, bo miesza też w postaci Jokera. Pomijając całą zabawę szaleńca z Harley i ich walkę najciekawsze, a w tym wypadku również najbardziej niedorzeczne, są informacje, że szaleniec ma jakąś tajną kryjówkę mieszczącą się w chyba w jaskini, gdzie ma kąpielisko z kwasem, a także wiezienie dla Harley. Tak, przed Harleen Quinzel były jeszcze inne pomocnice Jokera. Co gorsze Joker z Suicie Squad swoim działaniem w żadnej sposób nie przypomina tego, który pojawia się teraz w innych seriach wchodzący w skład Death of the Family Po co więc ten numer? Chyba tylko po to by poirytować fanów.
Czy warto traktować ten numer poważnie? Raczej nie, bo już sam rysownik niezbyt się przykład o dbałości o szczegóły o czym najlepiej świadczy znikająca peleryna Harley i kilka innych drobnych błędów.
Ocena: 1,5 nietoperka

---