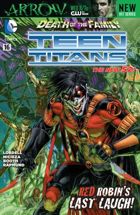 TEEN TITANS #16
Tytuł historii: Gotham Runs Red!
Miesiąc wydania (okładka): Marzec 2013 (USA)
W sprzedaży od: 31.01.2013 (USA)
Scenariusz: Scott Lobdell, Fabian Nicieza
Rysunki: Brett Booth
Okładka: Booth, Rapmund i Dalhouse
Kolor: Andrew Dalhouse
Tusz: Norm Rapmund
Liternictwo: Dave Sharpe
Ilość stron: 32
Twoja ocena:

GD Star Rating
loading...
Nasi bohaterowie dostają nauczkę jakiej nigdy wcześniej nie dostali, kiedy pod nieobecność Red Robina Arsenal przejmuje kontrolę!
Spojrzenie z drugiej strony na wydarzenia z "Red Hood and the Outlaws #16″, gdzie Jason Todd i Tim Drake muszą polegać na sobie nawzajem, by przetrwać atak Jokera!
Plus powrót Raven!
Red Robin i Red Hood cały czas są nieprzytomni i spięci łańcuchem w kryjówce Jokera. Sam szaleniec zagląda do nich, ale kiedy ci cały czas nie reagują wychodzi i rozpoczyna swoją złowieszczą grę. Woda skutecznie budzi bohaterów, którzy ku swojemu zaskoczeniu odkrywają, że złoczyńca schwytał także dwóch mężczyzn, którzy mają być ich ojcami.
Tymczasem na drodze Tytanów i Outlaws pojawiają się nowe kłopoty. Solstice przeczuwa, że gdzieś w pobliżu jest Kurt Lance. Jak się okazuje ma ona rację, a bohater wkrótce zostaje zakatowany przez Grey Lorę. Gdzieindziej zaś Trigon przedstawia swoim sługom Raven.
Decyzja, który z ojców ma zginąć należy do bohaterów. Red Hood od razu wyciąga broń i przykłada ją do głowy Tim. Rozpoczyna się walka. Na początku Red Robin stara się dotrzeć do Jasona, ale kiedy to się nie udaje pozostaje mu tylko walka. Jednak, kiedy nadchodzi odpowiednia pora razem atakują obserwującego za szybą całe zajście złoczyńcę. Tim dostrzegł u mężczyzny, który miał być jego ojcem starą bliznę, której jego ojciec nigdy nie miał.
Bohaterowie są przekonani, że wygrali, Joker odniósł wiele ran, ale cały czas żyje. Jednak ku ich zaskoczeniu po chwili z ciała złoczyńcy zaczyna wydobywać się gaz. Szaleniec przewidział działania bohaterów i zamieścił na swoim miejscu kukłę. Teraz zaś zabiera ze sobą nieprzytomnych bohaterów i czeka na nich z krwawą niespodzianką na srebrnych tacach.
Być może jeszcze miesiąc temu za taką historię wystawiłbym lepszą ocenę, ale teraz, kiedy mamy do czynienia z ostatnim tie-inem Death of the Family można śmiało stwierdził, że nie był to najlepszy crossover. Były dobre momenty, ale niestety przeważnie otrzymywaliśmy bardzo przeciętne historie.
Teen Titans #16 ma niezły początek, w czym wielkie słowa uznania należą się rysownikowi Brettowi Boothowi. Swój kunszt pokazuje również na ostatnich stronach zwłaszcza, kiedy widzimy kukłę Jokera, która jest wręcz rozsadzana przez gaz. Gdyby nie te elementy praktycznie nic nie byłoby warte zapamiętania z tego numeru. Dodajmy do tego, że w numerze twórcy postanowili też wrzucić kolejne nawiązania, które mają tylko sens dla stałych czytelników serii. Nikogo innego nie obchodzi, co się dzieje z Kurtem Lance'm czy Raven. Również mimo widowiskowego przedstawienia starcia bohaterów ich walka specjalnie mnie porwała, a zwłaszcza motyw z "ojcami". Joker na każdym kroku próbuje pokazać, że doskonale wie, kim są bohaterowie Gotham City, ale tak naprawdę nie podaje żadnych konkretów. Jedyne, co mu się udaje to doskonale zmanipulowanie swoimi ofiarami. Tylko ile w tym zasługi samego szaleńca, a ile nietrzeźwo myślących bohaterów Gotham City?
Ogólnie wszystkie tie-iny nie wiele wniosły do całej opowieści. Motyw ze srebrnymi tacami był zabawny na początku, ale później bez zaglądania do numeru z łatwością można było przewidzieć jak też wszystko się zakończy. Bez zbędnego żalu można było odpuścić sobie cały ten crossover i skoncentrować się tylko na Batmanie Snydera.
Ocena: 2,5 nietoperka

---