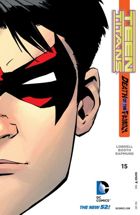 TEEN TITANS #15
Tytuł historii: Teen Scream
Miesiąc wydania (okładka): Luty 2013 (USA)
W sprzedaży od: 02.01.2013 (USA)
Scenariusz: Scott Lobdell, Fabian Nicieza
Rysunki: Brett Booth
Okładka: Greg Capullo, FCO Plascencia
Kolor: Andrew Dalhouse
Tusz: Norm Rapmund
Liternictwo: Travis Lanham
Ilość stron: 32
Twoja ocena:

GD Star Rating
loading...
Tie-in "Death of the Family"!
Red Hood i Red Robin wspólnie walczą z Jokerem!
Czy Arsenal przejmie Titanów?
Gościnnie pojawia się Batgirl!
Po zniknięciu Red Robina jego drużyna wezwała na pomoc Batgirl. Chociaż Barbara jednak nie ma zamiaru niańczyć dzieciaków. Tim już nie raz znikał, a dla bohaterów Gotham City obecnym priorytetem jest schwytanie Jokera.
Po odzyskaniu przytomności Red Robin ma na sobie swój stary kostium Cudownego Chłopca, a Joker przywdział fragmenty jego peleryny. W swojej przemowie złoczyńca wydaje się doskonale znać Tima.
Batgirl postanawia jednak pomóc młodym bohaterom. Nie zdradza im, że Joker powtarza swoje stare zbrodnie ale wskazuje im miejsca, w których mogą znaleźć szaleńca i tym samym odnaleźć Red Robina. W pierwszej kolejności Kid Flash i Solstice sprawdzają stary opuszczony budynek.
Joker cały czas świetnie się bawi, i mota w umyśle Tima, któremu wydaje się, że złoczyńca dokładnie wie o czym myśli. Przedstawia mu także schemat opuszczonego budynku, z którego pewien szybko biegający młodzieniec rozniesie jego toksynę.
Dokładnie tak jak to zaplanował Joker, Tytani zostają zaatakowani przez zarażonych toksyną szaleńca mieszkańców Gotham. Tim zdaje sobie sprawę, że z taka sytuacją jego przyjaciele jeszcze się nie mierzyli, ale niespodziewanie otrzymują oni wsparcie ze strony Arsenala i Starfire.
>Kontynuacja w RED HOOD AND THE OUTLAWS #16 >>>>
Wraz z kolejnymi numerami będącymi częścią crossovera Death of the Family, cała historia zaczyna po prostu nudzić. Brak jakichkolwiek wyjaśnień w większości tie-inów sprawia, że praktycznie wszystkiego tego typu historie są do siebie bardzo podobnych. Joker wygłasza swoje monologi, a złapany bohater jest praktycznie bezbronny. Czy akcja posuwa się do przodu? Nie wiele. Może pojawienie się Arsenala i Starfire sprawi, że całość nabierze większego rozmachu>
Teen Titans #15 ma oczywiście swoje dobre plusy. Pojawienie się Batgirl oraz sposób w jaki traktuje Tytanów to największy z nich. Jeśli dodamy do tego rysunki Bretta Bootha, to jest naprawdę na co zwrócić uwagę.
Jeśli ktoś jest stałym czytelnikiem Teen Tians to numer powinien mu się bardziej podobać, nie brakuje tu bowiem też drobnych aluzji rzucanych co do postaci Tima, którego origin został w New DCU zmodyfikowany. Osoby, które sięgną po ten numer tylko, ze względu na to, że jest to cześć Death of the Family mogą być już mniej usatysfakcjonowane, bo w gruncie rzeczy gdyby nie narracja Tima, to nie wiele by go było w tym numerze.
Ocena: 3,5 nietoperka

---