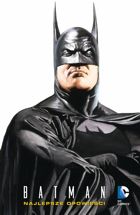 BATMAN: NAJLEPSZE OPOWIEŚCI
Data wydania: 11.07.2012
Scenariusz: Bill Finger, Frank Robbins, Danz O'Neil, Mike W. Barr, Mark Millar, Devin Grayson
Rysunki: Bob Kane, Dick Giordano, Sheldon Moldoff, Neal Adams, Marshall Rogers, Frank Miller, Alan Davis, Steve Yeowell, Roger Robinson
Tłumaczenie: Tomasz Sidorkiewicz
Druk: kolor, kredowy
Oprawa: twarda
Format: 170 x 260 mm
Ilość stron: 192
Wydawca: Egmont Polska
Wydawca oryginalny: DC Comics
Cena: 89,99 zł
Twoja ocena:

GD Star Rating
loading...
---
Przedstawiamy dwanaście najlepszych opowieści o Batmanie, jakie kiedykolwiek powstały. Każdy fan Mrocznego Rycerza musi mieć ten album na swojej półce. To właśnie dzięki tym historiom przez ponad 70 lat niezliczone rzesze czytelników poznawały legendę Rycerza z Gotham! Wybrane przez redaktorów DC Comics utwory ukazują ewolucję komiksów o Batmanie – od nieco naiwnych, sensacyjnych historyjek po nowsze: brutalne, niejednoznaczne i oddające lęki współczesnego człowieka.
W albumie zamieszczono prace największych sław komiksu amerykańskiego: Boba Kane'a, Billa Fingera, Sheldona Moldoffa, Dicka Giordano, Danny'ego O'Neila, Neala Adamsa, Steve'a Engleharta, Marshalla Rogersa, Franka Millera, Dicka Spranga, Mike'a W. Barra, Alana Davisa, Marka Millara, Devina Graysona.
Najlepsze opowieści otwiera wstęp Lesa Danielsa, w którym znany pisarz opowiada historię komiksowych opowieści o Batmanie.
---
Wydanie powstało na podstawie komiksu: BATMAN: THE GREATEST STORIES EVER TOLD VOL. 1.
---