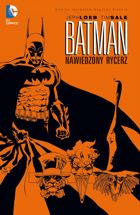 BATMAN: NAWIEDZONY RYCERZ
Data wydania: 11.07.2012
Scenariusz: Jeph Loeb, Tim Sale
Rysunki: Jeph Loeb, Tim Sale
Tłumaczenie: Tomasz Sidorkiewicz
Druk: kolor, kredowy
Oprawa: twarda
Format: 170 x 260 mm
Ilość stron: 192
Wydawca: Egmont Polska
Wydawca oryginalny: DC Comics
Cena: 89,99 zł
Twoja ocena:

GD Star Rating
loading...
---
Halloween to nieszkodliwa zabawa, choć – oprócz przebieranek i straszenia się – tkwi w niej złowieszczy potencjał: może zamienić się w coś rzeczywistego i porwać nas w podróż pełną lęków, z którymi musimy się zmierzyć, mimo iż nie jesteśmy na nie przygotowani. Takie doświadczenie siedmiolatka przyprawi o mdłości, ale Batmanowi, postaci mrocznej i skomplikowanej, halloweenowy wieczór stwarza mnóstwo możliwości.
W albumie Nawiedzony Rycerz zapraszamy na trzy halloweenowe wieczory z Batmanem. Historie Strachy, Szaleństwo i Duchy ukazały się pierwotnie w wydaniach specjalnych magazynu Legends of the Dark Knight Są to niezależne fabularnie opowieści z ciekawymi odniesieniami literackimi. Szaleństwo nawiązuje do Przygód Alicji w Krainie Czarów Lewisa Carrolla z niezwykłymi ilustracjami Johna Tenniela. Duchy są wariacją na temat Opowieści wigilijnej Karola Dickensa.
Na łamach miesięcznika Legends of the Dark Kinight Jeph Loeb i Tim Sale zaprezentowali trzy historie nawiązujące swoim klimatem do święta Halloween. Te trzy opowieści zawiera właśnie zbiorcze wydanie zatytułowane Batman: Nawiedzony Rycerz wydane przez Egmont.
W pierwszej opowieści Batman musi stawić czoła Strachowi na Wróble. Ale prawdziwe niebezpieczeństwo czyha na milionera Bruce'a Wayne'a w postaci pięknej kobiety. Czy strachy i lęki pokonają mściciela z Gotham?
W drugiej poznamy szaleństwo Szalonego Kapelusznika. Tym razem za Alicję posłuży psychopacie nastoletnia Barbara Gordon. Wszystko to w duchu dzieł Lewisa Carrolla i Johna Tenniela.
Trzecia historia nawiązuje do Opowieści wigilijnej Karola Dickensa. Mrocznego Rycerza nawiedzają duchy przeszłości, teraźniejszości i przyszłości. Wiele z tych duchów ma twarze znajomych szaleńców.
Wszystkie trzy opowieści utrzymane są w niepokojącym klimacie święta dyni. Klasycznym historiom o pierwszych latach działalności Batmana, towarzyszy charakterystyczny styl rysownika Tima Sale'a. Z kolei scenariusze Jepha Loeba, to proste w swoich założeniach zamknięte historie. Każda z opowieści trzyma równy poziom. Choć na pierwszy rzut oka nie wydają się one odkrywcze, to jednak każdy czytelnik znajdzie w nich, coś co przypadnie mu do gustu. Pewne smaczki i nawiązania do życia Bruce'a Wayne'a sprawiają, że całość jest dość błyskotliwa. Dużym plusem jest subtelny humor wpleciony w poszczególne dialogi. Całość otwiera wstęp wydawcy tomu Archie Goodwina.
Kredowy papier i twarda oprawa sprawia, że to kolejna wydawnicza perełka Egmontu. Szkoda tylko, że wydawca nie poczekał z wydaniem tomu do października lub listopada, co jeszcze bardziej pasowało by do Halloweenowych opowieści z miasta Gotham. Pamiętajmy jednak, że recenzowany tom był niejako zapowiedzią nadchodzącej historii Long Halloween. Miejmy nadzieję że wydawca pójdzie za ciosem.
Ocena: 4 nietoperki

---
Wydanie powstało na podstawie komiksu: BATMAN: HAUNTED KNIGHT.
---