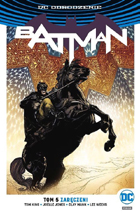 BATMAN, TOM 5: ZARĘCZENI
Data wydania: 15 maja 2019
Scenariusz: Tom King
Rysunki: Joëlle Jones, Clay Mann, Lee Weeks
Tłumaczenie: Tomasz Sidorkiewicz
Druk: kolor, kredowy
Oprawa: miękka ze skrzydełkami
Format: 167 x 255
Ilość stron: 144
Wydawca: Egmont Polska
Wydawca oryginalny: DC Comics
Cena: 39,99 zł
Twoja ocena:
GD Star Rating
loading...
Piąty tom przygód Batmana w ramach linii wydawniczej DC Odrodzenie. Kiedy Catwoman przyjęła oświadczyny Batmana, zmieniła życie nie tylko Bruce'a Wayne'a i Seliny Kyle. Związek najlepszego detektywa na świecie i jednej z najgroźniejszych przestępczyń z Gotham City zaskoczy wszystkich – od młodych pomocników Batmana, którzy tworzą jego przybraną rodzinę, przez legendarnych przyjaciół z Ligi Sprawiedliwości, po stare demony, o których Zamaskowany Mściciel od dawna chciałby zapomnieć. Batman i Catwoman wyruszą na wyprawę, dzięki której oczyszczą dobre imię Seliny. Misja zaprowadzi ich w głąb zakazanej pustynnej fortecy. Czeka ich także spotkanie z dawną ukochaną Batmana, Talią Al-Ghul, matką Damiana. Albumem Batman – Zaręczeni rozpoczynamy nowy, istotny rozdział w życiu Mrocznego Rycerza i jego narzeczonej. Tom King (Mister Miracle) i Joëlle Jones (Supergirl: Being Super) wraz z gościnnie występującymi rysownikami Clayem Mannem i Lee Weeksem zapraszają do lektury wyjątkowych przygód Batmana.

---
Wydanie powstało na podstawie komiksu: BATMAN VOL. 5: THE RULES OF ENGAGEMENT.
---