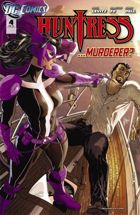 HUNTRESS #4
Tytuł historii: Crossbow at the Crossroads, Part Four
Miesiąc wydania (okładka): Marzec 2012 (USA)
W sprzedaży od: 04.01.2011 (USA)
Scenariusz: Paul Levitz
Rysunki: Marcus To
Okładka: Guillem March, Tomeu Morey
Kolor: Andrew Dalhouse
Tusz: John Dell, Richard Zajac
Liternictwo: Dezi Sienty
Ilość stron: 32
Twoja ocena:

GD Star Rating
loading...
Płynąc motorówką w seksownym bikini Helena próbuje nakłonić ochraniarza by ten wpuścił ją na jacht Morettiego. Mężczyzna jednak trzyma się rozkazów swojego szefa, ale zaprasza ją na wieczorne spotkanie.
Po południu Helena wraz ze swoimi przyjaciółmi zwiedza urokliwe zakątki Amalfi. Wieczorem Huntress dostaje się na balkon hotelu, w którym przebywa Moretti z synem Chairmana. Dzięki dziennikarzowi, który próbuje się czegoś dowiedzieć od ambasadora na temat azylu dla przywódcy Kufry, bohaterka nie zostaje zauważona przez ochronę. Niestety tuż po tym jak udaje jej się podłożyć pluskwę dostrzegają ją policjanci. Huntress unika jednak kul i szybko znika w pogrążonych w mroku uliczkach Amalfi.
Tymczasem Chairman wraz ze swoimi ludźmi szykuje się do wyjazdu do Włoch.
Następnego dnia podczas lunchu Helena ponownie spotyka się ze swoimi przyjaciółmi z Neapolu. Rozmawia na temat sekretów i Chairmana. W nocy Huntress, która domyśliła się że przywódca Kufry będzie musiał przybyć do Włoch drogą morską, dostaje się na jacht Morettiego. Żeby ten nie mógł wezwać pomocy zagłusza sygnał radiowy. Po krótkiej drzemce zakrada się do maszynowni, gdzie śpiącym mężczyznom wstrzykuje środek usypiający. Następnie zatrzymuje jacht i szybko rozprawia się z kolejnymi przeciwnikami. Niestety po wyjściu na pokład bohaterka przekonuje się, że trochę nie doceniła Morettiego i jego ludzi. Jednak mimo początkowych problemów, także i z nimi szybko się rozprawia. A samego Morettiego pozostawia na pastwę dziewczyn, które ten wykorzystywał, oraz policji, która została o wszystkim zawiadomiona przez przyjaciół Heleny, którzy zabrali ją na pokład swojej motorówki.
Numer rozpoczyna się niezwykle atrakcyjnie, niestety widok Heleny w bikini to nieliczne plusy, później niestety jest już znacznie gorzej. Miniseria Levitza ma fajny klimat, jednak wraz z kolejnymi numerami coraz bardziej odsłaniają się wszelkie braki. Momentami historia jest zbyt schematyczna. W dzień Helena spotyka się ze znajomymi dziennikarzami, a w nocy Huntress wkracza do akcji. Raz bohaterka ma większe problemy raz mniejsze.
Poprzedni numer sugerował, że Helena własnoręcznie rozprawi się z Morettim. Nic takiego nie ma jednak miejsca. Bohaterka nie robi mu żadnej krzywdy, tylko pozostawia na pastwę wykorzystywanych dziewczyn. Levitz miał interesujący pomysł wyjściowy na historię, ale później wyraźnie widać, że braknie mu pomysłów na ciekawe poprowadzenie akcji. Huntress cały czas robi swoje, ale ile razy można śledzić praktycznie to samo. Zaczynam też wątpić czy doczekam się powrotu Giuseppe'a.
Ocena: 3,5 nietoperka

---