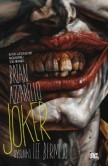 JOKER
Kolekcja Obrazy Grozy
Scenariusz: BRIAN AZZARELLO
Rysunki LEE BERMEJO
Tłumaczenie: Tomasz Sidorkiewicz
JOKER to powieść graficzna napisana przez Briana Azzarello – autora serii 100 NABOI, wielokrotnego laureata Nagrody Eisnera. Została przepięknie zilustrowana przez Lee Bermejo (LEX LUTHOR: MAN OF STEEL). Obrysem tuszem zajął się Mick Gray, a kolorami – Patricia Mulvihill.
"NIE ZNAM SZCZEGÓŁÓW,
NADAL NIE WIEM DLACZEGO…
 ALE TAK BYŁO…
 JOKERA WYPISANO
Z AZYLU ARKHAM…"
Tak zaczyna się opowieść, będąca przenikliwym spojrzeniem na oszalały świat i zwariowany umysł Jokera – króla przestępców Gotham City.
BatCave poleca!
Źródło: Informacja prasowa