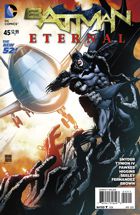 BATMAN ETERNAL #45
Tytuł historii: Legacies
W sprzedaży od: 11.02.2015 (USA)
Scenariusz: Scott Snyder, James Tynion IV, Ray Fawkes, Kyle Higgins i Tim Seeley
Rysunki: Javi Fernandez
Okładka: Ethan Van Sciver, Marcelo Maiolo
Kolor: Dan Brown
Liternictwo: Steve Wands
Ilość stron: 32
Twoja ocena:

GD Star Rating
loading...
Nic z jego doświadczenia z najnowocześniejszych technologii nie mogło przygotować Batwinga na bitwę przeciwko mściwym duchów, które przejęły kontrolę nad jego zbroją!
Sytuacja z duchami sprawia, że Milo jest bliski śmierci. Nie zważając, że został otoczy przez policjantów, którzy chcą go aresztować, Batman stara się uratować Achillesa. Ostatecznie zmuszony jest pod osłoną zasłony dymnej wycofać się.
Kiedy Luke Fox walczy z duchami w swoim mieszkaniu niespodziewanie odwiedza go Jim Corrigan. Nie mają jednak czasu na dłuższą rozmowę, gdyż Batman potrzebuje Corrigana do wydobycia informacji z Milo. Jim dowiaduje się, że ten korzystał z fragmentów magicznej księgi wykorzystując swoją nienawiść do Blackfire'a. Wychodzi na jaw, że ktoś podczas snu zasugerował mu takie rozwiązanie.
Steph i Haper cały czas nie mogą się dogadać w sprawie Wayne'a, dlatego Row zostawia Spoiler przywiązaną do czujników połączonych z bronią. Jeśli się ruszy to zostanie ogłuszona, a w tym czasie Blubird chce porozmawiać z Batmanem.
W jaskini Julia i Bruce sprawdzają kto wykupił Wayne Enterprises. Jak się okazuje wszystkie podstawione firmy wskazują na osobą Ra's al Ghula.
Walka z duchami itp. rzeczy nie pomagają, nie przybliżyliśmy się ani o krok do rozwikłania tajemnicy przeciwnika Batmana. Wątek ze Steph i Harper zamiast przyśpieszyć akcję jest prowadzony tak by wszystko opóźnić. Dlaczego Row od razu nie skontaktowała się z Red Robinem, czy Batmanem, a postanowiła sobie pogadać ze Step i ostatecznie dopiero ruszy by osobiście poinformować o wszystkim Batmana? Czy nie zdawała sobie sprawy, że te informacje mogą być ważne? Najwyraźniej nie, a Batman podąża za kolejnym prawdopodobnie fałszywym tropem, który doprowadzi go do Ra's al Ghula. Dobrze będzie zobaczyć co słychać u Ligi zabójców, ale nie należy się spodziewać, by do czegoś miało to doprowadzić. Chyba, że stary przyjaciel zadba by Wayne Enterprises wróciło w ręce Bruce'a? To było coś godnego uwagi, ale niestety po tej serii nie należy się spodziewać w ostatnim czasie niczego dobrego.
Ocena: 1,5 nietoperka

---