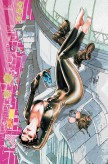 Guillem March udzielił wywiadu Newsaramie, w którym odniósł się do kontrowersji jakie ostatnio wywołał 1. numer "Catwoman".
[quote]"Catwoman", to komiks dla dojrzałych czytelników. Ma kategorię "T+", czyli jest skierowany do osób powyżej 16 roku życia. Sądzę, że na rynku powinno być miejsce dla pozycji zawierających seksualność… Nie mam zamiaru się z nikim kłócić, czy powinno się pokazywać seksualność pomiędzy dwojgiem znanych bohaterów, czy też w sposób jak to zrobiono w "Catwoman". Te postacie są własnością DC Comics i nikt nie może powiedzieć, "to nie taka powinna być Catwoman", ponieważ każdy ma swoją wizję, jaka powinna być dana postać… Uważam, że w Europie jesteśmy bardziej otwarci na pokazywanie seksualności w mediach, ale w mniejszym stopniu, niż w USA, akceptujemy przemoc. Cały ten spór o zakończenie "Catwoman #1" trochę mnie zaskoczył.[/quote]
Pełny wywiad z Marchem można przeczytać pod tym adresem.