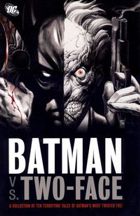 BATMAN VS. TWO-FACE
Data wydania: 2008
Scenariusz: Bill finger, Don Cameron, David Vern Reed, Dennis O'Neil, Mark Verheiden, Doug Moench, Bruce Timm, James Robinson
Rysunki: Bob Kane, Jerry Robinson, Dick Sprang, Neal Adams, Kelley Jones, Bruce Timm
Tusz: George Roussos, Charles Paris, Dick Giordano, John Beatty, Bruce Timm
Kolory: Gregory Wright, John Kalisz, Mark Chiarello, Tom McCraw
Okładka: Simone Bianchi
Liternictwo: John Costanza, Todd Klein, George Roussos, Nick Napolitano
Wydane jako: Detective Comics #66, 68, 80, 187, Batman #81, Countdown #27, Batman #234, Secret Origins Special #1, Batman #527, 528, 653, Batman Black and White #1
Ilość stron: 176
Twoja ocena:

GD Star Rating
loading...
"Batman vs. Two-Face" to tytuł komiksu wydanego w roku 2008, skupiającego się na tragicznej postaci prokuratora generalnego – Harveya Denta. Jest to wydanie zbiorcze składające się z dziesięciu niepowiązanych ze sobą zeszytów, które podzielone są na dwie odrębne grupy. Pierwsza – zatytułowana "classic chronicles" zbiera historie począwszy od debiutu Dwóch Twarzy w roku 1941, a kończy na roku 1954. Druga grupa nosi nazwę "modern masterpieces" i obejmuje lata 1971-2006.
Siłą rzeczy obie grupy różnią się klimatem i powagą opowiadanych historii. Klasyczne opowieści mogą dzisiaj wywoływać uśmiech, jednak umiejętnie ukazują w jaki sposób przedstawiany był na początku Two-face. Można się z nich dowiedzieć, że u swojej genezy prokurator nie nosił wcale nazwiska "Dent", lecz "Kent" (po jakimś czasie zmieniono pierwszą literę godności przyszłego kryminalisty z przyczyn raczej oczywistych). Scenariusze z grupy "classic…" to typowa Złota Era komiksu z autorami takimi jak Bill Finger, Don Cameron czy Dick Sprang. Two-face zajmuje się w nich ciągłym planowaniem skoków na banki, bądź też inne obiekty jakkolwiek związane z liczbą "2", zastawianie misternych pułapek na Batmana i Robina itp. itd. Historie są dzisiaj infantylne, przeznaczone raczej dla koneserów i wielbicieli postaci Denta. Mnie się czytało je z zaciekawieniem i niejednokrotnie także z uśmiechem na twarzy. Two–face z okresu Golden Age był (poza oczywiście postacią w stylu doktora Jekylla i mister Hyde'a) czymś w rodzaju pokręconego Robin Hooda. Jeśli tylko moneta upadła na czystą stronę – forsę z łupów rozdawał biednym, ale jeśli tylko moneta wskazała "złą" stronę – zatrzymywał utarg dla siebie i planował kolejny skok – takich ciekawostek w komiksie znajdziemy więcej.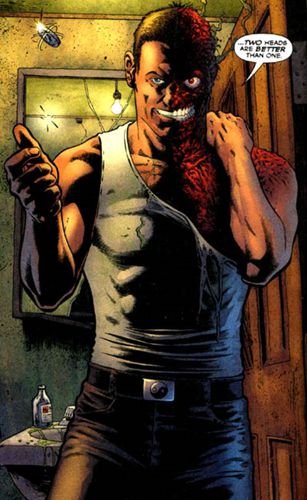 Grupa "modern masterpieces" to już zupełnie inna para kaloszy. Scenariusze i rysunki reprezentują mroczniejszą erę Batmana i są tworzone przez takich autorów jak Kelley Jones, Neal Adams, Dennis O'Neil lub James Robinson. Niektóre z zamieszczonych tutaj opowieści mieliśmy już okazję poznać w naszym kraju. Mam tutaj na myśli dwuczęściową historię Douga Moencha i wspomnianego Kelleya Jonesa pt. "The Face Schism/Schismed Faces" (fabuła z cyrkowcami) , a także krótką nowelkę Bruce'a Timma pt. "Two of a kind", w której to Harvey zostaje zoperowany i wyleczony. Te dwa rozdziały, wraz z pozostałymi trzema trzymają bardzo solidny poziom. Nawet "Face the Face", które jako jedyne z tego zbioru nie jest odrębną całością, prezentuje się bardzo dobrze, wyśmienicie oddając chorą psychikę głównego aktora tego albumu. Takiego Harveya właśnie najbardziej lubię oglądać. Toczącego wewnętrzne bitwy z samym sobą.
Ciężko coś konkretnego zrzucić temu albumowi. Jedyne, co mi przychodzi do głowy, to brak jakichkolwiek dodatków. Przydałaby się może jakaś biografia Two-face'a lub inne ciekawe informacje na temat tego złoczyńcy. Pierwsza część komiksu z klasycznymi historiami ze Złotej Ery może niektórych odstraszać, ale poprzez to zestawienie fajnie jest popatrzeć i porównać sobie, w jaki sposób pisany był kiedyś Harvey Dent, a w jaki sposób pisany jest obecnie. Nie jest to album "the best of Two-face", ale zdecydowanie mogę go polecić ludziom, którzy chcieliby poznać postać, jak i dla tych, którzy już co nieco wiedzą o tym złoczyńcy. A jeżeli komuś jeszcze mało Two-face'a, to poza oczywistymi wyborami jak "Długie Halloween", można śmiało sięgać jeszcze po "The Eye of the Beholder" lub "Jekyll and Hyde" – który próbuje mieszać w dzieciństwie Harvey'a. Komiks jest łatwo dostępny w naszych sklepach internetowych.

Plusy:
solidny dobór historii
okładka
jest i klasycznie i mroczno
Minusy:
brak dodatków
Golden Age nie dla wszystkich
---
Poprzednia Strona