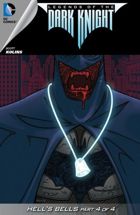 LEGENDS OF THE DARK KNIGHT #73
Tytuł historii: Hell's Bells, part 4
Data wydania: 24.10.2013 (USA)
Scenariusz: Scott Kolins
Rysunki: Scott Kolins
Okładka: Scott Kolins
Kolor: Wendy Broome
Liternictwo: Saida Temofonte
Ilość stron: 23
Twoja ocena:

GD Star Rating
loading...
Podczas gdy Jim Gordon walczy o swoje życie po starciu z bestią z Bell Building, Batman mierzy się z nią w bezpośredniej walce. Kto na końcu okaże się zwycięzcą?
Bavol Bell okazuje się być potworem, który przez lata popełniał zbrodnie. Teraz kiedy Batman zna prawdę za wszelką cenę próbuje go powstrzymać.
W międzyczasie stan komisarza Gordona cały czas się nie poprawia, a lekarze wykorzystali już wszystkie znane im środki.
Kiedy potwór chcę pożywić się siłą witalną Batmana, w ostatniej chwili zostaje przejechany przez motor bohatera, którym zdalnie steruje Alfred. Lokaj pragnie coś przekazać Bruce'owi, ale tego interesuje tylko kontynuacja pościgu za potworem.
Lekarze już ogłaszają śmierć Jima Gordona, ale w tym samym czasie Batmanowi udaje się zapędzić bestię do Slaughter Swamp, gdzie ostatecznie się z nią rozprawia i zabiera jej dzwoneczek. W tej samej chwili, kiedy potwór zostaje pozbawiony dzwoneczka, Gordon odzyskuje przytomność. O potworze nikt więcej już nigdy nie usłyszał, tak samo jak dźwięku srebrnego dzwonka.
Wymagać jakiegoś wyjaśnienia historii potwora, z którym Batman walczył przez 4 numery, to nie jest zbyt wiele. Kilka kadrów z przeszłości w poprzednim numerze nic nie wyjaśniły. Jeśli chodziło o aurę tajemniczości to też się nie udało, bo wiele wątków zostało zasygnalizowanych, a później je porzucono. Wystarczy wspomnieć końcówkę poprzedniego numeru i córkę Bavola. Co się z nią stało i dlaczego też była przeklęta? Pamiętacie, że wcześniej pojawił też się Pingwin, po co? Tego rzecz jasna się nie dowiadujemy.
Rozczarowujące zakończenie, które niczego nie wyjaśnia, tylko potwierdza, że nie jest to najlepsza historia z Batmanem nawet dla fanów bardziej horrorowatych klimatów.
Ocena: 2 nietoperki

---