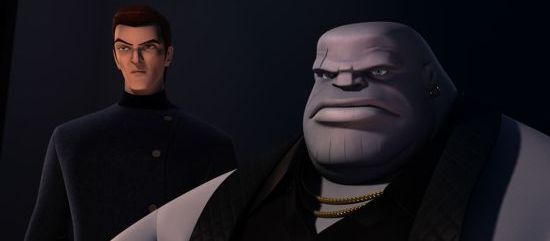 Tytuł odcinka:
"ALLIES"
Pierwsza data emisji:
14 września 2013
Reżyseria:
Rick Morales
Scenariusz:
Erin Maher, Kathryn Reindl
Twoja ocena:
GD Star Rating
loading...
Obsada:
Anthony Ruivivar
Sumalee Montano
J.B. Blanc
Kurtwood Smith
Tara Strong
Michael-Leon Wooley
Greg Ellis
Batman/Bruce Wayne
Tatsu Yamashiro/Katana
Alfred Pennyworth, batkomputer
James Gordon
Barbara Gordon
Tobias Whale
Milo Match/Phosphorus Rex
Tobias Whale to najpotężniejszy gangster w Gotham City, i po latach starania się Batman właśnie zdobył dowody, które pozwolą go zamknąć. Ale Whale nie zamierza poddawać się bez walki. Jego adwokat przekazuje porucznikowi Gordonowi, żeby ten uwolnił Whale'a, albo jego córka zostanie porwana i przetrzymywana w "The Cauldron", najniebezpieczniejszej części Gotham. Nawet gliniarze boją się tego miejsca, ale nie Batman. Z pomocą Alfreda i Katany, przeprowadza nalot na Cauldron, które jest zamieszkane przez przerażającą grupę zbirów zwanych "Duchy". Jak się okazuje Duchy nie są najgroźniejszym zagrożeniem. Barbara Gordon chroniona jest przez niebezpieczną osobę z płonącą głową, która nazywa siebie Phosphorous Rex.
Allies to jak do tej pory najlepszy odcinek Beware the Batman. Mamy tu wszystko co być powinno, rozbudowaną fabułę, akcję oraz przełomowe momenty. Na dodatek cały czas gdzieś w tle przewija się wątek Ligi Zabójców, a także zapowiedź przyszłych wydarzeń.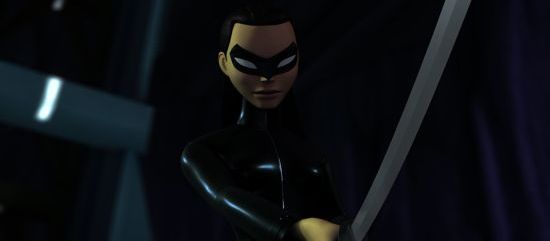 Nie wiele można zarzucić temu odcinkowi, jedyny drobny zgrzyt to sposób w jaki porwana została Barbara. Córka porucznika policja powinna najpierw sprawdzić komu otwiera drzwi. Oprócz tego momentu cała reszta jest naprawdę na bardzo dobrym poziomie. Początkowa akcja w dokach przypominać może
Batman Begins
, jest klimatycznie, ale jednak czasami widać wyraźnie, że jest to produkcja skierowana do młodszych widzów. Nie mniej jednak w
Allies
nie brakuje momentów wartych zapamiętania. Po raz pierwszy pojawia się bat-sygnał i tym samym relacje pomiędzy Batmanem i Gordonem bardziej się rozwijają. Za sprawą Barbary i Katany, która zostaje pełnoprawnym pomocnikiem Batmana nie brakuje też humorystycznych scen. Jest więc wszystko a dość sensowna fabuła, gdzie wszystko jest w miarę logicznie wytłumaczone sprawia, że otrzymaliśmy odcinek szczególnie warty polecenia.
Ocena: 5 nietoperków

---
CIEKAWOSTKI I UWAGI:
Po raz pierwszy pojawia się Bat-sygnał.
CYTATY:

Batman: You're welcome.
Lt. Gordon: What are you doing here? This is Gotham PD's collar.
Batman: If that were true, you would have gotten here before me
Katana: I get it. We have different fighting styles. But our differences make us stronger. You know, like to-may-to to-mah-to.
Batman: No. Those are the same things said differently.
Katana: Exactly my point.
Batman: Just… follow my lead.
Barbara: Wow. Batman is so cool. And did you see? He works with a girl. I could totally be like her one day. When can I have a grapnel?
Lt. Gordon: Not until you're old enough.
Barbara: When will that be?
Lt. Gordon: Never.

---
---