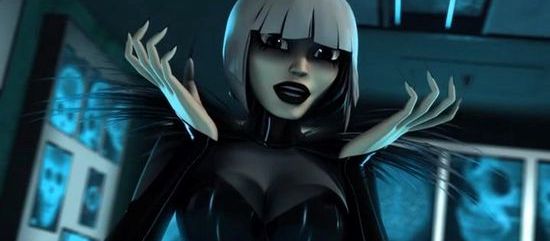 Tytuł odcinka:
"ATTRACTION"
Data premiery:
18 lutego 2013 (DVD)
Reżyseria:
Curt Geda
Scenariusz:
Len Wein
Twoja ocena:
GD Star Rating
loading...
Obsada:
Anthony Ruivivar
Sumalee Montano
J.B. Blanc

Grey DeLisle
Gary Anthony Sturgis
Batman/Bruce Wayne
Tatsu Yamashiro/Katana
Alfred Pennyworth, Lunkhead, Batcomputer,
naczelnik więzienia
Magpie
Strażnik
Kiedy Batman okazuje współczucie Magpie w więzieniu, ta ucieka z zamiarem zabicia Katany w szale zazdrości.

Kolejny przeciwnik z którym wcześniej przyszło się zmierzyć Batmanowi powraca. Kiedy po raz pierwszy walczył z Magpie działał sam, a teraz u swojego boku ma Katanę, co tylko komplikuje relacje pomiędzy łotrzycą i Nietoperzem.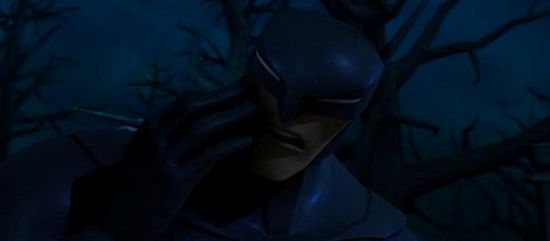 Twórców należy pochwalić za próbę psychologicznego podejścia do postaci Batmana. Czy rzeczywiście Bruce może się zatracić w swoim mrocznym obliczu? Kiedy nie odrzuci pomocy Alfreda i Katany, to sobie poradzi i nie skończy tak jak Magpie.
Na dobrych chęciach niestety się kończy. Gotham cały czas wygląda na pozbawione życia. Są co prawda jakieś samochody na ulicach, ale żadnych ludzi. Czyżby walka bohaterów z Magpie na ulicach Gotham nie przyciągnęła uwagi żadnych gapiów? Kompletnie też nie warto szukać sensu w ucieczce z więzienia. Kto tak silnego złoczyńcę jak Lunkhead zamyka w zwykłej celi, której kraty ten bez większego wysiłku może wyrwać?
Pewne elementy były godne uwagi i niektóre sceny jak samotny Burce rozmyślający na tarasie rezydencji wskazują na pewnego rodzaju głębię, ale i tak większość odcinka to przede wszystkim akcja, czyli Batman mający problemy z pokonaniem nad wyraz sprawnej fizycznej Magpie.
Ocena: 3 nietoperki

---
CIEKAWOSTKI I UWAGI:
Odcinek swoją premierę miał wraz z wydaniem DVD Beware The Batman – Season One, Part One: Shadows Of Gotham 18 lutego 2014 roku.
CYTATY:

Alfred: Just out of curiosity, were you ever going to tell me you were visiting her at Blackgate? What happened to Margaret Sorrow–to Magpie–was not…
Batman: My fault. Margaret Sorrow didn't understand the consequences of hiding who you are. I thought I could help.
Alfred: Help who? Magpie… or yourself?
Katana: You should have buried me deeper.
Magpie: I'll remember that for next time.
Magpie: You're only a pale imitation of me, sister. And you know it!
Katana: You're just jealous because Batman rejected you. Probably because of your horrible fashion sense. I mean, really? Neck feathers with a bustier? Kinda trashy, right, Batman?
---
---