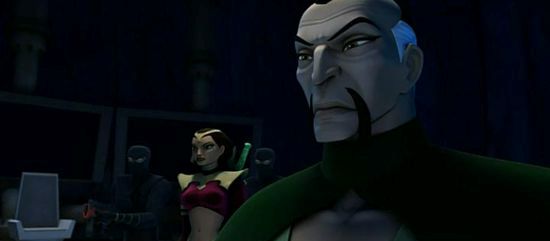 Tytuł odcinka:
"DARKNESS"
Data premiery:
1 marca 2014
Reżyseria:
Rick Morales
Scenariusz:
Mitch Watson
Twoja ocena:
GD Star Rating
loading...
Obsada:
Anthony Ruivivar
Sumalee Montano
J.B. Blanc
Kurtwood Smith
Tara Strong
Lance Reddick
Finola Hughes
James Remar
Carlos Ferro
Batman/Bruce Wayne
Tatsu Yamashiro/Katana
Alfred Pennyworth, Batcomputer
James Gordon
Barbara Gordon
Ra's al Ghul
Lady Shiva
Silver Monkey
oficer Rodriguez, komisarz Correa
Batman musi połączyć siły ze swoim współwięźniem Silver Monkey by uciec od Ligi Zabójców. W międzyczasie Ra's al Ghul zdradza Tatsu prawdę na temat zaangażowania Alfreda w śmierć jej ojca.
Ra's al Ghul wie jak przejąć kontrolę nad miastem. O ile pierwsze informacje sugerowały, że rola głównego złoczyńcy przypadnie Anarky'emu, a wygląda na to, że to Liga Zabójców stanowi największe wyzwanie dla Batmana. Bohater jednak udowadnia, że nawet pozbawiony swojego pasa ma jeszcze kilka asów w rękawie. Sprawdza się także powiedzenie, że wróg mojego wroga jest moim przyjacielem co zaowocowało współpracą Batmana z Silver Monkey. Na drugim planie mamy zaś kolejne sugestie, że Barbara Gordon wkrótce dostanie większą rolę.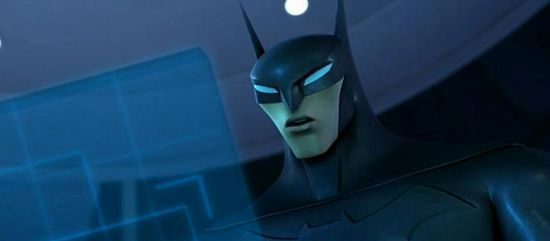 Jako, że Gotham zostaje pogrążone w ciemnościach, wreszcie pustka w otoczeniu miasta nie przeszkadza. Dobrze wypada sama historia, a raczej kolejny etap planu Ghula, któremu udało się zdobyć praktycznie władzę nad całym miastem, a na koniec wykorzystuje sprawdzony w komiksach przez Bane'a sposób na osłabienie Batmana. Czy walka z wypuszczonymi złoczyńcami wystarczy by powstrzymać Batmana, który nie może liczyć na wsparcie ze strony Katany i Alfreda, których stosunki uległy znaczącemu ochłodzeniu? Kolejne odcinki zapowiadają się bardzo interesująco i jak na razie druga połowa sezonu jest znacznie lepsza.
Ocena: 4,5 nietoperka

---
CIEKAWOSTKI I UWAGI:
Odcinek swoją premierę miał w Nowej Zelandii 1 marca 2014 roku.
Hasło, które podaje Batman Barbarze to oracle (wyrocznia).
CYTATY:

Ra's Al Ghul: For too long Gotham has held itself up as a symbol of hope to the world. A place of dreams, excess, and greed. No more. Tonight the League of Assassins will show the world Gotham's true face as it is reborn in darkness. And as with all births, there will be pain. The police cannot help you. Your elected officials cannot help you. Even your vigilante hero Batman cannot help you. Submit to my rule or become a remnant of history.
Batman: You? Why?
Silver Monkey: Freedom has no meaning without honor. Even enemies must abide their debts. I believe you called it a paradox.
Lt. Gordon: I thought you'd been captured.
Batman: Early release for good behavior.

---
---