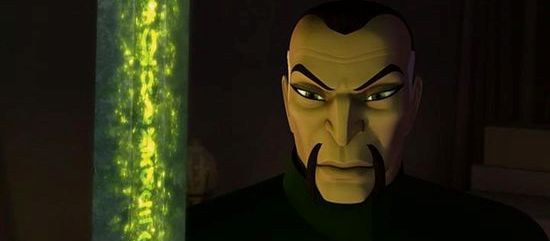 Tytuł odcinka:
"FALL"
Data premiery:
18 lutego 2013 (DVD)
Reżyseria:
Sam Liu
Scenariusz:
Mark Banker
Twoja ocena:
GD Star Rating
loading...
Obsada:
Anthony Ruivivar
Sumalee Montano
J.B. Blanc
Jason Marsden
Lance Reddick
Paul Nakauchi
Matthew Lillard
Finola Hughes
Abraham Benrubi
Batman/Bruce Wayne
Tatsu Yamashiro/Katana
Alfred Pennyworth, Batcomputer
młody Bruce Wayne
Ra's al Ghul
Edogawa Yamashiro
Jason Burr
Lady Shiva
Zbir
Z siłą Ligi Zabójców, Ra's al Ghul przybywa do Gotham i kradnie Ion Cortex na własny użytek. I nawet Batman nie jest w stanie go powstrzymać.

Jeden z lepszych odcinków. Na scenie pojawia się Ra's al Ghul, który nie tylko jest godnym przeciwnikiem Batmana, ale ma też zaszłości z Alfredem. Retrospekcje to najciekawsze wątki Fall. Mamy okazję bliżej przyjrzeć się agentowi Pennyworthowi i jego związkom z rodziną Tatsu. Nie brakuje także młodego Bruce'a Wayne'a, który z pomocą Alfreda stara się porodzić ze stratą rodziców. Być może podobne relacje pomiędzy bohaterami zobaczymy w serialu Gotham, gdzie to wierny lokaj będzie pierwszym, który szkolić będzie przyszłego Batmana.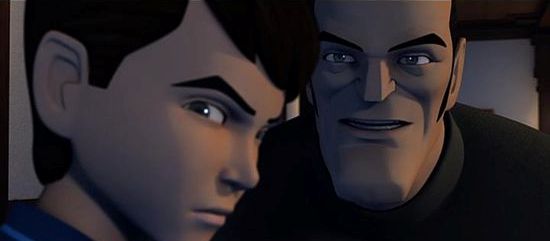 Jeśli zastanawialiście się, czy zawsze ulice Gotham są puste, to ten odcinek udowadnia, że tak nie jest. Animacja jednak cały czas sprawia wrażenie, że otoczenie jest jakby bez życia. Po raz kolejny atutem okazuje się być pomysł na główny wątek, w którym poszczególne odcinki tworzą większą całości. Dzięki takiemu zabiegowi mamy możliwość zobaczenia jak rozwijają się relację pomiędzy bohaterami, chociażby Tatsu z Burrem, oraz możemy liczyć na niespodziewane zakończenie, w którym bohater wcale nie musi triumfować.
Ocena: 4,5 nietoperka

---
CIEKAWOSTKI I UWAGI:
Odcinek swoją premierę miał wraz z wydaniem DVD Beware The Batman – Season One, Part One: Shadows Of Gotham 18 lutego 2014 roku.
CYTATY:

Ra's al Ghul: Don't blame yourself, Agent Pennyworth. You came closer to finding me than any before you. But you never had a chance. You are just a man and I am Ra's al Ghul.
Alfred: This isn't your fault. No one can foresee everything. Not even you.
Batman: You've been telling me that since I was a kid.
Alfred: And it never quite sunk in.
Alfred: You can do better than that, Master Wayne.
Young Bruce: That wasn't fair.
Alfred: That's why it's called an unfair advantage.
---
---