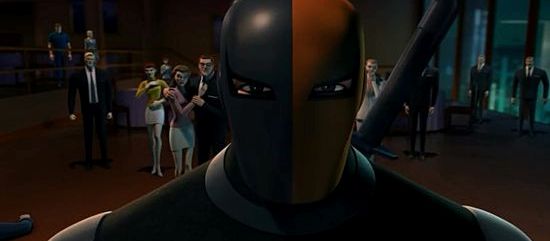 Tytuł odcinka:
"HERO"
Data premiery:
16 kwietnia 2014
Reżyseria:
Sam Liu
Scenariusz:
Mark Banker
Twoja ocena:
GD Star Rating
loading...
Obsada:
Anthony Ruivivar
Sumalee Montano
J.B. Blanc
Tisha T. Banker
Wallace Langham
Christopher McDonald
Robin Atkin Downes
Batman/Bruce Wayne
Tatsu Yamashiro/Katana
Alfred Pennyworth, batkomputer
Ava Kirk, Gloria Pearce
Anarky, kupiec brodni
Harvey Dent, sprzedawca broni
Dane Lisslow/Deathstroke, Chuck

Zdesperowany by pozbyć się Batmana z miasta, Harvey Dent łączy siły z Anarky'm, który rekrutuje nowego bohatera, który ma zająć miejsce Batmana… zatrudnia zabójcę, Deathstroke'a.
Im bliżej końca tym serial co raz bardziej się rozkręca. Oczywiście wady, które towarzyszą nam od początku są cały czas, ale dzięki ciekawszym historiom wszystko wypada lepiej. W tym odcinku Batman musi się zmierzyć z nie lada konkurencją w osobie Deathstroke'a.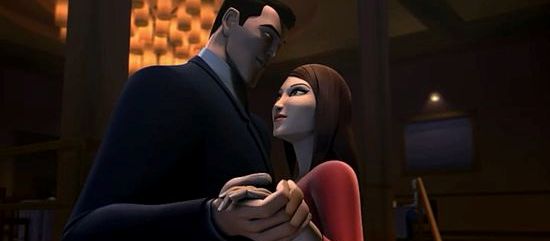 Początkowo plan Anarky'ego wydaje się idealnie sprawdzać, ale czy między złoczyńcami można liczyć na namiastkę uczciwości? Deathstroke'a nikt nie kontroluje. Widząc jak zabójca dosłownie w dwóch ciosach pokonuje Anarky'ego można zacząć się zastanawiać, dlaczego Batman nie pokonał jeszcze tego łotra, od razu nasuwa się też myśl, że coś tu może nie grać. Albo bohater nie jest taki dobry, albo Anarky ma inny plan.
Bruce Wayne wreszcie zaczyna odżywać dzięki związkowi z Avą Kirk, nawet bawi się w swatkę. Takie luźniejsze, humorystyczne elementy zawsze są mile widziane. Zwłaszcza gdy znaczącą część odcinka wypełnia akcja. Niestety nie przekonuje mnie łatwość z jaką Bruce mentalnie podupada po tym jak wydaje mu się, że nie był wstanie uratować Deathstroke'a. Czy ktoś naprawdę sądzi, że Deathstroke zginął? Nawet opierając się tylko na tym w jaki sposób został przedstawiony w tym odcinku łatwo się domyślić, że ktoś taki tak po prostu by nie zginął. Nie potrzebnie twórcy starają się na siłę wprowadzać jakieś rozterki Wayne'a, zamiast skupić się na pokazanie chociażby jego detektywistycznej strony. Bo przecież z jakiegoś powodu zaczął wspierać Denta, ale jak na razie nie widzimy nic, co by świadczyło o tym, że w dodatkowy sposób go szpieguje.
Z odcinka wyciągamy również inną ważną lekcję. Czasami nie warto czytać napisy końcowe, a zwłaszcza informacje o obsadzie, bo można natrafić spoiler dotyczący tożsamości pewnej postaci. Dlatego też lepiej nie zwracajcie uwagę na informacje o obsadzie zamieszczono na tej stronie, przynajmniej jeśli nie obejrzeliście całego serialu.
Ocena: 4 nietoperki

---
CIEKAWOSTKI I UWAGI:
Odcinek swoją premierę miał w Wielkiej Brytanii 16 kwietnia 2014 roku w ramach usługi Prime Instant Video od Amazon.
CYTATY:

Harvey: Surrender and you won't be harmed. Resist, and you will be tranquilized and netted like animals. Your call. You know which option I'd prefer.
Katana: How does a guy named Deathstroke keep such a low profile?
Batman: You hired Deathstroke, and he turned on you.
Anarky: Psychopaths. You just can't trust them. You'd think I'd know that by now, but I'm a sucker for crazy.

---
---