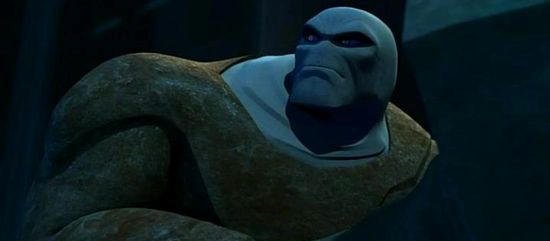 Tytuł odcinka:
"MONSTERS"
Data premiery:
22 marca 2014
Reżyseria:
Rick Morales
Scenariusz:
Greg Weisman
Twoja ocena:
GD Star Rating
loading...
Obsada:
Anthony Ruivivar
Sumalee Montano
Adam Baldwin
Christopher McDonald
Wallace Langham
Jeff Bennett
Emmanuelle Chriqui
Robin Atkin Downes
Laraine Newman

Batman/Bruce Wayne
Tatsu Yamashiro/Katana, Madison Randall
Rex Mason/Metamorpho
Harvey Dent
Anarky, zbir #1
Simon Stagg, sklepikarz, zbir #2
Sapphire Stagg
Dane Lisslow, wpływowy zbir
Właścicielka restauracji
Batman i Katana łączą siły z Rexem Masonem (którego media określają jako "Golem of Old Gotham") by zwalczyć armię uzbrojonych zbirów terroryzujących Stare Gotham, po tym jak ci zostali wyposażeni w zaawansowane technologicznie zbroje z Stagg Enterprises. Ponadto muszą sobie poradzić z Harveyem Dentem i jego nowo-utworzoną jednostką specjalną, której zadaniem jest złapanie uzbrojonych kryminalistów i walczących z nimi bohaterów.

Batman cały czas skupia się wyłącznie na swojej bohaterskiej działalności. Bez wsparcia Alfreda Bruce Wayne praktycznie nie istnieje. W Gotham nie brak też innych bohaterów. Jednym z nich jest Rex Mason, który w Starym Gotham walczy ze zbirami.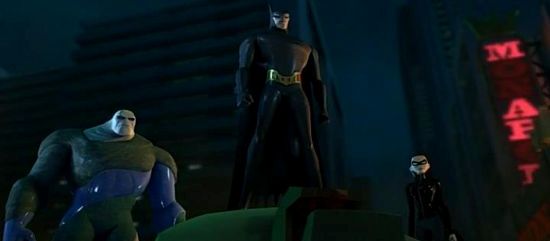 Sama historia zbyt skomplikowana nie jest. Grupy zbirów zaczynają terroryzować Stare Gotham, czyli zaniedbany rejon miasta. Ktoś zaczyna z nimi walczyć. Nie jest to jednak Batman. Wiadomo, że bohater prędzej czy później wkroczy do akcji. Sytuacja jednak prosta nie jest, bo swoje plany ma także Harvey Dent, który nie omieszka w przyszłości nawet sięgnąć po pomoc z niespodziewanej strony.
Oprócz głównego wątku, który jest przewidywalny na uwagę zasługują sceny retrospekcji ze śmierci rodziców Bruce'a, które odżywają, gdy Batman wkracza na Crime Alley. W pobliskim kinie widać też zniszczony już afisz promujący "Mark of Zorro". Końcówka sugeruje zaś, że w tej części sezonu złoczyńcą, który najwięcej namiesza w życiu Batmana, będzie Anarky. Jeśli ten będzie cały czas działać głównie w cieniu, to być może uda mu się wystawić Nietoperza na ciężką próbę. Na razie jednak mamy tylko zatracającego się w swojej misji Batmana.
Ocena: 3,5 nietoperka

---
CIEKAWOSTKI I UWAGI:
Odcinek swoją premierę miał w Nowej Zelandii 22 marca 2014 roku.
Komentarz Metamorpho dotyczący "autsajderów" odnosi się do serii Batman and the Outsiders, gdzie Batman, Katana i Rex tworzyli drużynę.
CYTATY:

Katana: So what do I call you? You don't like Rex. You're not the Golem.
Metamorpho: Why do you need to call me anything?
Katana: At least a code name. We all have code names. How about "Muto"?
Metamorpho: No.
Katana: "Changeamarian"? "Mr. What Is That?" Okay, I'll keep working on it.
Sapphire: Surprised?
Batman: I gave up being surprised long ago. Occupational hazard.

---
---