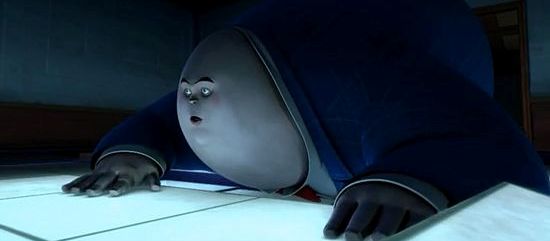 Tytuł odcinka:
"GAMES"
Data premiery:
16 kwietnia 2014
Reżyseria:
Curt Geda
Scenariusz:
Adam Beechen
Twoja ocena:
GD Star Rating
loading...
Obsada:
Anthony Ruivivar
Sumalee Montano
Michael-Leon Wooley
Kurtwood Smith
CCH Pounder
Matt L. Jones
Wade Williams
Batman/Bruce Wayne
Tatsu Yamashiro/Katana
Tobias Whale
James Gordon
Marion Grange
Humpty Dumpty
Ernie Croskey
Batman, Katana, komisarz Gordon, burmistrz Grange oraz przestępczy boss Tobias Whale zostają porwani przez Humpty Dumpty'ego, który zmusza ich do udziału w makabrycznej grze, której celem jest ustalenie kto z nich jest winny popełnionego przestępstwa. Jednak żadne z nich nie wie, o jakie przestępstwo chodzi i kto je popełnił.

Chociaż do takich gierek z bohaterami bardziej pasowałby Riddler, to mimo wszystko należy uznać ten odcinek za nadzwyczaj dobry. Batman ma możliwość wykazania się swoją dedukcją. Mamy również okazję bliżej przyjrzeć się innym postaciom oraz ich zachowaniom w kryzysowej sytuacji.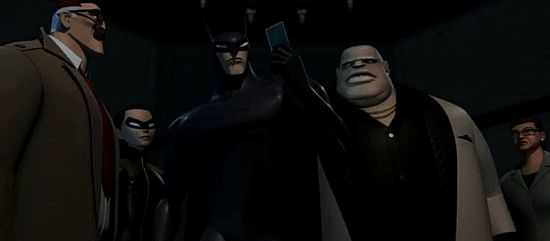 Jeden zgrzyt przy historii to to, że bohaterowie w jakiś dziecinny sposób dali się złapać Humpty Dumpty'ego. Jednak od samego początku jesteśmy wrzuceni w sam środek akcji, która ogranicza się do jednego budynku. Tym samym nie dostrzeżemy pustek na ulicach, a całość zyskuje odpowiednią do sytuacji atmosferę. Dom pełen pułapek i rozdarcia w grupie bohaterów. Jest klimatycznie i niebezpiecznie. Nie ma tu miejsca na jakieś bat-gadżety. Niestety jak to w przypadku takich zagadek bywa widz nie ma szans by ją rozwiązać, gdyż wiele elementów układanki pozostaje tylko w wiedzy bohaterów. Samo zakończenie także jest przeciętne. Całość jednak ogląda się bardzo dobrze, czego nie można powiedzieć o każdy odcinku serialu.
Ocena: 4,5 nietoperka

---
CIEKAWOSTKI I UWAGI:
Odcinek swoją premierę miał w Wielkiej Brytanii 16 kwietnia 2014 roku w ramach usługi Prime Instant Video od Amazon.
CYTATY:

Gordon: Is Humpty secure?
Batman: Yes. When Humpty Dumpty wakes up from that great fall, he'll be rotting in a cell at Blackgate.
Katana: I just thought that what we do, we do for Gotham and its people. Their safety comes first. Even Bruce Wayne would agree with that.
Batman: I'm not Bruce Wayne.

---
---