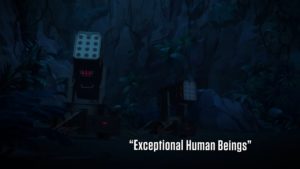 Tytuł odcinka: "Exceptional Human Beings"
Pierwsza data emisji: 25 stycznia 2019
Reżyseria: Christopher Berkeley
Scenariusz: Francisco Paredes
Twoja ocena: [yasr_visitor_votes size="medium"]
Obsada:
Troy Baker Zehra Fazal Crispin Freeman Bruce Greenwood Grey Griffin Kelly Hu Stephanie Lemelin Jesse McCartney Danica McKellar Nolan North Khary Payton Zeno Robinson Jason Spisak Alyson Stoner Fred Tatasciore Danny Trejo Jacob Vargas Gwendoline Yeo
Brion Markov/Geo-Force, Bash Bashford Halo/Violet Harper, Cassandra Savage Will Harper Batman Helga Jace Jade Nguyen Artemis Crock Nightwing Megan Morse Conner Kent Jefferson Pierce, Ron Evers, Silas Stone Victor Stone, Steel, Marv Evers Forager Oracle Slade Wilson/Deathstroke, Metamorpho Bane Sebastian Cardona, Cisco Ramon Lady Shiva
Poszukiwania Tary Markov trwają dalej, ale kto prowadzi poszukiwania i gdzie?!
---
"Exceptional Human Beings" kontynuuje poprzednie wątki i wprowadza nowych bohaterów. Wszystko ma odpowiednie tempo i zachowany balans pomiędzy poważnymi scenami i tymi bardziej humorystycznymi. W przypadku tego odcinka na uwagę zasługuje akcja na Santa Prisca. Zgodnie z rozkazem Batmana, Katana i Metamorpho zachowują ciszę radiową i otrzymują tylko komunikaty od Oracle. Misja w dżungli pozwala obserwować zgranie bohaterów i komendy wydawane za pomocą gestów. Widzimy, że to zawodowcy, którzy mają wszystko przećwiczone. Nic dziwnego, że z powodzeniem walczą później z Shivą i Deathstrokiem. Widowiskowe jest również starcia Batman Bane.
Takiej współpracy brakuje jeszcze podopiecznym Nightwinga, ale niewątpliwie zabawa w berka pokazuje, że robią postępy. Tylko Brion, chociaż już lepiej panuje nad swoimi mocami, to musi jeszcze ochłodzić głowę. Tu też wypada zwrócić uwagę na rozmowę Jefferson z dr Jace, których połączyło uczucie, ale czy pani doktor nie ukrywa swoich prawdziwych motywacji? Twórcy zaczynają podsuwać pewne sugestie.
Nie brak też miejsca na poruszającą scenę w której Jade sprawdza co słychać u jej córki. Chociaż tylko ją obserwuje przez okno. I chociaż mówi Willowi, że bez niej jest im lepie, to łzy których ten nie widzi świadczą o tym, że nie do końca jest gotowa zrezygnować zrezygnować.
Misja na Santa Prisca pozwala odkryć kto kieruje Ligą Cieni, a także podsłuchać informacje dotyczący Tary Markov, dla której Granny ma znaleźć nowe zajęcie. Poszczególne sprawy zaczynają się wyjaśniać i zazębiać. Czuć, że zbliżamy się do końca pewnego etapu. Ale mimo to twórcy nie boją się wprowadzać nowych wątków jak planów szkolnych dla Violet oraz wprowadzenia postaci Victora Stone'a, który chociaż nie jest zainteresowany superbohaterami to wkrótce sam zostanie jednym z nich. Wcześniejsza wzmianka o Stonie nie była przypadkowa. Wszystkie elementy składają się w jedną całość i końcowy rezultat zapowiada się bardzo obiecująco.
Ocena: 4,5 nietoperka

---
Ciekawostki:
Podczas napisów końcowych Brucely je z miski w kuchni Willa i Artemis.
Tytuł odcinka może się odnosić do Halo, którą Geo-Force trzykrotnie nazywa "wyjątkową".
Batman połączył siły z Kataną i Metamorpho, nawiązując bezpośrednio do "The Brave and the Bold # 200", w którym ta trójka stanowiła klasyczny skład drużyny.
Na oknie lodziarni jest napisane "Pingrees" w pierwszym ujęciu, ale gdy Victor Stone rozmawia z Bashem Bashfordem jest "Pingree's".
W profilu Lady Shivy "assassin" jest błędnie napisane "assasin".
Lady Shiva mówi płynnie po chińsku. Gdy przylatuje helikopter Deathstroke'a, instruuje ona Cienie, aby "przerwały" trening mówiąc "停止".
Lady Shiva nazywa miecz Katana "Soultaker". W komiksie miecz ten przechwytuje duszę każdej zabitej przez niego istoty i umożliwia posiadaczowi porozumienie się z nimi.
Jeden z klientów lodziarni ma gogle Goode.
Komentarz Oracle "Welcome to the Jungle" to odniesienie do utworu Guns N' Roses.
"Booyah", okrzyk wywołany po raz pierwszy przez Rona Eversa, był hasłem Cyborga w "Teen Titans" i "Teen Titans Go !". Evers nie tylko przypomina "wersje Cyborga" z tych seriali, ale użycza mu głosu ten sam aktor, Khary Payton.
Sprzęt, który został skradziony przez Shade'a w "Triptych" został zwrócony do STAR Labs i widać, że trochę szwankuje. Zostało to również zaobserwowane pod koniec odcinka, kiedy został zwrócony do STAR Labs.
Partytura słyszana podczas treningu w Owings Mills to pierwsza muzyczna aranżacja usłyszana w pierwszym odcinku serialu "Independence Day", zatytułowana "Dynamic Duo Ice Freeze" i wydana na "Young Justice: Music from the DC Comics Animated Television Series".
Widać, że skorupa Foragera zaczyna powoli się regenerować.
Dowiadujemy się, że nowym przywódcą Ligi Cieni jest Deathstroke.
Batman wspomina poprzednie wtargnięcia na Santa Prisca w "Drop-Zone" i "Usual Suspects".
Cheshire odwiedza swoją córkę, co zasugerowała jej Artemis w "Triptych".
Bane nie używa już Venomu by zwiększyć swoją siłę, tak jak robił to w "Drop-Zone" i "Usual Suspects" .
Uwaga Victora do ojca "Więc dlaczego zakładasz, że jestem człowiekiem?" stanowi zapowiedź wydarzeń z kolejnego odcinka.
Jak we wcześniejszych odcinkach nie brakuje odniesień do liczby 16:
Cytaty:
Conner: How about I get dressed and we do something?
Megan Morse: I like the sound of that. What are you gonna wear?
Conner: Uh, the usual. Why? What are you wearing?
Megan Morse: Right now, my engagement ring.
Bane: No one gets on or off Santa Prisca without Bane knowing.
Batman: Except the Cult of the Kobra, Aqualad, Robin, Kid Flash, Rocket, Zatanna…
---
---