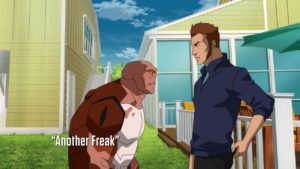 Tytuł odcinka: "Another Freak"
Pierwsza data emisji: 25 stycznia 2019
Reżyseria: Mel Zwyer
Scenariusz: Mae Cat
Twoja ocena: [yasr_visitor_votes size="medium"]
Obsada:
Troy Baker Jeff Bennett Zehra Fazal Stephanie Lemelin Jesse McCartney Danica McKellar Nolan North Beth Payne Khary Payton Zeno Robinson Jason Spisak
Brion Markov/Geo-Force Casey Klebba Violet Harper, Harper Row Artemis Crock, komputer Dick Grayson Megan Morse Conner Kent, Allen Phaedon Sarah Charles, Lenore Parris Silas Stone Victor Stone/Fatherbox, Dale Gunn Fred Bugg/Forager, Eddie Corliss
Oto pierwszy dzień szkoły dla Violet Harper i Foragera. I ostatni dzień dla innego dziwaka…
---
Zgodnie z zapowiedzią z poprzedniego odcinka teraz Violet i Forager trafiają do szkoły, a kolejnym dziwakiem zostaje Victor Stone. Jest to bardziej luźny odcinek, w którym główny wątek stanowi narodziny Cyborga. Pełny gniewu i rozczarowań Victor ulega poważnemu wypadkowi i tylko pozaziemska technologia jest wstanie utrzymać go przy życiu. Za sprawą Violet płynnie nowy dziwak dołącza do bohaterów. Jest to ciekawe rozwiązanie pokazujące nowe możliwości Violet, która pomaga ukoić ból Stone'a, ale przed nim jeszcze daleka droga by zaakceptować swoje nowe ja.
Z akceptacją ma też problem Brion, który nie potrafi się oderwać od wiadomości z Markovi. Szczera rozmowy z Dickiem wydaje się, że pomoże mu uporać się z tymi problemami i skupić się na tym na co może mieć wpływ.
Wątek z pierwszym dniem szkoły nie stanowi niczego odkrywczego. Dwójka wyrzutków nie jest wstanie się wpasować w normy i nie mają co liczyć na nowe przyjaźnie, w czym nie pomaga specyficznych styl wypowiadani Foragera. Jednak warto też odnotować pojawienie się Harper Row, która w komiksach działała przez pewien czas jako Bluebird pomocnica Batmana. Być może i dla niej twórcy mają jakąś większą rolę?
Ocena: 4 nietoperki

---
Ciekawostki:
Podczas napisów końcowych pokazany jest odcięty palec Lobo w Owings Mills w zaawansowanym stanie rozkładu.
Tytuł odcinka może się odnosić do bohaterów, których określa mianem dziwaków. Violet i Fred, których dziwne zachowanie w szkole sprawia, że przez innych uważani są za dziwaków. Harper Row także jest przedstawicielką szkolnych dziwaków. Dziwakiem określa też siebie Victor, kiedy odkrywa kim się stał, po tym jak jego ojciec wykorzystał fatherbox by go uratować. To Victora, Violet określa mianem "kolejnego dziwaka", gdy Megan pyta ją, kto to jest.
Artemis daje Foragerowi Glamour Charm stworzony przez Zatannę. Zatanna poprzednio zrobiła jeden dla Artemis w "Depths".
Skorupa Foragera cały czas się regeneruje.
Według nagłówka wiadomości, Gregor Markov nawołuje do zachowania cierpliwości w sprawie działań dotyczących uchodźców z Quraci i meta-ludzi.
Urządzenie, które wybuchło w Star Labs już wcześniej wykazywało problem z elektrycznością w odcinkach "Triptych" i "Exceptional Human Beings".
Jak we wcześniejszych odcinkach nie brakuje odniesień do liczby 16:

Odcinek rozpoczyna się o 07:16 EDT.
Cytaty:
Violet: Isn't this wonderful, Brion? Fred and I will meet so many new girls and boys.
Brion: Just be careful about the boys. They only have one thing on their minds.
Violet: What one thing?
Fred Bugg: Violet Harper and Fred Bugg with two "G"s have English. Although, Violet Harper and Fred Bugg with two "G"s both speak the language flawlessly.
---
---