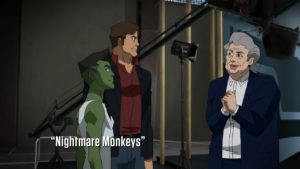 Tytuł odcinka: "Nightmare Monkeys"
Pierwsza data emisji: 25 stycznia 2019
Reżyseria: Vinton Hueck
Scenariusz: Greg Weisman
Twoja ocena: [yasr_visitor_votes size="medium"]
Obsada:
Troy Baker Greg Cipes Zehra Fazal Grey Griffin Stephanie Lemelin Jesse McCartney Danica McKellar Scott Menville Nolan North Khary Payton Kevin Michael Richardson Zeno Robinson Jason Spisak Deborah Strang Tara Strong Hynden Walch
Brion Markov, prezenter Tork/Garfield Logan/Beast Boy Violet Harper Helga Jace Artemis Crock Dick Grayson Megan Morse/Miss Martian, Megan Wheeler/Marie Logan Steve Dayton/Mento, Chief Conner Kent Jefferson Pierce, Robot Man Tom Bender/Paul Sloane/Conner Manley, dowódca Klamulon Victor Stone/Fatherbox Monkey, Kid Flash, Fred Bugg/Forager Gretchen Goode Negative Woman, Casey Brinke Perdita, Elasti-girl/Rita Farr/Rita Lee
Garfield Logan testuje parę gogli VR. Następnie gogle testują go!
---
Przed końcem pierwszej połowy sezonu otrzymujemy odcinek, który niewiele posuwa akcję do przodu. Zamiast tego dostarcza dobrej rozrywki skupiając się na postaci Garfielda, którego rola do tej pory była epizodyczna.
Motyw z goglami do wirtualnej rzeczywistości pozwala na prowadzenie kliku zabawnych pomysłów jak np. Doom Patrol w wersji "Teen Titans Go!". Jest to mieszanka rozrywki z czarnym humorem i nawiązaniami do dramatycznych wydarzeń z życia Gara.
Swoje problemy ma także Victor, który w towarzystwie nowych bohaterów nie największym dziwakiem, ale jeszcze daleko mu do zaakceptowania i opanowania swoich nowych możliwości. W interesujący sposób wyjaśniono moce Violet. Nie mamy tutaj meta-człowieka, ale połączenie ciała z duszą Mother Boxa. Tłumaczy to jej różne moce, ale także wzbudza niepokój, czy nie kryje się przy tym większe niebezpieczeństwo.
W całym odcinka przewijają się też wątki romantyczne i tak wreszcie dochodzi do pocałunku Violet i Briona a także Megan i Conner znajdują chwilę dla siebie, bo od czasu zgody na udział w jednej misji dla Nightwinga ich życie zupełnie się zmieniło.
"Nightmare Monkeys" jest zabawny i poruszający zarazem, gdy Gar widzimy bowiem bohaterów którzy zginęli podczas misji i których nie jest wstanie uratować. W tym sezonie Garfield błyszczał jako gwiazda telewizji, ale zapowiada się, że wkrótce wróci do bardziej bohaterskich działań.
Ocena: 4 nietoperki

---
Ciekawostki:
Podczas napisów końcowych Sphere zaparkowana przed garażem Connera.
Krzyk Wilhelma jest wykorzystany, gdy trafiony zostaje jeden z Klamulonów.
Serial "Doom Patrol Go!" oparty jest na "Teen Titans Go!", z udziałem głównej obsady tego serialu. Chris Battle, główny projektant postaci "Teen Titans Go!", zaprojektował także postacie "Doom Patrol Go!".
Model postaci Miss Martian "Doom Patrol Go!" jest ponownie wykorzystywany z odcinka "Let's Get Serious!" z "Teen Titans Go!", w którym gościnnie wystąpili Aqualad, Miss Martian i Superboy.
Los Doom Patrol – ruszających na misję podczas której wszyscy umierają, i tylko pozostawieni Beast Boy i Mento przeżywają – jest podobny do zgonu zespołu w "Doom Patrol #121".
Kwestia porucznika Torka "He's dead, Tom" to nawiązanie do powtarzającej się kwestii ze "Star Treka", "He's dead. Jim".
Gretchen Goode nazywa Garfielda swoim "ulubionym Marsjaninem", co stanowi aluzję do sitcomu "My Favorite Martian" z 1963 roku.
Perdita żartobliwie grozi Garowi ścięciem głowy, nawiązując do słynnej kwestii Królowej Kier z "Alicji w Krainie Czarów" Lewisa Carrolla.
Kwestia Gara: "Whatchu talkin 'bout, monkey?" to parodia tekstu "Whatchu talkin 'bout, Willis?" z serialu komediowego "Diff'rent Strokes" z lat 70.
Małpa powołuje się na "prawo zachowania masy" jako wyjaśnienie mistycznej natury mocy Garfielda, ponieważ stwierdza, że masy nie można dodawać ani usuwać z systemu zamkniętego na wszystkie przenosiny materii i energii. Dlatego Garfield nie mógłby zmienić się w zwierzęta większe lub mniejsze od niego, takie jak słoń lub płotka, bez magii.
Wyjaśniając początki Halo, Superboy wspomina o Mother Boxie, który znalazł w "Royal We", a Artemis przypomina rozmowę z doktorem Fate w "Private Security".
Garfield po raz pierwszy wspomniał o Klamulonach w "Royal We".
Paul Sloane opisuje obsadę "Hello, Megan!" jako bliską rodzinę. Zostało to również ustalone przez Sandrę Stanyon w komiksie "Torch Songs, Part 1".
Megan wspomina skłonność Connera do przyjmowania wyrzutków, co odnosi się do jego przyjęcia zarówno Sphere w "Bereft" i Wilka w "Alpha Male".
Marsjańska transfuzja krwi, którą Garfield przypisuje jako początek swoich mocy, miała miejsce w "Image".
Śmierć Marii została przedstawiona na 16. stronie komiksu "Players, Chapter Six: Rolling Doublesl", gdzie Queen Been zaczarował Marie, aby zjechała z klifu, po zapewnieniu jej, że Garfield tam czeka. Halucynacja Garfielda sugeruje, że Queen Been była dosłowna, ponieważ rzeczywiście był blisko wodospadu, szukając Marie, chwilę przed tym, nim się rozbiła.
Śmierć Wally'ego i reakcja Artemis widoczna na ekranie na Engagerze pochodzi bezpośrednio z odcinka "Endgame".
Bohaterowie dołączający do Beast Boy na mostku Engagera są członkami Drużyny lub Ligi, którzy zginęli w trakcie pełnienia obowiązków:

Ted Kord: "Intervention"
Kid Flash: "Endgame"
Tula: "Young Justice: Legacy"
Jason Todd: gdzieś między 2012 a 2015

Jak we wcześniejszych odcinkach nie brakuje odniesień do liczby 16:

Odcinek rozpoczyna się o 16:16 PDT.
Numer pokoju Perdity to 1616.
Cytaty:
Victor Stone: You guys really aren't freaked out by how I look?
Conner: You picked the right crowd.
Garfield: See, I've always thought it would be cool to be on TV like Mom. And for a while, it did make me feel close to her again. Ugh. Or maybe it just distracted me, let me push away the ghosts of her and Rita and Wally, and everyone else I've lost. But I can see now I was chasing a dream, or running from a nightmare, or just feeling the mode. I'm ready to get back to reality, now. Ready to get back to the life.
---
---