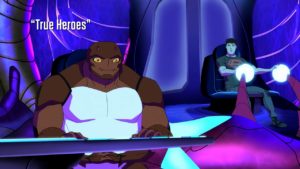 Tytuł odcinka: "True Heroes"
Pierwsza data emisji: 25 stycznia 2019
Reżyseria: Christopher Berkeley
Scenariusz: Kevin Hopps
Twoja ocena: [yasr_visitor_votes size="medium"]
Obsada:
Troy Baker Diane Delano Zehra Fazal Grey Griffin Yuri Lowenthal Stephanie Lemelin Jesse McCartney Nolan North Khary Payton Zeno Robinson Jason Spisak Tara Strong
Brion Markov/Geo-Force, Mister Bliss Devastation Violet Harper Helga Jace Icicle Jr., Tommy Terror Artemis Crock Dick Grayson Conner Kent Jefferson Pierce Victor Stone/Fatherbox, Holocaust Fred Bugg/Forager Tara Markov
Zespół Graysona próbuje powstrzymać aukcję zniewolonych meta-nastolatków.
---
Dotarliśmy do połowy sezonu. Jak przystało na zakończenie pewnego etapu kilka spraw zostaje wyjaśniony oraz utworzone zostają fundamenty pod nową rozgrywkę.
Pewne elementy działań bohaterów wypadają bardzo dobrze. Jest to akcja w klubie, gdzie udaje się po cichu uwolnić Tarę. Późniejsza walka też jest dobrze zrealizowana i nie brakuje w niej momentów humorystycznych jak w rozmowie Superboya z Icicle Jr. Ten wątek ma odpowiednie tempo i angażuje widza. Gorzej sprawdza się sprawa z Cyborgiem i rozchwianą emocjonalnie Violet. Rozwiązana zostaje kwestia Fatherboxa oraz mamy kolejne wskazówki co do prawdziwych zamiarów dr Jade'a, ale przez te fragmenty odcinek traci rytm.
Jak na odcinek kończący połowę sezonu brakuje tu mocnego akcentu. Niby pewne elementy są, ale okazują się nie wystarczające. Więcej w tej kwestii robią ostatnie sceny, które wprowadzają nowego kreta do Drużyny. Zobaczymy czy od razu wszyscy obdarzą go zaufaniem.
Jak na razie chociaż ekipie Nightwinga może się wydawać, że odnieśli zwycięstwo, to okazuje się, że to Deathstroke rozdaje karty i od dawna realizował swój plan, którego nikt nie dostrzegał. Taki zwrot akcji zaskakuje i zapowiada, że w kolejnych odcinkach powinniśmy zobaczyć więcej działań z perspektywy złoczyńców, których zabrakło w ostatnich odcinkach, gdzie ich rola ograniczona była tylko do starć z bohaterami.
"True Heroes" może jest tylko dobrym odcinkiem, ale cały ten sezon "Young Justice" ma duży potencjał i mimo wszystko twórcy nie schodzą poniżej pewnego poziomu.
Ocena: 4 nietoperki

---
Ciekawostki:
Podczas napisów końcowych Wolfs śpi w Bio-Ship przekształconym w kampera.
Maski noszone przez uczestników aukcji przypominają te używane przez Court of Owls.
Mapa Greater Bialya jest tą samą mapą, która wcześniej błędnie pojawiła się w "Beneath".
Skorupa Foragera w pełni się zregenerowała.
Kiedy Helga Jace podnosi szczotkę do włosów, jej włosy są szare.
Devastation jest w związku z Psimonem. Początek ich relacji pokazano w "Beneath".
Pola siłowego widoczne w klubie walki podobne są do tych, które służyły do uwięzienia Drużyny w "Usual Suspects".
Icicle Jr wspomina swoje wcześniejsze spotkanie z Superboyem i Miss Martian w "Terrors".
Wyjaśnienia Dicka o tym jak poznano lokalizację Tary wzbogacone są o retrospekcje z poprzednich odcinków:

Garfield wypróbowujący parę Goode Goggles w "Nightmare Monkeys"
Batman śledzący Deathstroke'a w "Exceptional Human Beings"
Gretchen Goode udzielająca wywiadu dla G. Gordona Godfreya w "Home Fires"
Ścigany Jaqqar Marlo i zabity przez Black Spidera i Tarę w "Rescue Op"

Jak we wcześniejszych odcinkach nie brakuje odniesień do liczby 16:

Tara ma 16. pozycję na aukcji.
Tabliczka aukcyjna Artemis ma nr 16.
Sprawozdanie Superboya rozpoczyna się o 03:16 EDT.
Cytaty:
Brion: Violet, I want you to know…
Dick: No speeches, Prince, we're going. Now!
Icicle Jr.: Don't play nice! You think I've forgiven you? You stole my girl! I mean, sure, I didn't know she was Miss Martian, but I was totally into her and you knew that!
Superboy: Yeah, but I was into her first. I just hadn't figured it out till you helped bring us together. I owe you for that. Hey, we're engaged now.
Icicle Jr.: Dude, congratulations! No, really, that's awesome! I always thought you guys made a great couple. Maybe that means there's hope for me too.
Superboy: I hope so. (kopie go)
Icicle Jr.: Ow.
---
---