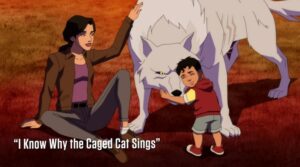 Tytuł odcinka: "I Know Why the Caged Cat Sings"
Pierwsza data emisji: 25 listopada 2021
Reżyseria: Vinton Heuck
Scenariusz: Greg Weisman
Obsada:
| | |
| --- | --- |
| Logan Browning | Onyx |
| Zehra Fazal | Cassandra Savage, Lian Nguyen-Harper, Martha Kent |
| Oded Fehr | Ra's al Ghul |
| Crispin Freeman | Will Harper |
| Grey Griffin | Lois Lane, Jonny Kent |
| Kelly Hu | Cheshire, Paula Crock |
| Josh Keaton | Black Spider, Red-Hooded Ninja |
| Stephanie Lemelin | Tigress/Artemis Crock Justice League Computer |
| Nolan North | Clark Kent |
| Alyson Stoner | Oracle/Batgirl |
| Joel Swetow | Shade |
| Gwendoline Yeo | Lady Shiva |
| Keone Young | Sensei |
Dla Tigress ratowanie wszystkich może nie być opcją, chyba że pomoc nadejdzie z nieoczekiwanego źródła.
Dochodzi do ostatecznej konfrontacji, ale tak naprawdę nie w tym kryje się cały przekaz odcinka. Mamy dobre sceny walki, ale najważniejsze okazują się relacje "rodzinne". Zgodnie z przypuszczeniami twórcy mieli jeszcze jeden zwrot akcji, który pozwolił bohaterkom wyjść cało z opresji, dzięki przysłudze odebranej przez Cheshire.
Twórcom ponownie udaje się przy prostych środkach przekazać pewne kwestie. Poruszająco wydają sceny na framie Kentów, gdy mały Jonny nie rozumie co wszyscy mają na myśli mówiąc, że Conner "odszedł". Widzimy też, jak ta strata wpłynęła na Supermana. Jednak jeszcze sporo odcinków przed nami i kto wie czy Superboy jeszcze nie powróci.
Pod koniec odcinka wszystkim udaje się znaleźć swoje miejsce. Onx i Jade muszą uporać się ze swoimi demonami i pod okiem Senseia może im się to udać, a Artemis już dawno nie miała tak bliskich relacji z siostrą. Orpahn zaś ponownie dzięki wsparciu Barbary udało się udowodnić, że nie jest maszyną do zabijania. W tych okolicznościach jedynie Shiva nie może uznać ostatniej akcji za udanej. Infiltracja się nie powiadała i córki też nie odzyskała.
Chociaż wydaje się, że mamy happy end, to tak naprawdę nie znamy jeszcze planów Ra'sa i kto wie co zaplanuje, bo chociaż jak mawia Nightwing, Ghul nie kłamie, to może mieć ukryte motywy. Jednakże, Talia zajmuje się swoim dzieckiem, to kto wie może na Infinity Island rzeczywiście zapanuje rodzinna sielanka.
"I Know Why the Caged Cat Sings" to kolejny dobry odcinek, który potrafi znaleźć równowagę pomiędzy trzymającą w napięciu akcją i bardziej intymnymi momentami.
Ocena: 4 nietoperki

---
Ciekawostki:
Tytuł nawiązuje do powieści Mayi Angelou "I Know Why the Caged Bird Sings" z 1969 roku. Młoda Artemis czyta książkę i recytuje cytat często przypisywany tej książce. Kotem jest Cheshire, która mieszkała w przysłowiowych klatkach Ligi Cieni. Temat klatek dotyczy także Onyx, która została podobnie "uwięziona" przez Shadows oraz na Orphan, która na początku odcinka uwięziona jest w celi więziennej.
Onyx mówi, że jej dziadek był bardziej podobny do Bookera T. Washingtona niż Malcolma X. Obaj byli wybitnymi przywódcami społeczności afroamerykańskich swoich czasów, z silnie odmiennymi poglądami. Podczas gdy Washington opowiadał się za samodoskonaleniem edukacyjnym i ekonomicznym afroamerykanów nad bezpośrednimi wyzwaniami politycznymi i prawnymi, Malcolm X argumentował, że ci powinni awansować "wszelkimi niezbędnymi środkami", odrzucając niestosowanie przemocy głównego nurtu ruchu praw obywatelskich.
Ostatni cytat Artemis, choć często przypisywany "I Know Why the Caged Bird Sings" Mayi Angelou, pochodzi z powieści "Dust Tracks on a Road" Zory Neale Hurston (rozdział XI).
Odcinek zaczyna się od spotkania Artemis i Cheshire w "Infiltrator". Tigress wspomina również, że Light używa Mgły do ​​kradzieży informacji w tym odcinku.
Clark opowiada Jonny'emu o śmierci Superboya, która wydarzyła się w "Involuntary". Nawiązuje również do tego odcinku, kiedy rozmawia z Lois i zastanawia się, czy mógłby zapobiec jego śmierci, gdyby przybył wcześniej.
Cassandra Savage przyznaje, że jej wyznania w "Artemis Through the Looking-Glass" były półprawdami. Twierdzi, że zabicie jej siostry przez ojca w "Evolution" było miłosierdziem, o czym również wspomniała w tym odcinku.
Shade pomaga Cheshireze za względu na wydarzenia z "Triptych" kiedy ta uwolniła go z niewoli w Branchwater Security.
Black Spider zwraca uwagę że ​​umieszczenie kreta na Drużynie było już wcześniej przeprowadzone, odnosząc się do Red Arrowa i Terry.
Will Harper pytający Artemis, czy ta przywozi do domu "kolejnego przybłędę" jest odniesieniem do Halo, która wprowadziła się do nich w "Private Security".
Clark nawiązuje do swojej początkowej niechęci do zaakceptowania Connera jako krewnego w pierwszym sezonie, zwłaszcza w "Fireworks" i "Schooled".
Sensei ubolewa nad utratą kolejnej przestrzeni medytacyjnej, nawiązując do tej zniszczonej przez Briona Markowa w "Rescue Op".
Sensei pyta Cheshire, czy wróciła na Infinity Island, by żyć, czy umrzeć. W "Tale of Two Sisters"" powiedział jej, żeby wróciła, gdy będzie gotowa by żyć.
Przyznanie się Cheshire do bycia jak jej ojciec nawiązuje "Complications" kiedy Sportsmaster powiedział jej to samo.
Ra's al Ghul cytuje Nightwinga, mówiąc, że "można powiedzieć o nim wiele rzeczy ale bycie kłamcą się do nich nie zalicza" w "Rescue Op".
Greg Weisman przypisał swojej córce Erin Weisman rozmowę o śmierci Clarka i Lois z Jonnym.
Podczas napisów końcowych widać stojące dwie fotografie na szafce nocnej Artemis; jej i Wally'ego Westa i jej i Jade kiedy były dziećmi. Artemis recytuje cytat, który często błędnie przypisywano Mayi Angelou z "I Know Why the Caged Bird Sings".
Odniesienia do liczby 16:

Artemis wraca do domu o 07:16 PDT.
Cytaty:
Clark Kent: Jonny, your uncle has died. This means that the part of his journey where his body is alive is over. His body doesn't breathe anymore, it doesn't play anymore. And, well, we don't get to spend time with him anymore.
Jonny Kent: Why?
Clark Kent: Inside a living body, there are many little parts that each do an important job to keep a body healthy and alive. Now if some of these parts stop doing their jobs, the body can stop working and die. And that's what happened to Uncle Conner. But even though we don't get to see or spend time with Conner anymore, because his body is dead, your memories of him will always be alive… in your head and in your heart.
Onyx: You used me!
Cassandra Savage: Please. You're lucky anyone could find a use for you.
---