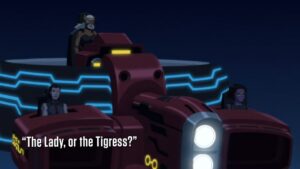 Tytuł odcinka: "The Lady, or the Tigress?"
Pierwsza data emisji: 18 listopada 2021
Reżyseria: Christopher Berkeley
Scenariusz: Nicole Dubuc
Obsada:
| | |
| --- | --- |
| Logan Browning | Onyx |
| Ben Diskin | Ma'alefa'ak |
| Zehra Fazal | Cassandra Savage, Hawkwoman |
| Kelly Hu | Cheshire |
| Josh Keaton | Black Spider |
| Stephanie Lemelin | Artemis Crock/Tigress |
| Jesse McCartney | Nightwing |
| Danica McKellar | Miss Martian |
| Kevin Michael Richardson | Martian Manhunter |
| Brent Spiner | Joker |
| Alyson Stoner | Oracle/Batgirl |
| Kari Wahlgren | J'ann M'orzz |
| Hynden Walch | Em'ree J'onzz |
| Gwendoline Yeo | Lady Shiva, Rictus |
Wspomnienia Oracle wpływają na decyzję Tigress odnośnie zaufania swoim nowym sojusznikom.
Najnowszy odcinek "Young Justice" lekko odchodzi od formatu wcześniejszych. Tym razem oprócz wydarzeń związanych z odbiciem Orphan, śledzimy też poczynania bohaterów na Marsie, nie brak też retrospekcji. Przez takie podejście główny wątek nie wiele posuwa się do przodu, ale już dłużej nie musimy czekać z odkryciem kreta. Nie brak też momentów, które pozwalają spojrzeć na całość opowieści z innej perspektywy.
Wspomnienia Barbary pozwalają lepiej zrozumieć jej relację z Orphan, a także dlaczego tak ważne jest żeby ją uratować. Mamy też okazję zobaczyć Bat-rodzinę w akcji, podczas powstrzymania Jokera. Ścieżki złoczyńcy i Batgirl znowu się krzyżują, ale tym razem bezpośrednią w przyczynę, która zmusiła Barbarę to rezygnacji zamieszana jest również Orphan. Mamy więc odejście od "Killing Joke" i przekształcenie tej sytuacji w coś nowego. Wprowadzone zmiany nadają inny charakter postaci Barbary, ale też córce Lady Shivy.
Akcja na Marsie też wyjaśnia jedną z kwestii, mianowicie to Ma'alefa'ak nic nie wiedział o kryptonicie w bombie, czyli mamy kolejne pytanie, kto chciał wyeliminować Superboya. Pożegnanie z Marsem przybliża powrót bohaterów na Ziemię, a obecność Em'ree może jeszcze namieszać.
Tytuł odcinka "The Lady, or the Tigress?" trafnie nawiązuje do działania oddziału ratunkowego. Jak ma zachować się Tigress wiedząc, że ma obok siebie kreta, a nie koniecznie musi być jedna zdrajczyni. Dylemat, Artemis po części zostaje rozwiązany, nie jest też sama bo mimo wszystko Cheshire ją wspiera. Ale to praktycznie tylko ustawienie pionków przez kulminacja historii, do której dojdzie w następnym odcinku, a twórcy pewnie mają jeszcze nie jedną niespodziankę.
Ocena: 4 nietoperki

---
Ciekawostki:
Tytuł odcinka nawiązuje do popularnego opowiadania"The Lady, or the Tiger?" autorstwa Franka R. Stocktona, którego fragmenty Artemis recytuje podczas odcinka. Krótka historia opowiada o wyborach i fałszywych wyborach, co znajduje odzwierciedlenie w odcinku, gdy Tigress musi zdecydować, komu zaufać Onyx czy Cassandrze Savage. Tigress nawiązuje również do wyboru właściwych drzwi podczas wchodzenia do kwatery głównej Shadow, nawiązując do wyboru drzwi w opowiadaniu. W odcinku pojawiają się również dwa "tygrysy"; Sama Tigress i rekin tygrysi, który atakuje Onyx. Egzemplarz opowiadań Stocktona dostrzec można na biurku Oracle.
Oracle lakonicznie nawiązuje do śmierci Jasona Todda, drugiego Robina.
Cassandra Savage wyjaśnia Tigress że to dzięki niej wpadła na pomysł, by użyć Zaklęcia Glamour, nawiązujące do okresu pomiędzy "Depths" a "Summit" w którym Tigress zinfiltrowała Light wykorzystując podobny artefakt.
Uraza Jokera do Vandala Savage'a sięga do wydarzeń odcinka "Revelation", w którym brał udział w jawnym ataku jako członek Injustice League, ale jak później dowiedział się , była to zasłona dymna, która ukrywała prawdziwe Light. Mimochodem wspomina nawet tytuł odcinka.
Podczas napisów końcowych Miss Martian, Martian Manhunter i Em'ree w ciszy wracają na Ziemię na Baby, nad którym Artemis recytuje zakończenie "The Lady, or the Tiger?" Franka R. Stocktona.
Odniesienia do liczby 16:

Tigress, Cassandra Savage i Onyx infiltrują sekcję 16 Santa Prisca.
Cytaty:
Joker: The Bat's right behind me, isn't he?
Tigress: I knew you'd come.
Cheshire: Really? No doubts at all.
Tigress: None I'll admit to.
Cheshire: Spoken like a true Crock… of sh–
Tigress: We're here!
---