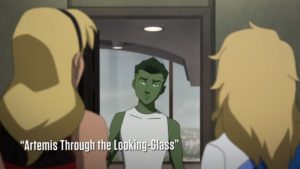 Tytuł odcinka: "Artemis Through the Looking-Glass"
Pierwsza data emisji: 11 listopada 2021
Reżyseria: Christina Sotta
Scenariusz: Brandon Vietti
Obsada:
| | |
| --- | --- |
| Troy Baker | Tod Donner, Brion Markov |
| Nick Chinlund | Crusher Crock |
| Jeff Bennett | Jason Bard |
| Logan Browning | Onyx |
| Nick Chinlund | Crusher Crock |
| Greg Cipes | Garfield Logan |
| Zehra Fazal | Cassandra Savage, Windfall, Halo |
| Grey Griffin | Looker |
| Kelly Hu Jade | Nguyen/Cheshire, Paula Crock |
| Josh Keaton | Black Spider |
| Stephanie Lemelin | Artemis Crock/Tigress, Justice League Computer |
| Mae Whitman | Wonder Girl, Spoiler |
| Gwendoline Yeo | Lady Shiva, Rictus |
Tigress nadrabia zaległości ze swoją siostrę, Cheshire, podczas gdy przeszłość Cieni dopada je.
Mieszanka przeszłości z zagęszczającą się intrygą w teraźniejszości dostarcza tego czego oczekujemy po "Young Justice". Wszystko jest podane w dobrych proporcjach i zaszłości rodzinne, czy pogrążenie w smutku Beast Boya nie wybijają historii z tempa.
Obecność Cheshire nie pozwala rozwiać wątpliwości co do działań Cassandry Savage i Onyx. Bo chociaż biorą udział w walce przeciwko członkom Ligi Cieni, to żadnej z nich nie można zaufać. W rozgrywkę włącza się też Lady Shiva, która nie przypadkowa porywa Orphant, czyli swoją córkę Cassandrę Wu San. Czy to ona od początku była celem? Bohaterowie nie odpuszczą i ruszają z misją ratunkową, w której wezmą udział Cassandra Savage i Onyx. Czyżby Artemis wolała mieć potencjalnego wroga na oku?
W "Artemis Through the Looking-Glass" sporo się dzieje i poznajemy więcej szczegółów z przeszłości Artemis, która mimo wszystko cały czas wierzy w swoją siostrę. Zwykle takie dramaty mogą nużyć, ale nie w tym przypadku. Widzimy jak poszczególne postacie się rozwinęły jak ich wybory wpłynęły na późniejsze życie. Wszystko ma swoje konsekwencje i w bardziej czy mnie widoczny sposób jest ze sobą połączone.
Intryga się zagęszcza i powoli zbliżamy się do odpowiedzi na nękające widzów pytania. Otrzymaliśmy kolejny świetny odcinek, co udowadnia, że warto było czekać na najnowszy sezon, którego forma okazuje się oferować więcej niż można było oczekiwać.
Ocena: 4,5 nietoperka

---
Ciekawostki:
Tytuł odcinka "Artemis Through the Looking-Glassh", tak jak poprzedni nawiązuje do kolejnej powieści, tym razem do "Po drugiej stronie lustra", kontynuacji "Alicji w Krainie Czarów" książki, która w całej serii była związana z Artemis na różne sposoby: ma duży plakat na ścianie w sypialni z ilustracją z książki, przydomek jej siostry został wzięty po postaci z powieści Carolla i jej origin został opowiedziany w dwóch komiksach, zatytułowanych na podstawie elementów z książki, "Rabbit Holes" i "Wonderland". Artemis czyta książkę w pierwszej retrospekcji i cytuje jej fragment w końcowej scenie napisów końcowych. W bardziej dosłownym sensie może odnosić się do Artemis obserwującej swoją siostrę przez ekran monitoa przesłuchującą Onyxa i Cassandrę Savage.
To pierwszy odcinek, w którego tytuł zawiera imię jednej z postaci.
Cassandra mówi, że Lady Shiva wysłała oddziały Mantykilka tygodni temu i w ten sposób dowiedzieli się, że Tigress dowodzi drużynę. Było to widoczne na zdjęciu z poprzedniego odcinka.
Okazuje się, że muzyka, której Artemis słuchała w swoim samochodzie w poprzednim odcinku, pochodzi z Superboy Fan Memorial.
Cheshire przypomina Black Spiderowi, że była kiedyś jej szefową, co mogliśmy zobaczyć w "Infiltrator".
Black Spider nawiązuje do Cheshire zdradzającj Ligę Cieni dla "faceta", co miało miejsce około 26 maja 2014 roku i zostało udokumentowane w dzienniku Red Arrow nr 6 z "Young Justice: Legacy".
"Tajemnice zamku Udolpho" autorstwa Ann Radcliffe widać w stosie książek na nocnym stoliku Artemis, gdy Jade zakrada się przez okno. Ta książka pojawiała się w jednym odcinku każdego sezonu: w "Homefront", "Satisfaction" i "Unknown Factors".
Kod Jade na spotkanie "Wszyscy mamy tutaj bzika" to wers z "Alicji w Krainie Czarów", wypowiedziany przez jej imiennika, kota z Cheshire. Podczas gdy kontynuacja hasła "Szaleni jak kapelusznicy" nie pochodzi z powieści, nawiązuje do Kapelusznika, innej postaci z powieści, znanej jako Szalony Kapelusznik.
Wypowiedź Jade "Twój mały pies też" jest odniesieniem do "Czarnoksiężnika z Krainy Oz", kiedy Zła Czarownica z Zachodu grozi Dorotce.
Książka, którą Jade daje Artemis w retrospekcjach, "Soh Dah" ("Dumb Luck"), to powieść wietnamskiego pisarza Vũ Trọng Phụnga z 1936 roku, która satyrycznie przedstawia późnokolonialną wietnamską klasę średnią.
Komentarz Cassandry do Rictus "Czy naprawdę wierzysz, że masz to, czego potrzeba, by obalić córkę Vandala Savage'a?" przypomina słowa jej ojca do Kid Flasha w "Coldhearted", "Czy naprawdę myślisz, że masz to, czego potrzeba, aby przetrwać Vandal Savage?".
Podczas napisów końcowych Kraig siedzi przy Superboy Fan Memorial, a Artemis recytuje fragmenty z "Po drugiej stronie lustra" Lewisa Carrolla.
Cytaty:
Tigress: Orphan, go. Or I'll call Batman.
Onyx: How? Are you kidding? She still goes by Artemis Crock. It took me three minutes on the internet.
---
---