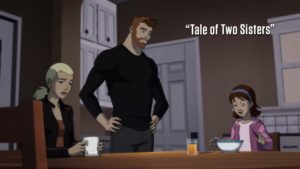 Tytuł odcinka: "Tale of Two Sisters"
Pierwsza data emisji: 4 listopada 2021
Reżyseria: Vinton Heuck
Scenariusz: Brian Hohlfeld
Obsada:
| | |
| --- | --- |
| Logan Browning | Onyx |
| Nick Chinlund | Crusher Crock |
| Zehra Fazal | Cassandra Savage, Talia al Ghul, Lian Nguyen-Harper |
| Crispin Freeman | Arsenal, Will Harper/Red Arrow |
| Kelly Hu | Jade Crock/Cheshire/Jade Nguyen, Paula Crock |
| Stephanie Lemelin | Artemis Crock/Tigress, Justice League Computer |
| Kelly Stables | Arrowette |
| Tara Strong | Terra |
| Mae Whitman | Spoiler |
| Keone Young | Sensei |
Życie Artemis Crock zostaje zakłócone przez druzgocące wieści – jak i przez licznych członków Ligi Cieni na jej drodze.
Wracamy na Ziemię i bardziej przyzimnych bohaterów. Koniec z telepatami, zmiennokształtnymi i różnymi mocami. Jeśli brakowało wam akcji w poprzednich odcinkach, to Liga Cieni i inni bohaterowie wam to wynagrodzą.
Wieści o śmierci Superboya docierają do Artemis i ma to na nią wielki wpływ. Nie tylko pogrąża się w smutku, ale traci też koncentrację podczas walki, a ta będzie jej potrzebna, gdyż pojawienie się Cassandry Savage i Onyx zwiastuje poważne kłopoty.
Która z bohaterek kłamie, a może obie mówią prawdę, ta zagadka jeszcze poczeka na rozwiązanie, ale na pewno przysporzy licznych kłopotów Artemis. Nowa historia skupia się bowiem na tej bohaterce i jak sugeruje tytuł jej relacjach z siostrą.
"Tale of Two Sisters" stanowi wprowadzenia do nowej historii, więc całość bardziej przypomina rozłożenie figur na szachownicy i dopiero w kolejnych odcinkach przekonamy się jakich ruchów dokonają. Całość mimo licznych postaci zapowiada się obiecująca, mamy Ligę Cieni, potencjalną misję umieszczenia kreta oraz Jade Crock, której przeszłość oraz relacja z siostrą i córką odegrają istotną rolę.
Nowy sezon udowadniania, że przygotowanie kilku odcinkowych historii skoncentrowanych na konkretnych postaciach było bardzo dobrym pomysłem. Mamy okazję lepiej się skupić oraz wejść w fabułę, która nie kończy się na jednym odcinku. Więcej czasu poświęca się na budowę relacji pomiędzy bohaterami, czy też na pokazanie ich podczas codziennych czynności. Dzięki takim zabiegom nie postrzegamy Artemis tylko jako bohaterki walczącej ze złem, ale widzimy, że tak jak każdy ma one gorsze dni. "Tale of Two Sisters" to dobry wstęp do intrygującej historii, która nie jeden raz nas zaskoczy.
Ocena: 4,5 nietoperka

---
Ciekawostki:
Tytuł odcinka "Opowieść o dwóch siostrach" odnosi się do Artemis i Jade. Jest to nawiązanie do powieści Karola Dickensa z 1859 roku "Opowieści o dwóch miastach", którą Artemis cytuje podczas swojego drugiego wykładu i sceny końcowej. Pierwszą zdanie książki zapisuje na tablicy szkolnej, w ostatniej retrospekcji trzymała książkę. Paula czyta ją, zanim pojawia się Jade.
Artemis dowiaduje się o śmierci Superboya, co przywołuje też wspomnienia śmierci Wally'ego Westa w "Endgame".
Kilka razu padają aluzje do faktu, że Red Arrow był kretem w pierwszym sezonie.
Arrowette wspomina, że Terra była kretem (w 3. sezonie).
Cheshire nawiązuje do swoje zdrady Ligi Cieni, by ocalić Red Arrowa, co miało miejsce około 26 maja 2014 r. i zostało udokumentowane w dzienniku Red Arrow nr 6 z "Young Justice: Legacy".
Sensei przypomina Cheshire, że nie jest już związany z Ligą Cieni ani Światłem, co zadeklarował Ra's al Ghul w "Rescue Op".
Cassandra Savage wspomina, że ​​jej ojciec zabił jej siostrę w "Evolution". Odwołuje się również do jego motto, aby nie marnować życia, kiedy można je wykorzystać do lepszego celu.
Retrospekcja, w której Jade pakuje swoje rzeczy, by uciec, to fragmenty z "Homefront".
Uwaga Willa by Arsenal trzymał się z dala od wyrzutni rakiet jest aluzją do odcinka "Satisfaction", w którym Roy włamał się do kryjówki Green Arrowa i uciekł z wyrzutnią rakiet i innymi sprzętami.
Will narzeka na stratę kolejnego SUV-a z powodu zespołu. W "Private Security" jego SUV został zniszczony, gdy był na misji z Dickiem, Royem i Jimem.
Łódź, której Cheshire używa, by dostać się na Infinity Island, jest uderzająco podobna do łódki której Red Arrow użył w tym samym celu w "Infiltrator".
Samochód Artemis ma te same odcienie zieleni, co jej oryginalny kostium.
Komentarz Terry o tym, że "skandalem" byłoby zdradzenie przez Cassandrę Savage swojego ojca, może być żartobliwym odniesieniem do Scandal Savage, bardziej znanej w komiksach córki Vandala.
Francuski cytat, który Artemis zapisuje na tablicy, pochodzi z "Nędzników" Victora Hugo.
Jak wskazuje Arsenal, wypowiedź Terry "Spadające jabłko nie odbija się daleko od głowy" łączy przysłowie "Niedaleko pada jabłko od jabłoni" z historią o odkryciu przez Izaaka Newtona prawa powszechnego ciążenia z spadającym jabłkiem na jego głowę.
Talia Al Ghul trzyma małego chłopca, kiedy rozmawia z Cheshire. Jest to prawdopodobnie jej syn, Damian Wayne, którego ojcem jest Bruce Wayne/Batman. Wcześniej wiedzieliśmy go w odcinku "Rescue Op".
Podczas napisów końcowych Nightwing i Aquaman patrzą na pamiątkowy hologram Superboya w grocie w Watchtower, a Artemis recytuje fragment z "Opowieści o dwóch miastach" Karola Dickensa.
Odniesienia do liczby 16:

Ciężarówka "Cha Cha Chashu" wyświetla listę "shoyu" poniżej 16.0.
Cheshire przybywa do domu swojej matki o 4:16 PDT.
Cytaty:
Arrowette: So you want us to believe that Vandal Savage's daughter would believe that we would believe that she'd ever in 50,000 years betray her father?
Arsenal: Hell would have to freeze over.
Cassandra Savage: Well, as a matter of fact… you might want to break out your mittens. I'll only need the one, thanks.
Sensei: Cheshire… you came here to die. Come back when you are ready to live.
---
---