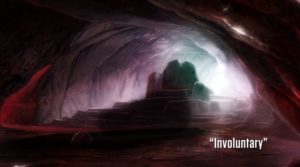 Tytuł odcinka: "Involuntary"
Pierwsza data emisji: 28 października 2021
Reżyseria: Christopher Berkeley
Scenariusz: Francisco Paredes
Obsada:
| | |
| --- | --- |
| Dee Bradley Baker | Chameleon Boy, K'arr M'angg |
| Troy Baker | R'ess E'dda |
| Greg Cipes | Beast Boy |
| Ben Diskin | Ma'alefa'ak |
| Zehra Fazal | S'yraa S'mitt, J'arlia J'axx |
| Phil LaMarr | J'emm J'axx |
| Danica McKellar | Miss Martian |
| Nolan North | Superboy, Superman, R'ohh K'arr |
| Kevin Michael Richardson | Martian Manhunter |
| Kari Wahlgren | Saturn Girl, Phantom Girl, J'ann M'orzz |
| Hynden Walch | Em'ree J'onzz |
Odpowiedzi wychodzą na jaw, gdy Beast Boy, Miss Martian i Superboy odkrywają straszną prawdę.
Wątek dotyczący Marsa dobiega końca. Nie brak tu emocji, ale jeszcze nie wszystkie elementy zostają odkryte. Od samego początku twórcy skupiali się na emocjonalnej stronie postaci, sprawa śmierci króla, czy wysadzenia Zeta-Tube, były na dalszym planie.
Kiedy cała trójka bohaterów zaczyna pracować nad morderstwem króla, szybko udaje im się odkryć sprawcę. Jak się okazuje nie było tu żadnego spisku tylko nieszczęśliwy splot okoliczności, który doprowadził do tragedii. Podziały rasowe na Marsie, wśród zmiennokształtnych nawet dla postępowego władcy okazały się tradycją nie odrzucenia. Takich problemów nie da się rozwiązać, systemowo, czy płomiennymi przemowami, książę J'emm J'axx będzie miał trudne zadanie.
Przez poprzednie odcinki obserwowaliśmy przygotowania do ślubu Miss Martian i Superboya. Po różnych perypetiach należało im się trochę szczęścia. O ile bomba genowa Ma'alefa'aka, dzięki poświęceniu Connera, nie spełniła swojego zadania, to nasz bohater, jak się wydaje płaci najwyższą cenę, za ochronę ukochanej.
Mając w tle członków Legionu Superbohaterów, można założyć, że na dobre nie przyszło nam się pożegnać z Superboyem, ale zakończenie okazuje się prawdziwą bombą, która pozostawia załamaną Miss Martian. Emocje sięgają zenitu, ale za dużo ich, gdy dodamy jeszcze próby pojednanie w gronie rodzinnym. Takie podejście spotęgowane przez poświęcenie Superboya, sprawia, że wszystkie tajemnice wydają się bez znaczenia.
W "Involuntary" nie brakuje szokujących rozwiązań, poszczególne elementy układają się w całość, ale też pozostają kwestie skryte w cieniu na których odsłonięcie przyjdzie nam jeszcze poczekać. Szkoda, że nie udało się bardziej wyrównać motywów grających na uczuciach z intrygą otaczająca Marsa oraz bohaterów z przyszłości. Niemniej jednak pobyt na Marsie zalicza się do udanych.
Ocena: 4 nietoperki

---
Ciekawostki:
Podczas napisów końcowych Miss Martian jest załamana po stracie Superboya i płacze na ich ołtarzu ślubnym.
Cytaty:
Garfield Logan: This place is so crash. This party is going to crush it. J'emm J'axx: Apologies. I don't believe the psychic translation is working properly.
---
---