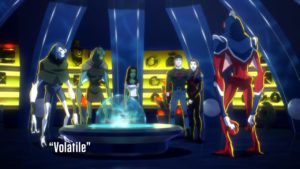 Tytuł odcinka: "Volatile"
Pierwsza data emisji: 21 października 2021
Reżyseria: Christina Sotta
Scenariusz: Brandon Vietti
Obsada:
| | |
| --- | --- |
| Troy Baker | Geo-Force, Kobra Cultist |
| Greg Cipes | Beast Boy |
| Zehra Fazal | S'yraa S'mitt, Windfall |
| Phil LaMarr | J'emm J'axx, B'arzz O'oomm |
| Carl Lumbly | M'aatt M'orzz |
| Danica McKellar | Miss Martian |
| Nolan North | Superboy, Superman |
| Kari Wahlgren | J'ann M'orzz, Saturn Girl, Phantom Girl |
| Hynden Walch | Em'ree J'onzz |
Miss Martian i Superboy zmagają się z rodzinnymi tradycjami, podczas gdy Beast Boy zmaga się z czymś mroczniejszym.
Po mocnym otwarciu tempo trochę spada, by zabrać widzów w kolejne tradycje marsjański zaślubin. Nie jest jednak tak spokojnie jakby się mogło wydawać, gdyż poważne problemy psychiczne coraz bardziej doskwierają Beast Boyowi.
Za sprawą początkowych retrospekcji mami trochę akcji z udziałem Outsiderów, ale to tylko chwilowa wizyta u młodych bohaterów. Pozostajemy na Marsie, gdzie Superboy odnajduje kolejne tropy dotyczące morderstwa króla, ale najważniejsze pozostają przygotowania ślubne.
W "Volatile" postawiono na postacie i ich traumy. Beast Boy nie uporał się ze zdradą Briona, a konsekwencje po wcześniejszym telepatycznym ataku teraz omal nie doprowadzają do tragedii. Przełom w relacjach rodzinnych następuje też u Miss Martian i jej siostry. Kłótnia podczas budowy baldachimu pozwala siostrom wyrzucić z siebie skrywane żale, to pozwala na oczyszczenie atmosfery. Emocji dostarcza też wątek z Bio-statkiem, który stał się częścią Drużyny i już nie wróci na Ziemię, ale wcześnie obdarowała bohaterów swoim potomstwem.
Traumy bohaterów szybko zostaną wyleczone, czy to przez szczerość, czy interwencje telepatki z Legionu Superbohaterów. Całość jest przyjemna i dobrze skupić się na samych bohaterach, ale jest to raczej zabieg będący ciszą przed burzą, która nastąpi, gdy wszystkie tajemnice zostaną odkryte, a czy jest na to lepszy moment niż ślub?
4. sezon "Young Justice" zapowiada się na zbiór kilku wątków dotyczących poszczególnych bohaterów. Pozwala to na lepszy rozwój postaci, bo nie skaczemy z jednego miejsca na drugie, ale koncentrujemy się na konkretnych bohaterach. Kiedy jednak brak nam akcji oraz innych znajomych bohaterów, to możemy powoli cierpieć niczym Beast Boy tęskniący za Ziemią, ale do takiego stanu jeszcze daleko, bo wydarzenia na Marsie cały czas pozytywnie zaskakuje.
Ocena: 4 nietoperki

---
Ciekawostki:
Podczas napisów końcowych Superman rozmawia przez telefon z Lois o ich synu Jonathanie u którego zaczynają dawać znak supermoce.
Okrzyk "Kobra! Attack!", to aluzja do okrzyku bojowego Dowódcy Cobry z "G.I. Joe: A Real American Hero".
Tytuł odcinka "Volatile" (niestabilny), może odnosić się do stanu psychicznego Beast Boya, a także do problemu z baldachimem ślubnym.
Odcinek zaczyna się od retrospekcji z jednej akcji Outsiderów.
Cytaty:
J'ann M'orzz: When you were a child, you would sometimes shift your skin to G'arrunn, trying to pass. It never worked, of course. Everyone knew you were A'ashenn. But just now, when you took your old form, the form you were born to… it felt just as psychically false. This is your true form, M'gann. I'm so sorry I never understood that before.
Superman: [do Lois] No, I am not on the Watchtower just to avoid diaper duty.
---
---