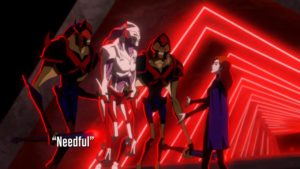 Tytuł odcinka: "Needful"
Pierwsza data emisji: 16 października 2021
Reżyseria: Vinton Heuck
Scenariusz: Andrew Blanchette
Obsada:
| | |
| --- | --- |
| Dee Bradley Baker | Desaad, Chameleon Boy |
| Troy Baker | R'ess E'dda |
| Greg Cipes | Beast Boy |
| Zehra Fazal | J'arlia J'axx, S'yraa S'mitt |
| Phil LaMarr | J'emm J'axx |
| Carl Lumbly | M'aatt M'orzz |
| Danica McKellar | Miss Martian |
| Nolan North | Superboy, Superman, R'ohh K'arr |
| Kevin Michael Richardson | Martian Manhunter |
| Ben Diskin | Ma'alefa'ak |
| Zeno Robinson | Cyborg, Steel |
| Kari Wahlgren | J'ann M'orzz, Phantom Girl, Saturn Girl |
| Hynden Walch | Em'ree J'onzz, Perdita Vladek |
Podczas próby rozwiązania rosnącej liczby tajemnic Miss Martian, Superboy i Beast Boy konsultują się z członkami rodziny królewskiej.
Pozostajemy na Marsie a intryga zagęszcza się. Los Martian Manhuntera nie pozostaje długo niewiadomą, i mimo tego całego zamieszania przygotowania do ślubu Miss Martian i Superboya trwają w najlepsze.
Sprawa cliffhangera z poprzedniego odcinka wyjaśnia się szybko i o ile Martian Manhunter ma się dobrze, to sabotaże na Marsie nie rozpraszają naszych bohaterów. Z jednej strony przyjemnie jest obserwować jak twórcy odkrywają kolejne elementy marsjańskiej kultury i nowe atrakcyjne wizualnie lokalizacje, ale spodziewałbym się większego zaangażowania Miss Martian i Superboya, a tak można mieć wrażenie, że ślub jest dla nich ważniejszy.
Odkrywane zostają kolejne fragmenty układanki, kiedy mamy okazję bliżej przyjrzeć się tajemniczym obserwatorom, Chameleon Boyowi, Phantom Girl oraz Saturn Girl. Nie wiemy jaki jest ich plan, ale ktoś próbuje pokrzyżować im szyki. Akcja cały czas intryguje, ale atmosfera nie oddaje zagrożenia, które planuje Ma'alefa'ak. Bohaterowie pozostają więc nieświadomi skali niebezpieczeństwa, zwłaszcza, że nie mogą liczyć na wsparcie innych superbohaterów.
Dwa pierwsze odcinki zostały udostępnione jednocześnie, co może tłumaczyć ich wprowadzający charakter. Jest wiele tajemnic do odkrycia, ale jeszcze żadne kroki nie zostały w tym celu podjęte. Akcja skupia się na sytuacji na Marsie, przez co reszta młodych bohaterów jest nieobecna, co można uznać za drobny minus. To dopiero początek sezonu więc na wszystko jeszcze jest czas. Twórcy zasłużyli na zaufanie więc niewątpliwie wszystko odpowiednio zostało zaplanowane.
Ocena: 4 nietoperki

---
Ciekawostki:
Podczas napisów końcowych Beast Boy odsłuchuje wiadomości od Perdity.
Okazuje się, że to Apokolips poprosiło Ma'alefa'aka o pomoc w rozpoczęciu wojny z New Genesis w "Away Mission".
W retrospekcjach znajomości Miss Martian i Superboya wykorzystano sceny z poprzednich odcinków:

Spotkanie Miss Martian i Superboya w "Independence Day";
Miss Martian rumieni się w "Drop-Zone";
Wpadka kulinarna Miss Martian i Superboya w "Downtime";
Pierwszy pocałunek Miss Martiann i Superboya w "Terrors";
Urodziny Wally'ego w "Coldhearted";
Noworoczny pocałunek Miss Martian i Superboya "Auld Acquaintance";
Miss Martian i Superboy ponownie łączą się w Grotto w "Endgame";
Conner oświadcza się Megan "Princes All".
Cytaty:
Miss Martian: Spill, M'Comm, or I'll take what I need the hard way.
M'comm M'orzz: You've been watching too many of Uncle J'onn's Earth cop shows.
Garfield Logan: [gdy Conner i M'gann całują się] Geez, get a honeymoon suite.
---