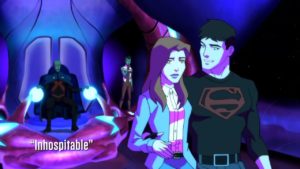 Tytuł odcinka: "Inhospitable"
Pierwsza data emisji: 16 października 2021
Reżyseria: Christopher Berkeley
Scenariusz: Greg Weisman
Obsada:
| | |
| --- | --- |
| Troy Baker | Tod Donner, R'ess Edda, Komm B'lanxx |
| Greg Cipes | Beast Boy |
| Ben Diskin | Ma'alefa'ak, Cullen Row |
| Zehra Fazal | Violet Harper, Harper Row, J'arlia J'axx |
| Stephanie Lemelin | komputer Justice League |
| Carl Lumbly | M'aatt M'orzz |
| Vanessa Marshall | Dinah Lance |
| Danica McKellar | Megan Morse/Miss Martian |
| Nolan North | Conner Kent/Superboy, Superman, R'ohh K'arr |
| Kevin Michael Richardson | Martian Manhunter |
| Tara Strong | Bethany Lee Carr, Tara Markov |
| Kari Wahlgren | J'ann M'orzz |
| Hynden Walch | Em'ree J'onzz |
| Greg Weisman | Lucas Carr |
Miss Martian, Superboy, Beast Boy i Martian Manhunter wyjeżdżają na małe wakacje… w nieco nieprzyjazne rejony.
Na czwarty sezon przyszło nam czekać znacznie krócej niż poprzednio, ale mimo to wydaje się, że od naszego ostatniego spotkania z bohaterami minęło mnóstwo czasu. Chociaż tytuł odcinka to "Niegościnny", to widzowie zostają należycie przywitani.
To co zapowiada się na spokojny odcinek skupiony na bohaterach i ich planach stanowi wstęp do czegoś większego. Z jednej strony, chociaż akcja rozgrywa się na Marsie, to problemy podziału społeczeństwa i obawy przed wpływami innych kultur stanowi uniwersalny temat. Już w poprzednim sezonie nie brakowało takich alegorii i tam samo będzie w tym. Na tym spojrzeniu nie traci jednak historia postaci, których losy śledzimy. Wszystko czemuś służy i stanowi elementy większej całości.
Miss Martian i Superboy szykują się do ślubu, nie brak też problemów rodzinnych, ale mimo podjęcia takich tematów odcinek trzyma tempo i nic nie wybija z rytmu przed istnym trzęsieniem ziemi w końcówce. "Inhospitable" wprowadza nowe postacie i przedstawia sytuację na Marsie, a gdzieś w tle czają się obserwatorzy z Legionu Superbohaterów. Skupienie się na garstce bohaterów sprawia wrażenie bardziej intymnej historii , ale to tylko złudzenie, bo wyprawa na obcą planetę ma większe znaczenie dla Ziemi niż mogłoby się wydawać. Mamy tu spisek i wewnętrzne niepokoje oraz sabotaż. Miss Martian i Superboy będą musieli odstawić swoje plany na bok, bo sytuacja wymaga podjęcia natychmiastowych działań. "Young Justice" trzyma poziom do jakiego przyzwyczaił widzów i zachęca po niezwłoczne sięgnięcie po kolejny odcinek.
Ocena: 4,5 nietoperka

---
Ciekawostki:
Wydarzenia tego sezonu rozpoczynają się dwa dni po słuchowisku "The Prize". Miss Martian, Superboy i Beast Boy z trio na Marsa, o którym mowa w AudioPlay.
Tytuł odcinka odnosi się zarówno do środowiska panującego na Marsie, jak i do wrogości wobec obcych i Białych Marsjan.
Em'ree J'onzz przybiera postać Megan Wheeler i Rity Lee, dwóch bohaterek "Hello, Megan!".
Lucas Carr i Bethany Lee pobrali się od czasu odcinka "Early Warning".
Beast Boy wspomina, że spotkał M'comma podczas swojej ostatniej podróży na Marsa, która miała miejsce między odcinkiem "Into the Breach" a "The Prize" ale nie została pokazana.
Superman tymczasowo przeniósł Watchtower nad Zeta-Shield Sardatha, która działa od czasu odcinka "Salvage".
Odcinek poświęcony jest pamięci Morgana Sheparda, który użyczył głosu Sardathowi w "Earthlings". Shepard zmarł 6 stycznia 2019 roku w wieku 86 lat.
Podczas napisów końcowych widać śpiącego obok stołu Wolfa słuchającego rozmowy Dinah z Violet.
Beast Boy zamienia Bio-Ship w statek kosmiczny ze swojego serialu Space Trek 3016.
Zafascynowani ziemskimi osobowościami marsjanie przejmują formy Torka i Klamulonsa z serialu "Space Trek 3016", G. Gordon Godfreya oraz członków Outsiders, Beast Boya, Superboya, Foragera, Geo-Force'a, Wonder Girl i Stargirl.
To pierwsza premiera sezonu, w której nie pojawia się Dick Grayson.
Odniesienia do liczby 16:

Miss Martian, Superboy, Beast Boy i Martian Manhunter przybywają na Marsa o 16:16 UTC.
Wjeżdżają do Ma'aleca'andra o 16:22 UTC.
Cytaty:
Bethany Lee Carr: But if you and all these kids plan to make it to school on time, we'll need that spaceship moved to get our cars out.
Lucas Carr: Bet that's something you never thought you'd say before you married me.
Superboy: I'm hoping you'll both give me your blessing to marry your daughter.
M'aatt M'orzz: The traditionon M'arzz is for the female to ask this blessing from her prospective mate's parents.
Miss Martian: I asked Jonathan, Martha and Clark Kent. They all gave their blessings.
Beast Boy: Huh. No Lex Luthor?
---