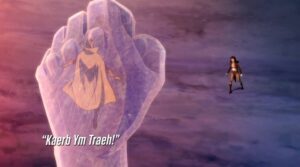 Tytuł odcinka: "Leviathan Wakes"
Pierwsza data emisji: 7 kwietnia 2022
Reżyseria: Vinton Heuck
Scenariusz: Khary Payton
Obsada:
| | |
| --- | --- |
| Thom Adcox | Klarion |
| Usman Ally | Khalid Nassour |
| Lacey Chabert | Zatanna |
| Greg Cipes | Garfield Logan |
| Erika Ishii | Mary Bromfield, Child |
| David Kaye | Vandal Savage |
| Vanessa Marshall | Black Canary |
| Nolan North | Zatara, Superboy |
| Kevin Michael Richardson | Nabu, Charlie Daggett |
| Deborah Strang | Granny Goodness |
| Lauren Tom | Thirteen, Penny Randall |
| Hynden Walch | Perdita Vladek |
| D.B. Woodside | Phantom Stranger |
Zatanna i Strażnicy Magii zyskują nieprawdopodobnych sojuszników, ale nowy sojusz może nie wystarczyć.
Po kilku odcinków dochodzi do tego co od samego początku było nieuniknione, Klarion i nasi bohaterowie muszą współpracować nie tylko przy starciu z Dzieckiem ale i podczas wyboru nowego kotka w Salem, co dostarcza wiele humoru.
Swoją grę rozgrywa też Vandal, którego plan skupia się na równowadze, bo nie może być porządku bez chaosu. Tym sposobem działania Savage'a sprawiają, że walka się wyrównuje bo Dziecko będzie już bez wsparcia. Schemat starcia jest dobrze znany. Bohaterowie najpierw mają problemy, ale dostrzeżenie skazy Flaw pozwala Traci pokonać kotwicę Dziecka i tym samym ją wyeliminować. Brak zaskoczeń, czy większego zwrotu akcji w samej walce.
Ważniejsze kwestie dotyczą bohaterów i ich przeszłości. Co tak naprawdę zapoczątkowało ten wszechobecny chaos. Jak się okazuje, plan Zatanny by jej uczniowie wraz z nią naprzemiennie przejmowali rolę Dr. Fate'a. Nadaje to całej opowieści bardziej osobistego charakteru. Jest szansa na więcej Zatary, ale sam zakulisowy plan Zatanny może budzić kontrowersje. Zwłaszcza biorąc pod uwagę kwestię postaci Mary, która zostaje pozostawiona sama sobie i to bardzo złym stanie. Z tego nie wyniknie nic dobrego.
Na drugim planie rozgrywa się dramat Gara, który odtrąca wszystkich od siebie i nie jest gotów przyjąć pomocy nawet od Perdidy. Może powrót Miss Martian mu pomoże, albo chociaż rozmowy z Black Canary. Na początku Gar musi sam przyznać, że potrzebuje pomocy. Twórcy poruszają ważną kwestię i przekonamy się, czy Beast Boy podejmie walkę.
Magiczne przygody zapowiadały się na coś większego, nie tyle pod względem skali zagrożenia, ale poznania nowych bohaterów i całego świata magii, czy przeszłości. Otrzymaliśmy dobry odcinek, kończący magiczną historię ale tylko dobry.
Oczywiście to nie koniec przygód młodych bohaterów, bo zgodnie z przewidywaniami Connor nie został stracony.
Ocena: 4 nietoperki

---
Ciekawostki:
Tytuł odcinka jest napisany wspak, co przekłada się na "Break My Heart!". Odnosi się to do Thirteen która łamie Flaw rozszerzając wadę, widoczną na jego klatce piersiowej, oraz do złamanego serca Mary Bromfield, kiedy Zatanna wyklucza ją ze swojego planu zapewnienia Dr Fate'owi naprzemiennych gospodarzy.
Ten odcinek zatacza koło wraz z pierwszym odcinkiem tej historii w którym Phantom Stranger wezwał Vandala Savage'a, podczas gdy teraz jest na odwrót. Na co uwagę zwraca sam Stranger.
Charlie Daggett jest zakłopotany, widząc Dr Fate'a i dowiadując się, że jest członkiem Justice League. Wynika to z braku Charliego na jego osi czasu od czasu "Schooled", kiedy to Fate był uśpiony przez 65 lat.
Perdita ma widoczną bliznę na klatce piersiowej po przeszczepie serca w "Coldhearted".
Vandal Savage nawiązuje do swojego partnerstwa z Klarionem, które zostało sformalizowane w "Nomed Esir!" i spłodzenia Nabu, co potwierdzono w "Teg Ydaer!".
Władcy Porządku obwiniają powstałą sytuację z Dzieckiem na partnerstwo Savage'a z Darkseidem, które sięga XII wieku, co pokazano w "Evolution".
Dziecko powtarza, że ​​Klarion jest narzędziem Porządku z powodu jego sojuszu z Dr Fate'em. O to samo oskarżyła go w "Nomed Esir!" tylko z powodu jego tysiącletniego sojuszu z Vandalem Savage'em.
Perdita pyta Garfielda o jego opuszczenie "Space Trek 3016" w poprzednim odcinku. Wspomina również, że nie odpowiadał na jej telefony. W "Teg Ydaer!" jego telefon dzwoni, ale ten nie odebrał, ponieważ stracił przytomność po zażyciu tabletek na receptę.
Pociąg Mary Bromfield do magii został zapowiedziany w "Nomed Esir!", kiedy została przyciągnięta do trzech magicznych artefaktów w relikwiarzu Jasona Blooda, oraz w "Og Htrof Dna Reuqnoc!", kiedy sięgnęła po Pillar of Fire Dziecka.
Zatanna wspomina, jak jej ojciec założył Helmet of Fate, aby zastąpić ją jako gospodarz Nabu w "Misplaced".
Kiedy Zatanna przygląda się podróży szkolnego autobusu, widzi sceny z "Schooled", "Og Htrof Dna Reuqnoc!", "Private Security", "Revelation" i "Odnu!".
Mary Bromfield siedzi przy tej samej opuszczonej fotobudce, którą Billy Batson próbował użyć jako Zeta-Beam do Watchtower w "Misplaced".
Jest to pierwszy odcinek czwartego sezonu, który zawiera scenę po napisach. Wcześniej taka scena pojawiła się w dwóch odcinkach, w tym jednak po raz pierwszy zawiera znacznik czasu.
Najdłuższy odcinek ze wszystkich dotychczasowych.
Podczas napisów końcowych Black Canary ma sesję terapeutyczną z Zatarą w Watchtower. Informuje go o pasażerach szkolnego autobusu, którym potajemnie doradza od dziesięciu lat, po czym przechodzi do omówienia jego czasu podczas którego nosił Helmet of Fate. Początkowo spokojny Zatara powołujący się na wiarę i miłość do córki za to, że udało mu się przejść, ostatecznie wybucha łzami.
Odniesienia do liczby 16:

Vandal Savage spotyka Phantoma Strangera o 21:16 AEST.
Prywatny numer telefonu Dinah to 555-0116.
Granny Goodness rozmawia z Mary Bromfield o 00:16 CDT.
Cytaty:
Klarion: Hey, goody-ten-shoes! Been looking for you everywhen!
Zatanna: I made my father disappear ten years ago. My greatest act of prestidigitation was bringing him back.
---