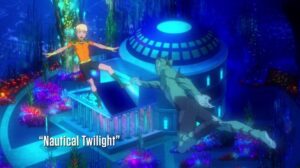 Tytuł odcinka: "Nautical Twilight"
Pierwsza data emisji: 31 marca 2022
Reżyseria: Vinton Heuck
Scenariusz: Mae Catt
Obsada:
| | |
| --- | --- |
| Robbie Daymond | Wyynde, Danuuth |
| Zehra Fazal | Violet Harper, Madia Daou, Harper Row |
| Phil LaMarr | Orin, Calvin Durham |
| Yuri Lowenthal | La'gaan, Garth |
| Jesse McCartney | Dick Grayson |
| Nolan North | Superboy, Ronal |
| Khary Payton | Kaldur'ahm/Aquaman |
| Tiya Sircar | Delphis, Coral |
| Roger Craig Smith | Ocean-Master |
| Kath Soucie | Lori Lemaris, Mera Nereus, Artur |
| Tara Strong | Sha'lain'a, Minkis |
| James Arnold Taylor | Topo, Nanaue Sha'ark |
Kaldur'ahm żuje algi, a Violet Harper kroi warzywa.
Rozpoczynamy nowa przygodą, w podwodnym świecie Atlantydy i nie tylko. Możemy podziwiać nowe sceneria oraz poznać bohaterów, którym nie poświęcano wiele czasu. Mamy polityczne zawirowania, spotęgowane przez niespodziewany atak. Sytuacja może przypominać to co mieliśmy na Marsie, ale tylko na pierwszy rzut oka. Tu od razu wiemy kto jest sprawcą, ale rodzi to nowe pytania.
Nie długo twórcy kazali nam czekać na kontynuację wątku Superboya. W poprzednim odcinku zasygnalizowani, że nie wszystko stracone, a teraz mamy okazję zobaczyć jak Conner reaguje na nową sytuację w dziwnym wymiarze w którym się znalazł.
Sporo tematyki religijnej przewija się w tym sezonie Young Justice, teraz za sprawą Violet poruszona zostaje islam a także kwestia tożsamości płciowej, niebinarnej. W przypadku takiej postaci jak Violet będącej połączeniem Gabrielle i duszy Mother Boxa wątek ten wypada dość naturalnie, zwłaszcza, że już wcześniej sygnalizowane, że chce poznawać swoją wiarę.
Tajemnicze proroctwo, walka o władzę. Czy jest autentyczne, czy ktoś wykorzystuje jej do swoich celów, a może wszystko od początku jest ustawione. Jak zawsze w odcinkach wprowadzając do nowych historii sporo się dzieje, przewija się dużo bohaterów tych bardziej znanych i tych którzy gdzieś tam kiedyś się pojawili. Po raz kolejny widzimy ogrom możliwości "Young Justice", gdzie jest miejsce na wszystko. Chociaż przyjemnie widzieć jak twórcy korzystają ze wszystkich zasobów to gdzieś w tym sezonie odczuwa się już brak Drużyny, która stanowiła centrum poprzednich serii.
Ocena: 4 nietoperki

---
Ciekawostki:
Tytuł odcinka Nautical Twilight to termin odnoszący się do okresu zmierzchu, w którym żeglarze są w stanie nawigować, ponieważ nadal widoczne są zarówno gwiazdy, jak i horyzont. Metaforycznie odnosi się do wielu trudności doświadczanych przez podwodne królestwo Atlantydy, w tym nierówności ekonomicznych i konfliktów między miastami-państwami z powodu niedoboru zasobów.
Odcinek rozpoczyna się sceną z "Tale of Two Sisters", w której Dick i Kaldur odwiedzają Willa, aby opowiedzieć jemu i Artemis o śmierci Connera. Druga scena pochodzi ze sceny z napisów końcowych z tego samego odcinka.
W trakcie drugiego dnia konferencji orientacja mapy świata przy stole konferencyjnym jest niespójna.
Okazuje się, że Ocean-Master żyje chociaż Lady Shiva skróciła go o głowę w "Home Fires".
Ocean-Master dziękuje Danuuthowi za tę lojalność, odnosząc się do jego dziesięcioletniego przywiązania przedstawionego w komiksach "Young Justice #14-15".
Lori Lemaris, Coral i Beluga przez moment pojawili się odcinki "Downtime", jako studenci Conservatory of Sorcery.
Conner wspomina eksplozję bomby genowej w "Involuntary", czas, w którym poznał M'gann w "Fireworks" i ostatnią rzecz, którą jej powiedział ("zawsze") przed wyruszeniem na poszukiwanie bomby.
Violet unika spotkania z Samad Daou, kiedy odwiedza Madię, ponieważ ich pierwsze spotkanie w "Quiet Conversations" nie było zbyt przyjacielskie.
Violet kontynuuje swój zamiar z końcowej sceny w "Inhospitable" i próbuje znaleźć odpowiedzi na temat islamu i jego znaczenia dla niej.
Violet wspomina o swojej niechęci do usunięcia hidżabu Gabrielle, która pojawiła się w "Private Security" i "Early Warning".
Madia dowiedziała się, że Violet to Halo z wydarzeń telewizyjnych, które miały miejsce w Markovii, w "Nevermore".
Violet wspomina swoje relacje z Gretchen Goode w "Antisocial Pathologies" oraz z Babcią Goodness w "Terminus" i "Into the Breach".
Conner podkreśla swój brak umiejętności wymyślania nazw.
Podczas napisów końcowych w nocy Harper Row pyta Violet o wizytę Madii. Violet mówi, że poszło dobrze, ale mają o wiele więcej pytań, takich jak płeć. Po namyśle Violet czuje, że ich prawdziwa płeć jest niebinarna. Harper przedstawia światu Violet Harper.
W barze z algami widać tajemniczego mężczyznę w kapturze.
Dick wspomina kilka wcześniejszych wydarzeń:

Śmierć Tuli w "Young Justice: Legacy".
Kolejna tajna misja Kaldura widziana w drugim sezonie.
Śmierć Wally'ego i odejście Dicka w "Endgame".
Kaldur przejmujący rolę Aquamana i zostający liderem Justice League między drugim a trzecim sezonem.
Cytaty:
Artur: Where's Mother going?
Orin: To talk to your grandfather.
Artur: Uh-oh.
Orin: Uh-oh, indeed.
Lori Lemaris: Ronal, can you please, for one minute, stop being such a pompous codfish?
---