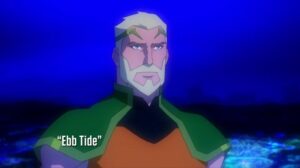 Tytuł odcinka: "Ebb Tide"
Pierwsza data emisji: 31 marca 2022
Reżyseria: Christina Sotta
Scenariusz: Greg Weisman
Obsada:
| | |
| --- | --- |
| Dee Bradley Baker | Chameleon Boy, Devourer |
| Robbie Daymond | Wyynde, Blubber |
| David Kaye | Arion, Vandal Savage |
| Phil LaMarr | Orin, Calvin Durham |
| Yuri Lowenthal | La'gaan |
| Nolan North | Superboy, Clark Kent/Superman |
| Khary Payton | Kaldur'am, Black Lightning |
| Tiya Sircar | Delphis |
| Roger Craig Smith | Ocean-Master, Rodunn |
| Kath Soucie | Mera Nereus |
| Tara Strong | Sha'lain'a |
| Kari Wahlgren | Saturn Girl |
Clark Kent otrzymuje wiadomości, które nadają się do druku, a Kaldur'ahm słucha starych rodzinnych historii od swoich rodziców.
Pamiętacie o Legionie Przyszłości? Bohaterowie znowu się pojawiają i tym razem otwarcie nawiązują kontakt z Supermanem. Więc nie można zapominać o tym co się wydarzyło, bo prędzej czy później kolejne elementy układanki zaczynają tworzyć pełny obraz. Nie jednego ucieszy też powrót bio statku, z którym już się pożegnaliśmy.
Podczas starcia z Dzieckiem nie mieliśmy chwili by zobaczyć jak jej działania wpływają na bohaterów nie zaangażowanych w bezpośrednie starcie. Teraz widzimy jakie zagrożenie było dla podwodnego świata. Nie jest to tylko akcja dla samej akcji, bo pozwala na zaangażowanie Ocean-Mastera i tajemniczego przybysza, którego tożsamość zostaje ujawniona, co wiąże się z pewną legendą.
Przepowiednia ustawiona czy nie, to pozostaje jeszcze zagadką ale jedno jest pewne Arthur ma coraz mniejszą szansę na pozostanie królem. Czy to wybrańca Atlantydy czy uzurpator. Orina czekają liczne problemy.
W tle jeszcze pozostaje Vandal, który rozgrywa swoją partię szachów z przeciwnikami, którzy nie zdają sobie sprawy, że z nim grają. Czy ma jakiś udział w obecnej historii? Dopiero się przekonany co oznacza jego plan.
W odcinku sporo się dzieje. A gdy uzyskujemy odpowiedź na nękające nas pytania to już pojawia się cała seria kolejnych, a nic tak nie wciąga.
Ocena: 4,5 nietoperka

---
Ciekawostki:
Tytuł odcinka "Ebb Tide "to okres między przypływem a odpływem, kiedy poziom morza opada. Metaforycznie może to odnosić się do spadku popularności Wielkiego Króla Orina po przybyciu Ariona, walki Kaldur'ahma o zachowanie spokoju pod rosnącą presją oraz pozornie nieudanych prób poprawienia osi czasu przez Legionistów.
Clark czyta wydanie Daily Planet z nagłówkiem na pierwszej stronie "Klęska na wyspie Roanoke". Odnosi się to do potyczki Dziecka i Klariona w "Nomed Esir!", która zakończyła się zaledwie pięć godzin wcześniej.
Wydarzenia tego odcinka rozgrywają się jednocześnie z tymi z "Og Htrof Dna Reuqnoc!", w którym Dziecko wywołało serię słupów ognia na całym świecie. Scena, w której Mera próbuje powstrzymać słup ognia jest też widoczny we wspomnianym wcześniej odcinku, gdy Doktor Fate i jego i reszta bohaterów podróżują przez wszystkie miejsca kryzysowe. Także Superman zostaje wezwany do pomocy w Agrze, co pokazano w końcowej scenie tego odcinka.
Saturn Girl i Chameleon Boy informują Supermana o ich nieudanej misji uratowania Superboya w "Involuntary".
Kwestia Chameleon Boya "So, please, get on board, so we can get out of the way" to parafraza słów Superboya do Justice League w "Fireworks".
Aby się uspokoić, Conner myśli o swoich najbliższych – Megan, Wolf i Sphere.
Mural przedstawiający Orina jako Aquamana dosiadającego konika morskiego może być odniesieniem do wersji tego bohatera z produkcji Filmation "The Superman/Aquaman Hour of Adventure".
La'gaan odnosi się do innych atlantyckich miast-państw jako księstw. Jednak zarówno Nanauve, jak i Xebel za przywódców mają królów – odpowiednio Nanaue Sha'arka i Ryusa Nereusa – więc byłyby królestwami, a nie księstwami
Podczas napisów końcowych w magazynie na Warworld Vandal Savage wydaje instrukcje córce. Chociaż Child zostało pokonane, zachowają tam sprzęt, który ewakuowali do czasu kolejnego nieuniknionego kryzysu. Vandal chce, aby Psimon potwierdził integralność Psi-Backsów i zaktualizował ekwipunek, zanim pomieszczenie zostanie zapieczętowane. Chce, żeby zostało to zrobione szybko, aby mogli przejść do swojego najwyższego priorytetu, Projektu Thrinos.
Cytaty:
Delphis: I am not certain you understand how much I value the opportunity to be offering help to someone other than myself. That has not been my history.
Superman: My friend Clark said you wanted to see me?
Saturn Girl: Um, okay…? Thank Clark for us?
---