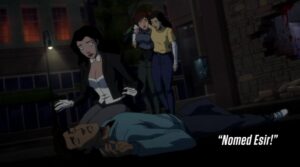 Tytuł odcinka: "Nomed Esir!"
Pierwsza data emisji: 9 grudnia 2021
Reżyseria: Christopher Berkeley
Scenariusz: Kevin Grevioux
Obsada:
| | |
| --- | --- |
| Thom Adcox | Klarion |
| Usman Ally | Khalid Nassour |
| Lacey Chabert | Zatanna |
| Erika Ishii | Mary Bromfield, Child |
| Danica McKellar | Miss Martian |
| Nolan North | Zatara |
| Kevin Michael Richardson | Martian Manhunter, Nabu |
| David Shaughnessy | Jason Blood, Etrigan the Demon |
| Lauren Tom | Thirteen |
| Hynden Walch | Em'ree J'onzz |
| D.B. Woodside | Phantom Stranger |
Zatanna i jej podopieczni spotykają nowych sojuszników — i odwiecznego wroga.
Poznając kolejne losy Vandala związane z Atlantydą widzę w tym potencjał na większą historię. Poświęcenie i narodziny czegoś nowego z chaosu. Wszystko ładnie się komponuje. Miniserial albo film animowany, bez bohaterów w trykotach tylko jeden nieśmiertelny który musi poradzić sobie z pogrywającym nim większymi siłami. Ale wracamy do "Young Justice".
Urocza postać blond dziewczynki grożąca Klarionowi, bezcenne. Jak na Władcę Chaosu jego działania nie na wyrządziły wielu nieodwracalnych szkód i teraz przyjdzie mu powalczyć ze wsparciem którego nigdy się nie spodziewał. Chociaż po stronie bohaterów jest nieprzewidywalny Demon Etrigan. To ze swoimi mocami nasi bohaterowie są jednak bezradni wobec połączonych sił Władców Chaosu, które wspierają Dziecko.
Phantom Stranger jest niczym przewodnik rzucający światło na to co się dzieje i jakie może to mieć konsekwencje. Tym samym mamy wolniejszą narracją, ale jesteśmy należycie wprowadzani do tego świata magii, który mimo, że obecny to nie często wychodził na pierwszy plan. Teraz mamy okazję bliżej nie tylko poznać historię świata w którym magia obecna jest dawien dawna, ale też niezwykły sojusz Klariona i Vandala.
Na drugim planie mamy cały czas pogrążaną w rozpaczy Miss Martian, która jest w drodze na Ziemie. Ale patrząc w jakiej jest formie i jakie jest zagrożenie, czy jej obecność w tym stanie będzie atutem, czy wadą.
Teraz kiedy równowaga wszechświata została zakłócona czeka nas niezwykły sojusz. Władcy Chaosu kontra plan Vandala Savage i Dr Fate, tego nie można przegapić. Ale czy już wprowadzający w życie plan ewakuacji Vandal wierzy w zwycięstwo?
Ocena: 4,5 nietoperka

---
Ciekawostki:
Tytuł odcinka , podobnie zapisany wspak, co się na "Demon Rise!" . W dosłownym sensie odnosi się do Demona Etrigana , którego Phantom Stranger szuka, aby pomóc w walce z Dzieckiem. Mówiąc obrazowo, tytuł może łączyć się z wątkiem pobocznym, w którym widzimy tonącą Atlantydę pod wpływem demonicznej ręki Klariona.
Podczas gdy w poprzednim odcinku Phantom Stranger opowiadał historię Vandalowi Savage'owi, w tym odcinku Savage opowiada ją Nabu. Podobnie jak wcześniej, Vandal udziela Fate'owi takiej samej odpowiedzi jaką dał mu Stranger, kiedy zapytał, dlaczego opowiedziano mu o czymś co o czym wiedział.
Opowiadając Dziecku o swoich wyczynach, Klarion wspomina wydarzenia z "Misplaced" i Project Rutabaga z "Early Warning".
Garfield wciąż pogrąża się w depresji po śmierci Superboya w "Involuntary". Widzimy otwarte pudełko z tabletkami nasennymi, które kupił w poprzednim odcinku.
Miss Martian, Martian Manhunter i Em'ree J'onzz wciąż są w drodze na Ziemię, odkąd opuścili Marsa w "The Lady or the Tigress?".
Klarion szydzi z używania przez Dziecko płonących węży, nawiązując do tego, kiedy użył jednego w "Summit".
Klarion zdaje sobie sprawę, że powinien zaatakować kotwicę Dziecka w ziemskim miejscu, po tym, jak widział, jak robiono to przy wielu okazjach, zwłaszcza w "Denial", "Misplaced", "Early Warning" i "Odnu!".
M'gann patrzy na obrączkę Connera, którą dał jej, kiedy wymieniali się obrączkami w "Inhospitable".
Klarion odnosi się do wydarzeń z "Misplaced" jako "Świata bez dorosłych" (World without Grown-ups), co było tytułem historii która doprowadziła do powstania Young Justice w komiksach.
Artefakty, których Jason Blood zabrania dotykać Mary Bromfield, Phoenix Gate, Grimorum Arcanorum i Eye of Odin. Są to Trzy klucze do władzy z "Gargoyles" innej produkcji Grega Weismana.
Wykrzyknik Em'ree J'onzz "O.M.C" jest marsjańskim odpowiednikiem ziemskiego "OMG". "C" oznacza "C'eridy'all", boginię życia Marsa wspomnianą w "Needful".
Autobus szkolny w niewytłumaczalny sposób wędruje w kosmosie.
Em'ree J'onzz określa Ziemię jako "trzecią skałą od Słońca". Biorąc pod uwagę tradycję oglądania na Marsie programów telewizyjnych o Ziemi, prawdopodobnie nawiązywała do sitcomu "3rd Rock from the Sun".
Vandal Savage określa głębię oceanów jako "rozległą głębię". To zdanie jest w dużej mierze przypisywane kronice "Henryk IV, część 1" Szekspira, w której jest używane w odniesieniu do podziemi.
Podczas napisów końcowych Na Warworld Vandal Savage instruuje swoją córkę, aby podjęła środki ostrożności przed potencjalnymi skutkami bitwy pomiędzy Klarionem i Dzieckiem. Rozkazuje Light ewakuować się na Warworld, taką samą propozycję otrzymuje Ra's al Ghul. Również zawartość History Cave i wszystkie Psy-Backs mają zostać przeniesione w bezpieczne miejsce.
Cytaty:
Phantom Stranger: We are in the Sanctum Sanctorum of one Jason Blood.
Jason Blood: Indeed, you are, Stranger. Might "one Jason Blood" ask why, and hope for a minimally enigmatic answer?
Thirteen: Yeah, good luck with that.
Phantom Stranger: I hold few answers. Only questions.
Thirteen: Told ya.
Khalid Nassour: How do you feel?
Zatanna: Like Nightwing's workout bag.
---