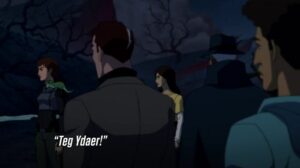 Tytuł odcinka: "Teg Ydaer!"
Pierwsza data emisji: 16 grudnia 2021
Reżyseria: Vinton Heuck
Scenariusz: Nida Chowdhry
Obsada:
| | |
| --- | --- |
| Thom Adcox | Klarion |
| Usman Ally | Khalid Nassour, Muhammed Nassour |
| Lacey Chabert | Zatanna |
| Greg Cipes | Garfield Logan/Beast Boy |
| Erika Ishii | Mary Bromfield, Child |
| Eric Lopez | Blue Beetle, Billy Batson |
| Whitney Moore | Stargirl |
| Nolan North | Zatara |
| Kevin Michael Richardson | Nabu |
| Lauren Tom | Thirteen/Traci Thurston, Jane Nassour |
Thirteen i jej przyjaciele stają w obliczu największego wyzwania z dotychczasowych.
Po czasach Atlantydy tym razem udajemy się do starożytnego Babilonu i ponownie w zamierzchłą historie wplecione zostają losy Vandala a także Władców Porządku, którzy wyciągnęli lekcję z poprzedniego chaosu który wywołał sojusz Savage'a z Klarionem. Poznajemy też okoliczności w których dusza Nabu stała się pierwszym Doctorem Fate.
Młodzi adepci magii poddani próbie muszą się zmierzyć ze swoimi lękami. Wszystko przebiega zgodnie ze schematem. Bohaterowie mają kryzys ale udaje im się go pokonać, kiedy przypominają sobie wspólne nauki z Zatanną i swoje wcześniejsze doświadczenia. Nauczyli się walczyć ze swoimi słabościami i je akceptować oraz przezwyciężać. Sami podejmują decyzje, że są gotowi do walki. Tylko czy rzeczywiście to najlepsza ekipa którą można wystawić do walki z Dzieckiem?
Mimo wielkiego zagrożenia dopiero słowa Zatary przekonują Nabu do wcześniejszej interwencji i uzmysławiają mu, że w jedności i sojusznikach jest siła. Sam Klarion osobiście zwraca się o pomoc do Nabu. Ale czy nie jest już za późno by pokonać Władców Chaosu?
Odcinek pozwala lepiej zapoznać się młodymi uczniami Zatanny, ale całość oprócz zakończenia jest dość standardowa. Nie jest to zły odcinek, ma swoje momenty i cały czas dobrze wprowadza nas w świat magii, ale po "Young Justice" oczekuje się trochę więcej. Bohaterowie wiedzą jak niebezpieczne jest Dziecko, ale na razie ich działania wydają się dość ograniczone, czemu jeszcze nie ostrzeżono członków Justice League?
Pokazywanie problemów Beast Boya staje się trochę męczące. Wiemy, że ma depresję i jego przyjaciele jeszcze nie dostrzegają jak źle z nim jest, ale czy koniecznie jest na to miejsce w historii kiedy chaos może pochłonąć Ziemię?
Ocena: 3,5 nietoperka

---
Ciekawostki:
Tytuł odcinka tak jak poprzednie z tej historii zapisany jest wspak i przekłada się na "Get Ready!". Może to odnosić się do zaklęcia oczyszczającego Zatanny lub faktu, że Sentinele Zatanny zostali poddani próbie przez Doctora Fate'a.
Podobnie jak w przypadku poprzednich odcinków, w tej części słuchacz z poprzedniego odcinka opowiada komuś historię. Ale w przeciwieństwie do innych odcinków, Doctor Fate zamierza odwieść Zatarę od podjęcia działań w walce z Dzieckiem.
Zatanna wspomina, że używanie ankh Fate'a zawsze wyczerpuje jej siły. Można to było zobaczyć w "Early Warning".
Odcinek ujawnia przyczynę inwazji Starro widzianą w retrospekcjach w "Evolution".
Puppet Beast Boy mówi Thirteen, że jest jej marionetkowym idolem. W "Illusion of Control" pokazano, że Traci była wielką fanką Garfielda.
Beast Boy przeszedł z proszków na sen, które kupił w "Odnu!" do leków na receptę.
Z odcinka dowiadujemy się, dlaczego Mary Bromfield porzuciła swoje alter ego Sergeant, o czym pokrótce wspomniano w "Odnu!"
Teekl przybiera taką samą formę szablozębną, jak w "Misplaced".
Podczas napisów końcowych autobus szkolny przemierza różne miejsca i wymiary, podczas gdy jego pasażerowie na przemian krzyczą i łapią oddech. Między innymi przelatują przez nasączone technologią Mobius z której korzysta Cyborg oraz obok The Source Wall, a także nici DNA i obok zielonej planety.
Khalid Nassour słyszy Adhan, islamskie wezwanie do modlitwy, które odbywa się pięć razy dziennie, aby wezwać muzułmanów do meczetu na obowiązkową modlitwę.
Żeby zachować autentyczność scen przedstawiających islamską wiarę Khalida skorzystano z pomocy Sue Obeidi, konsultantki Muzułmańskiej Rady do Spraw Publicznych.
Khalid jest potomkiem pielgrzymów Mayflower ze strony matki. Mayflower był angielskim statkiem, który w 1620 roku przetransportował grupę osadników z Anglii do Nowego Świata.
Zatara recytuje Ojcze nasz po angielsku, która odbija się echem w wersji w języku włoskim. Jest to najstarsza, a zarazem najważniejsza modlitwa chrześcijańska, którą Jezus przekazał swoim uczniom.
Wygląd Immortal Elders to nawiązanie do ich pojawienia się na openingu serialu "Shazam!" od Filmation.
Odniesienia do liczby 16:

Mary Bromfield stoi na peronie 16th Street w swoim wymiarze testowym.
Cytaty:
Zatara: Great Nabu, step back from the precipice of your own arrogance, and heed the words of those who seek only to aid your cause, lest you fall victim to Chaos, as you did in your natural life so many years ago. Start by listening to my daughter.
Klarion: Come on, Nabu, you cranky old fart, let me in! I need help.
---