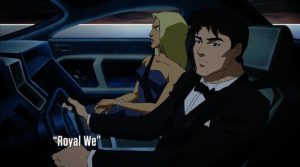 Tytuł odcinka: "Royal We"
Pierwsza data emisji: 4 stycznia 2019
Reżyseria: Mel Zwyer
Scenariusz: Andrew Robinson
Twoja ocena: [yasr_visitor_votes size="medium"]
Obsada:
Troy Baker Steve Blum Greg Cipes Zehra Fazal Crispin Freeman Grey Griffin Stephanie Lemelin Yuri Lowenthal Jesse McCartney Masasa Moyo Nolan North Khary Payton Mark Rolston
Brion Markov, Simon Ecks
Henchy, Count Vertigo, Wilhelm Peters
Garfield Logan
martwa dziewczyna
Gregor Markov, Kaizen Gamorra
Helga Jace, Troia
Tigress, Catherine Cobert
Garth, Zviad Baazovi
Dick Grayson
Cat Grant
Conner Kent, Frederick DeLamb
Jefferson Pierce
Lex Luthor, Sumaan Harjavti
Dick Grayson, Artemis Crock, Conner Kent i Jefferson Pierce udają się pod przykrywką do Markovii, by powstrzymać Bedlam Syndicate, kartel handlujący meta-ludźmi – zanim zażądają kolejnej ofiary.
---
Oprócz wstępu w ONZ i ogłoszenia odejścia kilku bohaterów z Ligi Sprawiedliwości akcja odcinka razem skupia się praktycznie na jednym wątku. Tajnej misji w Markovii, gdzie bohaterowie nie są mile widziane.
Dick Grayson i Artemis mają okazję pokazać jak działać po przykrywką, począwszy od przekroczenia granicy na fałszywych dokumentach, a skończywszy na dostaniu się na przyjęciu przed-koronacyjnym księcia Gregora. Krok po kroku podążamy za misją bohaterów, którzy chcą odkryć kto odpowiada za handel metaludźmi.
Równolegle śledzimy poczynania Superboya i Jeffersona Pierce'a na których drodze staje Vertigo i Plasmus. Oprócz śledztwa nie brakuje więc i akcji. Co ważniejsze nie zawsze wszystko musi pójść po myśli bohaterów.
"Royal We" przybliża bohaterów związanych z Markovią i o ile łatwo domyśleć się kto odpowiada za śmierć króla i królowej to zachowanie pozostałych postaci nie jest tak oczywiste. Pewne jest tylko, że Brion Markov wkrótce zyska supermoce, tylko czy chciał żeby stało się to w takich dramatycznych okolicznościach?
W "Young Justice" cały czas przed bohaterami stawiane są nowe wyzwania, a niektórzy tak ja Superboy będą musieli się zmierzyć echem związanym z projektem Cadmus. Dodatkowo świat inaczej postrzega superbohaterów, mimo, że pojawiły się problemy do rozwiązania których są jak najbardziej potrzebni, a skromna ekipa Dicka może okazać się niewystarczająca.
Ocena: 4,5 nietoperka

---
Ciekawostki:
Podczas napisów końcowych Sphere jest w trybie Super-Cycle'u zaparkowana w lesie.
Greg Cipes przejął po Loganie Grovie rolę Beast Boya.
Soczewki, których używają Nightwing i Alpha Squad, są uderzająco podobne do Hypnos 2.0, technologii szpiegowskiej wykorzystywanej przez organizację szpiegowską o nazwie Spyral. Między innymi mogą przesyłać informacje bezpośrednio do umysłu i zniekształcać twarz użytkownika wirowaniem po przechwyceniu przez kamerę.
Hrabia Vertigo mówi Connerowi: "Dla ciebie hrabiego Vertigo, prostaku", nawiązuje do tego co powiedział Kid Flash w "Revelation". Kwestia ta jest również parafrazą z "DC Showcase: Green Arrow", napisana przez Grega Weismana oraz Steve'a Bluma w tej samej roli.
Nazwa programu telewizyjnego Gara "Space Trek 3016" wydaje się stanowić aluzję do seriali science-fiction: "Star Trek" i "Space: 1999".
Segment "It's What You Know" Gara odwołuje się do ogłoszeń publicznych "The More You Know", które pojawiały się w różnych programach NBC od 1989 roku.
Artemis mówi, że jej motocykl nie jest "zbudowany dla dwóch", nawiązującym do popularnej piosenki z 1892 roku "Daisy Bell (Bicycle Built for Two)".
Kwestia Simona Ecksa "I'm a doctor, not a pack mule" brzmi jak aluzja w stronę powiedzonka ze "Star Treka".
Jak we wcześniejszych odcinkach nie brakuje odniesień do liczby 16:

Program telewizyjny, który ogląda Gar to "Space Trek 3016".
Według Gara, ponad 16 000 dzieci i nastolatków zginęło na całym świecie.
Bramka wyjściowa z której korzystają Dick i Artemis lotnisku w Markovburgu ma nr 16.
Cytaty:
Troia: When Bialya produces a hero who isn't a wanted criminal, perhaps the League will consider her or his candidacy.
Sumaan Harjavti: That statement is an outrageous exaggeration!
Troia: Meaning it's largely accurate.
Dick: Hard to feel the aster when both your parents have just been murdered.
---
---