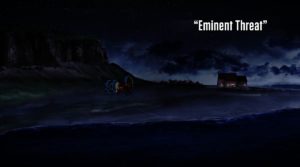 Tytuł odcinka: "Eminent Threat"
Pierwsza data emisji: 4 stycznia 2019
Reżyseria: Christopher Berkeley
Scenariusz: Brandon Vietti
Twoja ocena: [yasr_visitor_votes size="medium"]
Obsada:
Troy Baker
Steve Blum
Greg Cipes
Zehra Fazal
Crispin Freeman
Grey Griffin
Stephanie Lemelin
Yuri Lowenthal
Jesse McCartney
Whitney Moore
Nolan North
Khary Payton
Brion Markov, Simon Ecks
Henchy, Count Vertigo, Wilhelm Peters
Beast Boy
Halo-Girl
Gregor Markov, Nikolas Stofka
Helga Jace
Tigress
Zviad Baazovi, Plasmus/Otto von Furth
Dick Grayson
Courtney Whitmore
Conner Kent, Frederick DeLamb/Baron Bedlam
Jefferson Pierce

Conner Kent i książę Biron Markov są w szponach Count Vertigo. Dick Grayson, Artemis Crock i emocjonalnie rozchwiany Jefferson Pierce, muszą ich uratować i położyć kres syndykatowi Bedlam.
---
"Eminent Threat" kontynuuje wydarzenia z poprzedniego odcinka i stanowi zakończenie pewnych wątków. Tożsamość osoby stojącej za wszystkim zostaje ujawniona, a Brion zyskuje supermoce.
Oprócz walki ze złoczyńcami nie mniej ważne są aspekty polityczne jakie zachodzą w Markovii. Żaden z metaludzi nie jest tu akceptowany, bez względu na to jak chcą ich wykorzystywać swoje moce. Sami bohaterowie działający nieoficjalnie mają zasłonięte twarze, gdyż w obecnych realiach także i są bardzie jak samozwańczy mściciele. Postać Black Lightinga pokazuje, że problemy z mocami mają nie tylko osoby, które dopiero co je zdobyły, ale także doświadczeni superbohaterowie, którzy doświadczyli zbyt wiele. Pokazanie stresu po urazowego na przykładzie Pierce sprawia, ze jego postać jest bardziej ciekawa niż można było się spodziewać.
Pomijając zabawne medialne programy, w tym odcinku z udziałem Gara nowej gwiazdy mediów, w całej historii nie ma momentów na żarty. Nie potrzeba zagrożenia zniszczenia świata by pokazać bohaterów w trudnym położeniu. Co ważniejsze nawet jeśli uda im się zwyciężyć, to i tak nie będzie to kompletne zwycięstwo.
"Young Justice" dalej zapewnia świetną rozrywkę, ale nie jest to czysta rozrywka. Twórcy poruszają ważne kwestie, a wszystko to doskonale zmieszane ze światem młodych bohaterów.
Ocena: 4,5 nietoperka

---
Ciekawostki:
Garfield mówi, że spotkał Perditę na pogrzebie "szybkiego przyjaciela", nawiązującego do Kid Flash. Wally uratował życie zarówno Gara, jak i Perdity w "Image" i "Coldearted", i zmarł w "Endgame".
Artemis zauważa, że Superboy nie będzie zadowolony z bycia umieszczonym w zbiorniku, nawiązując do jego początków w Cadmus, gdzie został zmuszony do życia w zbiorniku.
"Hello, Megan!" jest jednym z programów wyświetlanych w zestawie słuchawkowym Goode Goggles.
Artemis odnosi się do Superboy jako "Super-Friend", co stanowi aluzję w stronę serialu animowanego "Super Friends", serialu, który miał duży wpływ na wprowadzenie do świata DC Brandona Viettiego, producenta "Young Justice" i scenarzystę tego odcinka.
Simon Ecks oświadcza, że jest "nie tylko lekarzem handlu ludźmi, ale także klientem", co odnosi się do reklam Hair Club z 1980 r., w których założyciel Sy Sperling powiedział, że jest "nie tylko prezesem, ale także klientem."
Cytaty:
Artemis: We are climbing up into that ominous dark hole in the cliff to rescue our Super-Friend. You are going to stay right here with our Super-Cycle. Understand?
Count Vertigo: I see you are down one Superboy. I'll raise you: one, two, three, four!
Artemis: Well, now we know why he is called Count Vertigo…
---
---