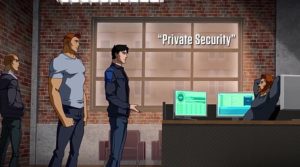 Tytuł odcinka: "Private Security"
Pierwsza data emisji: 11 stycznia 2019
Reżyseria: Vinton Hueck
Scenariusz: Michael Vogel
Twoja ocena: [yasr_visitor_votes size="medium"]
Obsada:
Troy Baker
Lacey Chabert
Zehra Fazal
Crispin Freeman
Grey Griffin
Stephanie Lemelin
Jesse McCartney
Danica McKellar
Nolan North
Khary Payton
Kevin Michael Richardson
Brion Markov, Hoody Boy, Henry Fyff
Zatanna Zatara
Halo
Will Harper/Red Arrow, Roy Harper/Arsenal, Jim Harper/Guardian
Helga Jace
Artemis Crock
Dick Grayson/Nightwing
Megan Morse
Conner Kent, Zatara
Jefferson Pierce, Brick, Leroy
Nabu, Daddy Lidz, Floyd
Podczas gdy Jefferson, Conner i Artemis szukają domów dla swoich markoviańskich podopiecznych, Dick montuje nową ekipę i rusza w drogę – ale może nie przetrwać podróży.
---
Po akcji w Markovii i poważniejszych kwestiach z tym związanych, teraz otrzymujemy lżejszy odcinek. Jednak nawet po zmianie stylu historii i z większą ilością humoru, cały czas efekt końcowy jest bardzo dobry.
Jak się okazuje nie tylko superbohaterska misja może być interesująca i pełna akcji. Działania firmy ochroniarskiej z drużyną Harperów i Dickiem są równie dobre. Zwykła kradzież w biały dzień pozwala bohaterom się wykazać, a co ważniejsze Grayson, któremu cały czas brakuje Wally'ego ma możliwość wysłuchania dobrych rad. Misja w Markovii nie poszła do końca zgodnie z planem i teraz należy zadbać o tych, którzy nie mogą zostać w kraju, gdzie nawet członek rodziny królewskiej będący meta-człowiekiem nie jest mile widziany. Widzimy więc, że wszystko niesie ze sobą konsekwencję i Dick musi je zaakceptować. Dla widzów oznacza to, że Nightwing odpuści solowe misji i zajmie się drużyną, którą sam zmontował.
"Private Security" nie ogranicza się tylko do jednego wątku. Oprócz zasygnalizowanych spraw z którymi w nowych okolicznościach muszą się odnaleźć pełny gniewu, niczym młody Superboy, Brion, dr Helga Jace oraz nieznająca swoje przeszłości Halo. Wszyscy oni są w dobrych rękach, ale największą dawkę emocjonalną dostarcza spotkanie Zatanny z ojcem. Będąc nowym gospodarzem Dr. Fate'a może się spotykać z córką co roku tylko przez godzinę, ale także ona może liczyć na wsparcie Artemis, która mimo posiadania własnej rodziny dba o swoich starych i nowych przyjaciół.
Po odcinkach, które tworzyły praktycznie jeden wątek teraz otrzymaliśmy krótszą historię, w której też jest obecna sprawa handlu meta-ludźmi, ale całość opiera się zupełnie na czym innym. Bardziej przyziemna opowieść ale z domieszką szaleństwa. Wszystko sprawdza się doskonale i udowadnia, że twórcy serialu mają więcej niż jeden przepis na udany odcinek.
Ocena: 4,5 nietoperka

---
Ciekawostki:
Podczas napisów końcowych Sphere jest w trybie Super-Cycle'u zaparkowana przed domem Lucasa Carra.
Pojawiają się dwa odniesienia do sieci restauracji Chicken Whizee: raz w reklamie na telefonie Briona, a drugi raz wspomniany przez Willa.
Gregor Markov zostaje koronowany na króla Markovii.
W odcinku są trzy retrospekcje pokazujące, co stało się na plaży zaraz po zakończeniu "Eminent Threat".
Burzliwy temperament Briona przypomina Megan (i Connerowi) Connera z pierwszych dni.
Umowa Doktora Fate z Zatanną sięga 1 sierpnia 2015 r. Przed drugim sezonem.
Jefferson nawiązuje do swoich dwóch córek – Anissy i Jennifer – które pojawiły się w "Princes All".
Halo wspomina, że została pogrzebana żywcem w "Royal We" i znokautowana w "Princes All".
Will sugeruje, że Dick nie pogodził się ze śmiercią Wally'ego.
Kwestia Bricka dotycząca kosztów jego kostiumu nawiązuje do "Welcome to Happy Harbor", gdzie powiedział coś podobnego.
Cytaty:
Will Harper: Let's not pretend you were planning to hit your traffickers before nightfall.
Dick: Well, I–
Jim Harper: That is the Dark Knight way, right?
Arsenal: Yeah, I hear all those Batboys turn into pumpkins in daylight.
Dick: (wzdycha) Whose idea was it to put all three of you together on one mission?
Wszyscy Harperzy: Yours.
Dick: Kinda like old times, huh, Wall?
Will Harper: It's Will, not Wall.
Dick: That's… That's what I said.
Will Harper: Is it just the red hair?
Dick: What're you talking about?
Will Harper: Your need for a Wally West substitute.
---
---