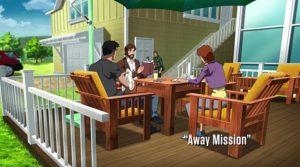 Tytuł odcinka: "Away Mission"
Pierwsza data emisji: 11 stycznia 2019
Reżyseria: Mel Zwyer
Scenariusz: Nicole Dubuc
Twoja ocena: [yasr_visitor_votes size="medium"]
Obsada:
Troy Baker
Ben Diskin
Bill Fagerbakke
Zehra Fazal
Crispin Freeman
Bryton James
Andrew Kishino
Stephanie Lemelin
Eric Lopez
Jason Marsden
Jesse McCartney
Danica McKellar
Nolan North
Khary Payton
Jason Spisak
Lauren Tom
Greg Weisman
Mae Whitman
Brion Markov
Orion/Ma'alefa'ak/M'comm M'orzz
Bear
Halo
Gregor Markov
Static
Mantis
Artemis Crock, Computer
Jaime Reyes/Blue Beetle
Bart Allen/Kid Flash
Dick Grayson/Nightwing
Megan Morse/Miss Martian/M'gann M'orzz
Conner Kent
Jefferson Pierce
Forager
Traci Thurston/Thirteen
Lucas Carr
Wonder Girl
Daleki konflikt wysyła drużynę na misję wyjazdową, a ekipa Happy Harbor decyduje, co zrobić z Brionem Markovem i Halo.
---
W tym odcinku mamy okazję zawitać do światów stworzonych przez Jacka Kirby'ego. Odległa planeta na której rozgrywa się konflikt i manipulacje, które równie dobrze mogłyby się wydarzyć gdziekolwiek. Wyprawa bohaterów, którzy do tej pory w 3. sezonie nie mieli wiele do pokazania, nie wiele oferuje. Chociaż postaci jest sporo to tylko Miss Martian jest tu istotna. Która ma okazję udowodnić, że wdzierania się do czyichś umysłów w ostatecznym rozrachunku nie przynosi korzyści.
Bardziej interesująca wypada poboczny wątek związany z Brionem i Halo, którzy m.in. pod okiem Dicka i Superboya próbują zapanować nad swoimi mocami. Całość jest co prawda schematyczna, ale nie brak tu humoru i jakby nie było mamy sposobność bliżej poznać bohaterów, którzy niewątpliwie jeszcze odegraj bardzo ważną rolę.
"Away Mission" wypada słabiej niż poprzednie odcinki, nie jest to bynajmniej drastyczny spadek, ale ta historia nie wciąga widzów tak jak poprzednie. Dobrze, że twórcy nie ograniczają się tylko do jednej grupy bohaterów, ale wypadłoby jednak by obecność takich postaci jak Kid Flash czy Wonder Girl znaczyła coś konkretnego a niestety ciężko sobie przypomnieć co tak naprawdę zdziałali. Wyraźnym plusem jest to, że jak na razie w 3. sezonie nie dane jest nikomu odnieść pełnego zwycięstwa. Udaje się uspokoić sytuację, ale jak pokazuje sytuacja Foragera nie wszystko pozostaje po staremu i tak do drużyny dołączy kolejny wyrzutek, co pasuje do podtytułu sezonu – "Outsiders".
Ocena: 4 nietoperki

---
Ciekawostki:
Tytuł odcinka odnosi się do misji drużyna na New Genesis.
W albumie Megan jest selfie, które Dick zrobił sobie z Artemisem w "Homefront" oraz wspólne zdjęcia Artemis, Wally'ego i Brucely'ego widziane w "Princes All".
Conner przedstawia Bearowi, Megan jako swoją narzeczoną. Oświadczył się jej w "Princes All".
Relacja Cassie i Tima wciąż jest napięta, po tym jak porzucił drużynę i dołączył do Batmana i dlatego, że trzymał przed nią w tajemnicy plan Batmana.
Kwestia Dicka "Zhakowałem komputer Justice League", jest podobna do kwestii "Zhakowałem czujniki ruchu" z "Fireworks".
Rozważając udzielenia dostępu do Watchtower cierpiącej na amnezję Halo, Conner uważa, że ​​nie potrzebują kolejnego "incydentu Red Arrow", odnosząc się do jego wypranego mózgu i zdrady drużyny i Ligi Sprawiedliwości w "Usual Suspects".
Lucas Carr wspomina o Jokerze w Mount Justice, co wydarzyło się w komiksach "Haunted" i "Monkey Business".
Conner mówi, że Miss Martian już nie wdziera się do niczyich umysłów. M'gann sama mówi M'comm M'orzzowi, że manipulacja psychiczna jest zła, co stanowiło zwrot w jej działaniach w pierwszej połowie drugiego sezonu, kiedy próbowała wymazać wspomnienia Superboya, żeby ten zapomniał, że był zły na jej nadużycie władzy. Zostało to omówione w "Depths" i "Torch Songs, Part 2".
Halo manifestuje nową żółtą aurę. Wcześniej zamanifestowała trzy: czerwoną i fioletową aurę w "Royal We" i pomarańczową w "Eminent Threat".
Miss Martian po raz pierwszy odniosła się do Ma'alefa'aka w "…And the Penalty".
Gregor informuje Briona, że ​​parlament zaproponował deportację na Qurac. W "Princes All" Markovia zaoferował schronienie uchodźcom z Qurac.
Conner otwiera Zeta-Tube w garażu i w swojej "Fortress of semi-Solitude".
Krytyka Jaimiego na temat serialu Gara jest często poruszana w przypadku większości filmów i programów telewizyjnych umieszczonych w kosmosie, a mianowicie "Star Wars" i "Star Trek", które bezwstydnie podważają prawa fizyki.
Komiks, który czyta Jaime w swojej sypialni, ma na okładce Brother Power the Geek i Flex Mentallo z tyłu.
M'comm M'orzz określa zielonych Marsjan jako "przesądnych i tchórzliwych", to często spotykana fraza w komiksach i mediach używana przez Batmana do opisania przestępców i wyjaśnienia przyczyn jego przerażającego wyglądu.
W album fotograficznym Megan są zdjęcia:

Zatanna całuje Dicka (w pierwszym sezonie)
Marie Logan, Garfield i Monkey (w pierwszym sezonie)
Aqualad siedzi w lesie, w cywilnej kurtce z pierwszego sezonu
M'gann przytulającaMartian Manhuntera będącego pod postacią Johna Jonesa
Superboy klepiący Wilka.

Jak we wcześniejszych odcinkach nie brakuje odniesień do liczby 16:

Odcinek zaczyna się o godzinie 00:16 UTC.
Cytaty:
Brion: (nagi) Don't look!
Halo: Do not be upset. You are nicely shaped. Your form isn't the part of you that's broken.
Brion: Excuse me
Lucas Carr: They both have meta-powers. Why not put them on the Team?
Artemis: Uh, meta-powers aren't required for that.
Dick: And they're not a free ticket to join either.
---
---