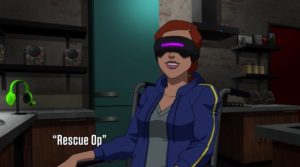 Tytuł odcinka: "Rescue Op"
Pierwsza data emisji: 11 stycznia 2019
Reżyseria: Vinton Hueck
Scenariusz: Joshua Hale Fialkov
Twoja ocena: [yasr_visitor_votes size="medium"]
Obsada:
Troy Baker
Zehra Fazal
Oded Fehr
Josh Keaton
Grey Griffin
Stephanie Lemelin
Jesse McCartney
Danica McKellar
Nolan North
Khary Payton
Jason Spisak
Alyson Stoner
Keone Young
Brion Markov, Jaqqar Marlo
Halo
Ra's al Ghul
Black Spider, Red Hooded Ninja, Wilhelm Vittings
Helga Jace, Josephine Tarkov
Artemis Crock/Tigress Dick
Grayson/Nightwing
Megan Morse/Miss Martian
Conner Kent/Superboy
Jefferson Pierce/Black Lightning
Forager
Barbara Gordon
Sensei
Brion Markov jest zdecydowany uratować swoją zaginioną siostrę – nawet jeśli oznacza to starcie z całą Ligą Cieni.
---
Na scenie pojawia się słynna Liga Cieni i Ra's al Ghul oraz kilka innych smaczków dla fanów Batmana. Wszystko zaczyna się od akcji Black Spidera i jego tajemniczego pomocnika, nie wiemy dlaczego za cel obrali Jaqqara Marlo ale pozwala nam to na zawitanie do Infinity Island.
Za sprawą nadgorliwej trójki wyrzutków trafiamy na teren Ligi Cieni, a dokładnie na miejsce medytacji Senseia i kilku wojowników. Niedoświadczeni bohaterowie, w tym Brion ze swoimi mocami, nie są wstanie sobie poradzić. Udowadniają, że sama chęć działania to za mało, a młody Markov przekonuje się, na razie bez konsekwencji, że jego nieprzemyślane akcje mogą doprowadzić do tragedii. Bohaterów muszą więc zgodnie z tytułem odcinka uratować doświadczeni herosi. Starcia z Ligą Cieni oraz Ra's al Ghulem zawsze są fascynujące i chociaż nie ma tu Batmana, to Nightwing też dobrze zna Głowę Demona i wie kiedy jest czas na walkę a kiedy na wycofanie się.
Po "Rescue Op" pojawiają się nowe pytania o chociażby tajemniczego Ninja w Czerwonym Kapturze czy też obecność Tali z noworodkiem, a także o plany Ra'sa. Otrzymujemy też ważną odpowiedź dotyczącą tożsamości Halo, i tym samym mamy zgrabnie wprowadzony wątek imigrantów oraz ich problemów. Twórcy poruszają aktualne sprawy i robią to z wyczuciem i odpowiednio dopasowując do opowiadanej historii. W całość potrafią też wplątać romantyczny wątek Dicka i Barbary czy też luźniejszą atmosferę panującą w gronie wyrzutków.
Ocena: 4,5 nietoperka

---
Ciekawostki:
Podczas napisów końcowych Bio-Ship jako kamper jest zaparkowany przed domem Connera i Megan.
Jeffersona nazywa Bio-Ship mianem "Marstown" i "Little Mars" – co stanowi aluzję do Chinatown i Little Italy.
Narzekanie Black Spidera o potrzebie lepszych żartów jest aluzją do roli Spider-Mana , któremu głosu użyczył także Josh Keaton, w serialu Grega Weismana "The Spectacular Spider-Man", w którym żartowanie było główną cechą postaci.
Artemis tęskni za Mount Justice, oryginalną kwaterą Zespołu, zniszczoną w "Darkest" (przez Artemis).
Forager wspomina Brionowi i Halo, że został wygnany z New Genesis, co miało miejsce w poprzednim odcinku. Brion sympatyzuje z nim, ponieważ sam został wygnany z Markovii w "Eminent Threat".
Superboy wspomina o Aqualadzie, Kid Flashu i Robinie włamującymi się do Project Cadmus w "Independence Day" i konieczności ratowania ich w "Fireworks".
Przemowa Dicka, gratulujące i strofująca nowych bohaterów, niemal dosłownie kopiuje mowę Batmana z "Fireworks".
Halo przyjmuje cywilne imię "Violet", ponieważ Brion nazwał ją tak w "Away Mission", po tym jak jej fioletowa aura objawiła się, by ją uleczyć.
Miss Martian mdleje z powodu fali gorąca Briona. Słabość Marsjańczyków do gorąca została przedstawiona w "Denial".
Gabrielle Daou urodziła się 28 sierpnia 2002 roku, czyli w dniu, w którym rozgrywa się akcja odcinka, 5 sierpnia 2018, nie ma jest 16 lat.
Jak we wcześniejszych odcinkach nie brakuje odniesień do liczby 16:

Gabrielle Daou ma 16 lat.
Paszport Gabrielle ma pieczątkę na 16. stronie.
Cytaty:
Ra's al Ghul: Well, young man. Are you proud of this little debacle? I believe the Detective would be quite disappointed.
Tigress: Would the Great One care to reveal who is running the Shadows now?
Ra's al Ghul: No, he would not.
Tigress: It's not my dad, is it?
Ra's al Ghul: No.
Tigress: My sister?
Ra's al Ghul: Get out.
---
---