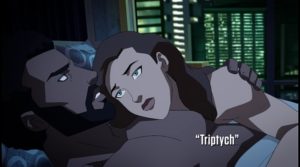 Tytuł odcinka: "Triptych"
Pierwsza data emisji: 18 stycznia 2019
Reżyseria: Mel Zwyer
Scenariusz: Peter David
Twoja ocena: [yasr_visitor_votes size="medium"]
Obsada:
Troy Baker
Britt Baron
Jeff Bennett
Daniela Bobadilla
Denise Boutte
Cameron Bowen
Vic Chao
Nick Chinlund
Zehra Fazal
Bruce Greenwood
Grey Griffin
Kelly Hu
Stephanie Lemelin
Chad Lowe
Jesse McCartney
Danica McKellar
Nolan North
Khary Payton Maggie Q
Dwight Schultz
Jason Spisak
Kelly Stables
Alyson Stoner
Joel Stetow
James Arnold Taylor
Mae Whitman
Brion Markov/Geo-Force
Livewire
Abra Kadabra, Casey Klebba
Mist
Rocket
Robin
Doctor Moon
Sportsmaster
Violet/Halo
Batman
Helga Jace
Cheshire/Jade Nguyen
Artemis Crock, Computer
Billy Batson/Shazam
Dick Grayson/Nightwing
Miss Martian
Clayface
Jefferson Pierce/Black Lightning, Aquaman, Brick
Wonder Woman
Mad Hatter
Forager
Arrowette
Oracle
Shade
Flash/Barry Allen
Spoiler
W miarę rozprzestrzeniania się handlu meta-ludźmi w Stanach Zjednoczonych, trzy różne zespoły bohaterów starają się go powstrzymać!
---
Trzy różne drużyny, wielu bohaterów i wszytko łączące się w całość plus Batman. Wydaje się, że powinien to być jeden z lepszych odcinków, ale jest tylko dobrze.
Odwrócenie chronologii wydarzeń to ciekawy zabieg ale w tym przypadku sprawdza się tylko jako element do zaskoczenia widza. Śledząc działania poszczególnych drużyn otrzymaliśmy za mało informacji by bardziej zaangażować się w prowadzone sprawy. Dlatego na pierwszy plan wychodzą relację pomiędzy członkami poszczególnych zespołów, czy też "rodzinne spotkanie" Artemis. Głęboko w tle zaś są motywacje przestępczej organizacji.
Na końcu "Triptych" poznajemy pewny element planu Batmana. Jak można się było spodziewać jego decyzja o opuszczenia Ligii, nie dla wszystkich członków drużyny było zaskoczeń. By zwalczyć takiego przeciwnika jak Light, trzeba sięgnąć po mniej oficjalne metody, a kto lepiej się na tym zna niż Batman. Jednak czy taka strategia okaże się sukcesem, czy też jeszcze bardziej podzieli Ligę, przekonamy się po obejrzeniu kolejnych odcinków.
Ocena: 4 nietoperki

---
Ciekawostki:
Podczas napisów końcowych Sphere stoi zaparkowana w garażu Connera.
Wonder Woman wspomina, że Cheshire nienawidzi swojego ojca, co wcześniej pokazano w odcinkach: "Targets", "Homefront", "Insecurity", "Satisfaction" i "Complications".
Tryptyk to typ nastawy ołtarzowej składający się z części środkowej oraz dwóch bocznych skrzydeł. Nazwa ta odnosi się także do obrazów malarskich i płaskorzeźb, składających się z trzech części, które zazwyczaj można składać. W odcinku są trzy zespoły badające pozornie niezwiązane ze sobą wydarzenia, aż scena w jaskini Batmana łączy je wszystkie w jedną spójną całość: opowieść o uwolnieniu Shade'a, praniu mózgu i wyzysku. Może również odnosić się do trzykrotnego modus operandi wykorzystywanego przez organizację Branchwater: pozyskanie, zmuszenie i wykorzystanie.
Urządzenie Reach skradzione ze STAR Labs zostało zabrane ze statku zestrzelonego w czasie wydarzeń z "War".
Policjanci aresztujący Stagga przypominają detektywów Harveya Bullocka i Renee Montoyę.
Cytaty:
Mad Hatter: Raise your right hand. Very good, very good! But too easy. Punch yourself. Hard!
Batman: It's what we agreed to, Diana. Taking a page from the Light's playbook. To fight fire with fire.
Robin: We're kind of the "Anti-Light."
Wonder Woman: And that's a good thing? The opposite of light is darkness. Is that what we represent?
Robin: Um. Maybe that was a poor choice of words.
Wonder Woman: Or maybe it wasn't.
---
---