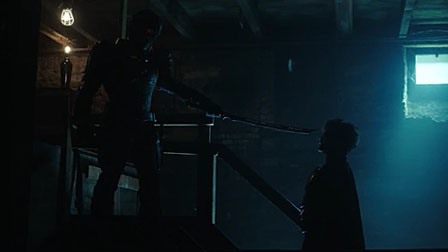 Tytuł odcinka: "Deathstroke"
Polski tytuł odcinka:
Pierwsza data emisji: 4 października 2019
Reżyseria: Nick Gomez
Scenariusz: Bianca Sams
Twoja ocena: [yasr_visitor_votes size="medium"]
Z drużyną po przejściach, Dick i pozostali przysięgają zrobić wszystko, co w ich mocy, aby uratować życie Jasona Todda. Poczucie winy Gara z powodu porwania Jasona komplikuje misję uratowania ich kolegi Tytana, podczas gdy mroczny sekret Rachel wciąż ją nęka. Kiedy Deathstroke żąda, by oddali Rose w zamian za Jasona, kryzys moralny grozi rozerwaniem zespołu od środka.
W rolach głównych:
Brenton Thwaites – Dick Grayson
Anna Diop – Princess Koriand'r/Kory Anders/Starfire
Teagan Croft – Rachel Roth/Raven
Ryan Potter – Gar Logan
Curran Walters – Jason Todd/Robin
Conor Leslie – Donna Troy
Chelsea Zhang – Rose Wilson
Minka Kelly – Dawn Granger
Alan Ritchson – Hank Hall
Gościnnie występują::
Esai Morales – Slade Wilson/Deathstroke
Michael Mosley – Dr. Arthur Light
---
To już 5. odcinek tego sezonu, a tak naprawdę akcja nie wiele posuwa się do przodu. Opis praktycznie w skrócie streszcza cały odcinek. Wbrew tytułowi nie specjalnie skupia się on też na Deathstroke'u.
Problemy serialu z wolną narracją stają się co raz bardziej wyraźnie, ale są też momenty, które sprawiają, że widz dalej chce śledzić losy bohaterów.
Postać Slade Wilsona niestety cały czas jest w tle. Momentami wydaje się, że to tylko pusty kostium Deathstroke'a zostawiony na krześle, ale nie można go nie doceniać. Jest bardzo konsekwentny w swoich działaniach i nikt, nawet pyskaty Jason Todd nie jest w stanie wyprowadzić go z równowagi. Szkoda, że twórcy nie pozwalają mu rozbłysnąć pełnym blaskiem, zwłaszcza w odcinku zatytułowanym "Deathstroke".
W odcinku mamy próby pokazania rozbicia drużyny i chociaż przez chwilę można uwierzyć, że bohaterowie się nie dogadają, a Gar i Rachel przez dłuższą czas pozostaną skłóceni, to szybko te dylematy zostają rozwiązane, gdy pojawia się Kory oraz gdy w dramatycznych okolicznościach zostaje odkryty sekret Rose.
Pojawia się kilka zaskoczeń, ale też są pewne rażące kwestie. Jak chociażby wywody starszych bohaterów, o tym że Jason ruszył nieprzygotowany. Jako jedyny zawsze ma na sobie kostium i odpowiedni sprzęt, tymczasem doświadczenie herosi wyruszając na poszukiwania nie zakładają żadnych ochraniaczy o dodatkowej borni nie wspominając. Być może nie chcą rzucać się w oczy, a stroje Hanka i Dawn mogły przepaść w pożarze, ale jak pokazuje Dick w zbrojowni są też zwykłe kamizelki kuloodporne, tak więc bohaterowie powinni bardziej dbać o swoje bezpieczeństwo.
Na koniec, kolejny raz twórcy serwują mocny cliffhanger. Następny odcinek ma się skupić na postaci Superboya, więc kto wie może w tych dramatycznych okolicznościach bohaterowie poznają nowego członka drużyny? Być może jego obecność sprawi, że "Tytani" wrzucą wyższy bieg, bo mamy zasygnalizowanych wiele interesujących wątków, ale zbyt długo tkwimy w jednym miejscu.
Ocena: 3,5 nietoperka

---
Ciekawostki:
W rozmowie z Donną, Kory wyznaje, że jest następczynią tronu na swojej planecie.
W scenie, w której dr Light jest w samochodzie słychać utwór "Burn It to the Ground" zespołu Nickelback.
W drodze do Titans Tower Kory słucha "Ain't Nothing Wrong With That" w wykonaniu Roberta Randolpha & The Family Band.
Podczas napisów końcowych słychać utwór "The Killing Moon" Echo & The Bunnymen.
---
---