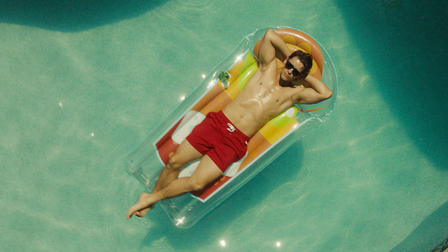 Tytuł odcinka: "Dick Grayson"
Polski tytuł odcinka: "Dick Grayson"
Pierwsza data emisji: 21 grudnia 2019
Reżyseria: Glen Winter
Scenariusz: Richard Hatem
Twoja ocena: [yasr_visitor_votes size="medium"]
W finale sezonu, moce Trigona wysyłają Dicka w wyśnione życie, które zaczyna się od szczęśliwego domowego życia, ale wkrótce zabiera go w mroczną podróż z powrotem do Gotham.
W rolach głównych:
Brenton Thwaites – Dick Grayson Anna Diop – agentka Kory Anders Teagan Croft – Rachel Roth Ryan Potter – Gar Logan
Gościnnie występują: Curran Walters – Jason Todd Rachel Nichols – Angela Azarath Seamus Dever – Trigon Alan Ritchson – Hank Hall Minka Kelly – Dawn Grayson
W pozostałych rolach: James Scallion – Johnny Grayson Tony Nappo – taksówkarz Sean Sullivan – nocny recepcjonista Tony Craig – komisarz Staple Simon Northwood – pobity pijany facet Steve Boyle – facet w garniturze Stephannie Hawkins – krzycząca kobieta Troy Blundell – gliniarz z Gotham #1 A lex Spencer – gliniarz z Gotham #2 Monika Schurmann – pracownica koronera Dale Samms – strażnik policyjny Darryl Flatman – Harrison Duff MacDonald – pracownik Cadmus Labs Brooker Muir – dubler Connora Pastel Supernova – prostytutka z alei Adam Tomlinson – Joe z alei
---
Z odcinkiem pt. "Dick Grayson" jest jeden zasadniczy problem. Nie taki powinien być finał sezonu. Nie ma nic gorszego niż śledzenie historii przez kilka odcinków, by później przekonać się, że twórcy ostatecznie nie zdecydowali się zamieścić w tym sezonie odcinka kończącego główny wątek. Według pierwotnych planów miał być jeszcze jeden odcinek, ale zdecydowano się jego elementy przełożyć na premierę 2. sezonu. Nie wiem czym była podyktowana taka decyzja ale był to błąd. Część widzów może być bardzo rozczarowana tym faktem.
Jednak jeśli nie oceniany odcinka "Dick Grayson" jako finał sezonu, to okazuje się, że ma on sporo do zaoferowania. Nie raz w różnych mediach mieliśmy pokazane wyśnione życie bohaterów, którzy musieli okryć, że ich sielanka nie jest realna i pokonać przeciwnika. Tym razem takim doświadczeniem poddany zostaje Dick. Jednak ten test nie ogranicza się tylko do idealnego życia z dziećmi u boku Dawn. Grayson w różnych momentach ma możliwość wycofania się, ale nie potrafi. Nie może odpuścić, ani pozwolić by Batman mordował niewinnych, tym samym sam pogrąża się w mroku. Przez cały sezon Grayson nie wiedział kim ma być, teraz dostał szansę by się z ty skonfrontować i nie spodoba mu się odpowiedź którą otrzyma.
Na szczególną uwagę w odcinku zasługuje postać Kory. Po tym jak przez cały sezon nosiła krzykliwy strój i pomarańczowe włosy, teraz w zaprezentowanej rzeczywistości jako normalnie wyglądają agentka FBI jest wręcz nie do poznania. Co oznacza, że we wcześniejszych odcinków, gdyby wykazała się namiastką rozumu mogłaby się wtopić w tłum.
Główną atrakcję odcinka stanowi powrót do Gotham oraz konfrontacja z Batmana. Nie jestem zwolennikiem pokazywania Gotham City jako miasta pełnego występku, w którym nic nie funkcjonuje, a obecność Batmana wydaje się tylko pogarszać sytuację, ale na potrzeby tej rzeczywistości taka wersja była wskazana. Mamy też lepsze spojrzenie na jaskinie Batmana i Batmobil oraz samego Batmana, który co prawda cały czas pozostaje w cieniu, ale mamy przynajmniej okazję zobaczyć go w akcji, a ta robi wrażenie.
Jedynym elementem, za który można pochwalić odcinek w kategoriach finału sezonu jest scena po napisach, kiedy mamy pokazaną ucieczką Connera w towarzystwie kryptońskiego psa z laboratorium Cadmus. To jest dobra zachęta oraz wskazanie jaki kierunek może obrać serial w następnym sezonie. Szkoda tylko, że nie zdecydowano się zakończyć, przynajmniej częściowo, wątku z Rachel.
Ocena: 4 nietoperki

---
Ciekawostki:
Zapytana przez Dicka, czy FBI wie o niej, Kory odpowiada: "że, unika facetów w piwnicy". Jest to odniesienie do Archiwów X, ponieważ biuro Foxa Muldera znajdowało się w piwnicy FBI.
Sceny z Wayne Manor kręcone były w Casa Loma (Toronto Kanada). Z tej samej lokalizacji korzystano m.in. przy filmach o X-Menach.
Po raz pierwszy wspomniany zostaje Superman.
Wśród więźniów zabitych w Arkham Asylum są m.in. Riddler, Two-Face, z monetą w ręku, Brzuchomówca z kukiełką i pistoletem maszynowych.
Po raz pierwszy w serialu pojawia się Batmana i Joker.
Podczas walki pomiędzy Batmanem a policją w Wayne Manor, Batman wydaje się mieć zapięty kołnierzyk podobny do tego, który Damian Wayne (syn Batmana) nosił w komiksie Batman #666.
Cytaty:
Dick Grayson: Oh, Rachel… It feels so good to be home. You'll see. They'll all see.
---
---