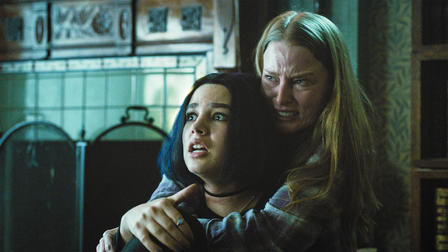 Tytuł odcinka: "Koriand'r"
Polski tytuł odcinka: "Koriand'r"
Pierwsza data emisji: 14 grudnia 2019
Reżyseria: Maja Vrvilo
Scenariusz: Gabrielle Stanton
Twoja ocena: [yasr_visitor_votes size="medium"]
Gdy wspomnienia Kory powracają, odkrywa, że jej misją nigdy nie był chronienie Rachel – ale coś o wiele bardziej niebezpiecznego. Próbując zrozumieć, dlaczego, Dick i Donna są zszokowani odkryciem, że Kory jest kosmitką, która ujawnia przerażające pochodzenie Rachel. Ale gdy poznają tożsamość ojca Rachel – i jak niebezpieczny może być – Angela przekonuje Rachel, by wykorzystała swoje zdolności, aby go przywołać.
W rolach głównych:
Brenton Thwaites – Dick Grayson Anna Diop – Koriand'r/Kory Anders/Starfire Teagan Croft – Rachel Roth/Raven Ryan Potter – Gar Logan
Gościnnie występują: Conor Leslie – Donna Troy Rachel Nichols – Angela Azarath Seamus Dever – Trigon Jeff Roop – Thomas Carson Minka Kelly – Dawn Granger Alan Ritchson – Hank Hall
W pozostałych rolach: Adam Bogen – technik #1
---
Zachowanie matki Rachel już wcześniej mogło budzić niepokój, ale dość długo udawało jej się zachowywać pozory i dobrze manipulować córka i jej przyjaciółmi. Teraz jednak wszystkie karty zostają wyłożone. Przybywa Trigon i poznajemy misję Kory. Pada wiele odpowiedzi na nurtujące pytania, ale mimo wszystko wyjaśnienia okazują się za proste jak na taką historię. Dostajemy więcej czasu na jeździe samochodem czy pogawędkach bohaterów, tak jakby twórcy nie do końca wiedzieli czym zapełnić odcinek, a kiedy dochodzi do pojawienia się Trigona, wtedy następuje koniec odcinka.
Niemniej jednak atmosfera panująca w domu Angeli ma w sobie coś diabolicznego i pomaga wprowadzić widzów w to co nastąpi. Po zakończeniu odcinka "Donna Troy" spodziewałem się większej akcji w zawiązku za zachowaniem Kory. Niestety chociaż Wonder Girl z lassem ratuje sytuację, to wszystko wydaje się takie bez rozmachu. Starcie kończy się nim na dobre się rozpoczyna. Być może w twórcy większą akcję pozostawiają na finał sezonu.
Ocena: 4 nietoperki

---
Ciekawostki:
Po raz pierwszy demoniczny ojciec Rachel, Trigon, zostaje nazwany.
Koriandr/Starfire, w końcu przywdziewa swój kostium.
---
---